SPONSORED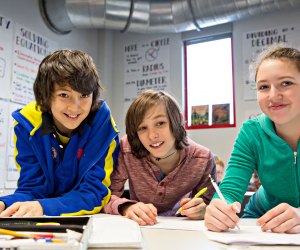 BASIS Independent Schools: Select Seats Open for Fall 2020 and Virtual Info Sessions
Known for balancing its advanced liberal arts and sciences program with a deeply nurturing community, BASIS Independent Schools has carved out a space for itself in the New York City private school landscape since opening its first East Coast location, BASIS Independent Brooklyn, in Red Hook back in 2014. With the addition of BASIS Independent Manhattan on the Upper West Side in 2017, the PreK-12 schools now bring best practices found in top education systems around the world to students across the five boroughs. And while both locations have transitioned to distance learning as the city addresses the COVID-19 outbreak, they are eagerly preparing for the fall semester—accepting applications to fill the few remaining spots for 2020 and offering virtual admissions events for interested families.
Students working together in a science lab at the spacious and state-of-the-art BASIS Independent Brooklyn campus.
If you aren't familiar with the BASIS Curriculum, it was created by Dr. Michael Block of Tucson, Arizona—and his wife, Olga Block—after he noticed that students in his college classroom who were educated overseas excelled most in their studies. When the pair then couldn't find a U.S. high school for their daughter that seemed equivalent to Olga's own in-depth education in Eastern Europe, they decided to create a globally inspired curriculum that prioritizes foundational knowledge, encourages independent learning, and grows critical thinking and problem solving skills.
The 8,000 square foot play deck at BASIS Independent Manhattan includes combination of green space and athletic surface.
Today, BASIS Independent Schools has six campuses nationwide—with more sites coming soon. Here in NYC, families flock to the 100,000 square foot state-of-art BASIS Independent Brooklyn campus, with its spacious classrooms, plentiful playgrounds, and beautiful views of the New York Harbor and Statue of Liberty. Others head to the conveniently located UWS location, BASIS Independent Manhattan, with its 8,000 square foot play deck and thoughtfully designed science labs, art studio, and black box theater. Both facilities take all facets of the BASIS Independent Schools mission into consideration, including the sciences, humanities, the arts, and physical education, offering beautiful spaces that are perfectly suited for student learning and growth.
A student explores hands-on work with her teacher at BASIS Independent Manhattan.
Parents rave about the well-rounded program, which offers engineering, drama, Mandarin, physics, logic, and even the opportunity for seniors to take on in-depth off-campus research projects, all while immersing students in a joyful learning environment where they're both challenged and supported. They sing the praises of passionate teachers, who often hold advanced degrees in their chosen fields and use that expertise to create engaging, thought-provoking lessons that keep kids talking long after the school day ends. And, at a time like this, families emphasize the schools' commitment to its core values, which include citizenship, courage, and compassion. While New York City has been battling an unprecedented pandemic, kindergarteners at BASIS Independent Manhattan learned how to write thoughtful letters to lift the spirits of residents at an assisted living facility that can't have visitors and theater students created uplifting videos that they felt would make a positive impact right now. Meanwhile, at BASIS Independent Brooklyn, high schoolers have been busy graciously organizing food drives for first responders and have served meals to hundreds of people at NYU Sunset Park and the NYPD medical division in Queens.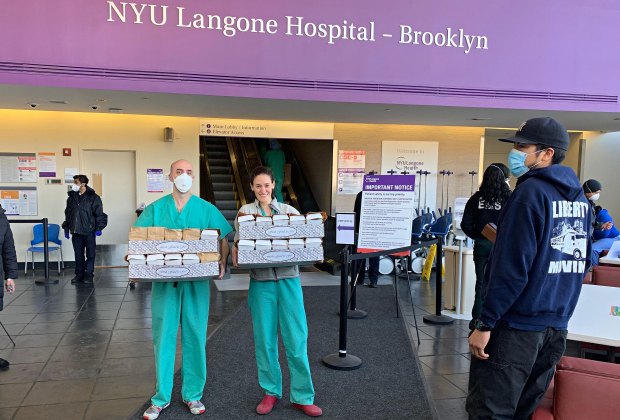 In response to the COVID-19 crisis, high schoolers from BASIS Independent Brooklyn served meals to hundreds of hospital workers at NYU Sunset Park.
To learn more about becoming part of the one-of-a-kind BASIS Independent Schools community and securing one of the select seats still available for the 2020-2021 academic year, visit info.basisindependent.com/nyc. To receive updates about the fall semester, upcoming virtual info sessions, and much more, join the interest list!
All photos courtesy of BASIS Independent Schools
BASIS Independent Brooklyn
556 Columbia Street
Brooklyn, NY 11231
BASIS Independent Manhattan
795 Columbus Avenue
New York, NY 10025