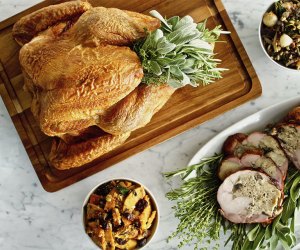 13 Restaurants Offering Thanksgiving Dinner Takeout in NYC in 2020
Thanksgiving is right around the corner, and while many things look different in 2020, one thing is certain: The holiday is best spent with loved ones gathered around a table for a delicious Thanksgiving dinner. If you'd rather spend the bulk of the day with your family instead of in the kitchen, ordering Thanksgiving dinner takeout could be your meal ticket to a more relaxing holiday.
So, kick back and cue up the re-imagined the Macy's Thanksgiving Day Parade on the TV and let one of these 13 New York City restaurants handle the Thanksgiving dinner duties. You'll be thankful for a day off, and they'll be grateful for your support.
Subscribe to our FREE newsletters to get posts like this delivered to your inbox.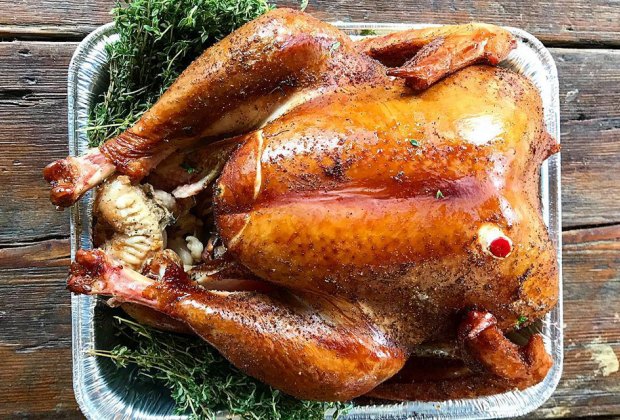 Take the stress out of Thanksgiving dinner and have Pig Beach do the cooking.
1. Pig Beach —Gowanus, Brooklyn
If you want your holiday meat done right, look no further than this popular local barbecue joint. Choose from a full Thanksgiving Feast, including turkey or ham, plus gravy, cranberry sauce, two sides, and one dessert, or pick and choose from the a la carte menu. Orders are cold and require reheating. All orders must be received by Monday, November 23.
Neighborhood favorite BKLYN Larder specializes in utilizing sustainably produced ingredients to create delicious homemade dishes to-go. Its 2020 Thanksgiving takeout menu includes all the holiday classics—local pasture-raised turkeys, giblet turkey gravy, and pumpkin pie—plus some more unusual options like corn, leek, and Swiss chard pudding or eggnog babka for dessert. Book before Monday, November 16, to guarantee availability. All orders must be picked up in-store on Wednesday, November 25, by 6pm.
The Thanksgiving takeout choices from local butcher Dickson's Farmstand Meats make for a high-quality, super tasty meal. Sit down to an almost-homemade spread of turkey, maple-Sriracha glazed carrots, and a farm stand stuffing kit. The turkey, raised at Amish Farms in Lancaster, Pennsylvania, and slaughtered just before cooking for the freshest bird, starts at $69; sides range from $15 to $30. Orders can be picked up at the Chelsea Market location Tuesday, November 24, or Wednesday, November 25, or shipped locally via Postmates.
All birds at Marlow and Daughters are sold fresh and uncooked, so you'll need to factor cooking time into your planning. But the shop sells brining kits and all the fixings, including prepared sides. Place your order online now for easy pick up the week of Thanksgiving. Orders can be changed or canceled up to Sunday, November 22, in case your holiday plans change.
RELATED: Macy's Thanksgiving Day Parade Faces Big Changes in 2020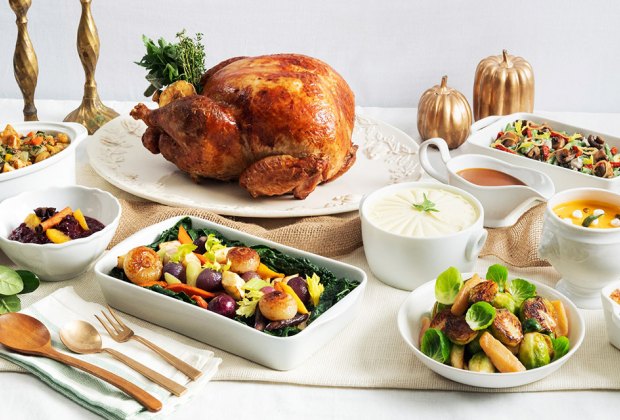 Skip the cooking this year and enjoy favorites from turkey to the pie with Epicerie Boulud's catering.
If you're looking for a super fancy feast, this meal courtesy of Chef Daniel Boulud's market and café won't disappoint. Its Thanksgiving dinner clocks in at $395, serves 6-8 people and includes an all-natural roasted turkey, butternut squash soup, chestnut stuffing, and plenty more fixings. This meal does require some reheating help once you get it home as pick up is from 10am-5pm on Wednesday, November 25.
6. Marina Del Rey — Throggs Neck, the Bronx
This Bronx waterside venue has a trio of Thanksgiving takeout options tailored to whatever you're looking for in your feast. Its Everything But The Bird package is $139 and serves 8-10 with stuffing, sides, and pumpkin pie. If you don't want to deal with the turkey, opt for its Classic Thanksgiving Dinner, which includes the bird, and is $199. A premier option serves a crowd and includes extra sides and an apple pie. Whatever option you choose, pick up is required on Thanksgiving Day. Place your orders by Monday, November 23.
7. Hearth — East Village
Tuscan-American eatery Hearth is serving up its annual festive Thanksgiving takeout fare. Order just the bird and trimmings (starting at $55 per person) or the full festive feast (starting at $75), including a roasted turkey breast, leg, and thigh, lots of tasty sides, and a choice of dessert. For some adult fun, add the "All of the Drinks" option to your cart, which includes a bottle each of cider, dry riesling, pinot noir, and fortified cider.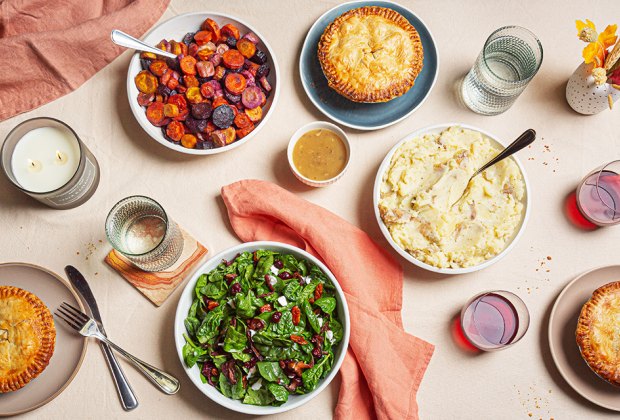 Get a hearty Turkey Pot Pie with all the trimmings for Thanksgiving dinner takeout at Veggie Grill.
If you're planning a vegetarian meal this year, try the meatless feast from the Veggie Grill. The Thanksgiving Pot Pie package includes individual "turkey" and mushroom pot pies plus sides like mashed potatoes, gravy, glazed rainbow carrots, and a baby spinach salad. Sharable mini-pumpkin pies round out the meal. Preorder by Wednesday, November 18.
RELATED: Free Things To Do Online for November Holidays: Día de los Muertos, Election Day, Veterans Day, and Thanksgiving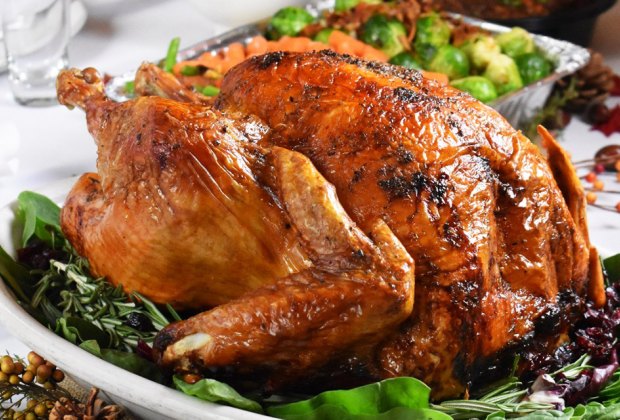 Carmine's has your Thanksgiving dinner takeout meal covered with its trademark family-style servings.
9. Carmine's — Upper West Side
Though it's a hot spot for tourists and a staple for delicious Southern Italian cuisine, Carmine's is serving an all-American Thanksgiving dinner. This Thanksgiving, it's offering a take-out, family-style menu complete with an 18-pound turkey and all the traditional fixings and sides.
Gastro-pub Jones Wood Foundry relies on locally sourced ingredients for its twist on British culinary traditions. On Thanksgiving, the chefs prepare a turkey dinner with trimmings, including chestnut, apple, and sage stuffing, glazed carrots, caramelized Brussels sprouts, sweet potato puree, roasted potatoes, and pumpkin pie with chantilly cream. Wash it all down with a growler of virgin mulled apple cider. The Manhattan delivery area runs from 50th Street to 96th Street and the FDR to Fifth Avenue.
Serve a traditional Southern barbecue feast this year from Hill Country Barbecue. Choose from the Texas Turkey Box, which includes one 4-5 pound turkey breast, longhorn cheddar mac and cheese, collard greens, and skillet cornbread, or the Thanksgiving Feast, which serves 8-10 with additional sides and boasts a 14-16 pound pit-smoked turkey. Both packages are served cold with reheating instructions included. Pickup is available from 2-5pm Wednesday, November 25, and 9am-3pm Thursday, November 26.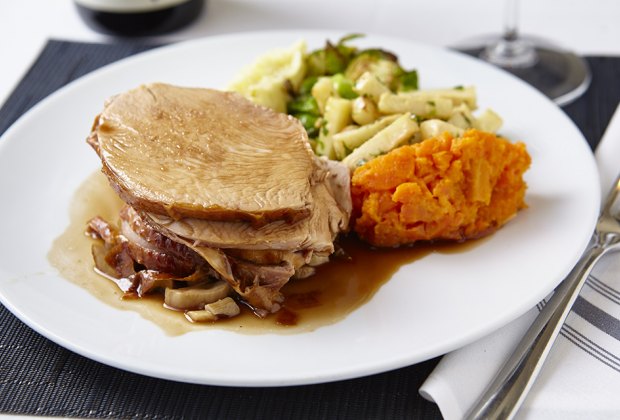 Oceana is offering a traditional takeout Thanksgiving dinner for the first time.
12. Oceana — Rockefeller Center
For an elevated at-home dining experience, consider purchasing a package from Oceana, which dips its foot into the Thanksgiving takeout game for the first time. Two over-the-top feast packages are offered to accommodate groups large (8-10) and small (4-6). The fixings are the same no matter which size package you choose: turkey two ways, gravy, potato puree, stuffing with sourdough bread and garlic-pork sausage, braised Brussels sprouts, sweet potatoes with a granola topping, rutabaga, cranberry sauce, homemade honey-glazed rolls, and pumpkin and pecan pies to finish with a sweet flourish. Wine and champagne are available as add-ons. Orders must be placed by Monday, November 16, for pick up Wednesday, November 25, or Thursday, November 26.
13. Nuhma — Long Island City, Queens
Choice is the word of the day at Nuhma: Choose from a fully brined and ready-to-cook bird or a fully cooked one at this Long Island City eatery. Surround your main course with appetizers like jumbo Maryland crab cakes or shrimp cocktail. Side dish choices include all the classics, from a trio of stuffing options to mashed potatoes in vegan and non-vegan varieties, plus Brussels sprouts with bacon or shallots, and more mouth-watering selections. What would the meal be without pie? Nuhma offers everything from a classic pumpkin or apple pie to a Bartlett pear tart with a chocolate-almond frangipane. Order by Thursday, November 5, for free delivery; orders are accepted up until Wednesday, November 18.
All photos courtesy of the restaurants.