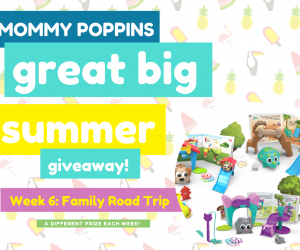 Enter to Win the Great Big Family Travel Giveaway
For week 6 of the Mommy Poppins Great Big Summer Giveaway, we're taking a Great Big Family Road Trip! We have a collection of travel games, puzzles, and toys to offer hours of backseat entertainment. One winner will receive all of the prizes below. Recommended for children ages 18 months and up.
The Great Big Family Road Trip Prize Includes:
Meet the Coding Critters, a child's first coding friends. These interactive pets introduce preschoolers to critical thinking, problem-solving, and other STEM skills with the help of fun play sets, storybook coding adventures, and two interactive modes.
Go wild with the new Mini-Maker Tube Lion from the Plus-Plus Savanna and Zoo collection. Plus-Plus tubes are travel-friendly and can provide hours of creative play. Use it with the Plus-Plus Savanna Baseplate as the base for all your wonderful and wild creations. A great STEM toy to develop fine motor skills, focus, and patience - as well as design, imagination, and creativity.
The cute and cuddly Musical Elephant Puppet can be a simple cuddle buddy or an entertaining puppet with a musical tambourine you can play.
It's a pet party with the fun-filled Playfoam®️ Pals Pet Party Pack. Use Playfoam®️, the squishy stuff that never dries out, to create everything your pet pal needs again and again.
Puzzles and Card Games for All Ages
The Highlights Travel Puzzles book is going places. With more than 1900 objects to find, this book is sure to satisfy a sense of adventure in every child.
The fishy game of cooperation, Hoyle Seal Squad encourages teamwork, simple strategy, and decision making through an easy to learn card game.
Monkey, May I? is a travel-friendly game that helps kids learn about making good choices, self-control, and self-awareness.
Enter below to win. All entrants will be signed up for your selected free Mommy Poppins local family activities newsletter or national family travel weekly. Current subscribers won't receive duplicates. After you enter share with your friends for even more chances to win!
See all our weekly giveaways on our Great Big Summer Giveaway page.