Best Kids Enrichment Classes Now Online: STEM, Arts, Sports and More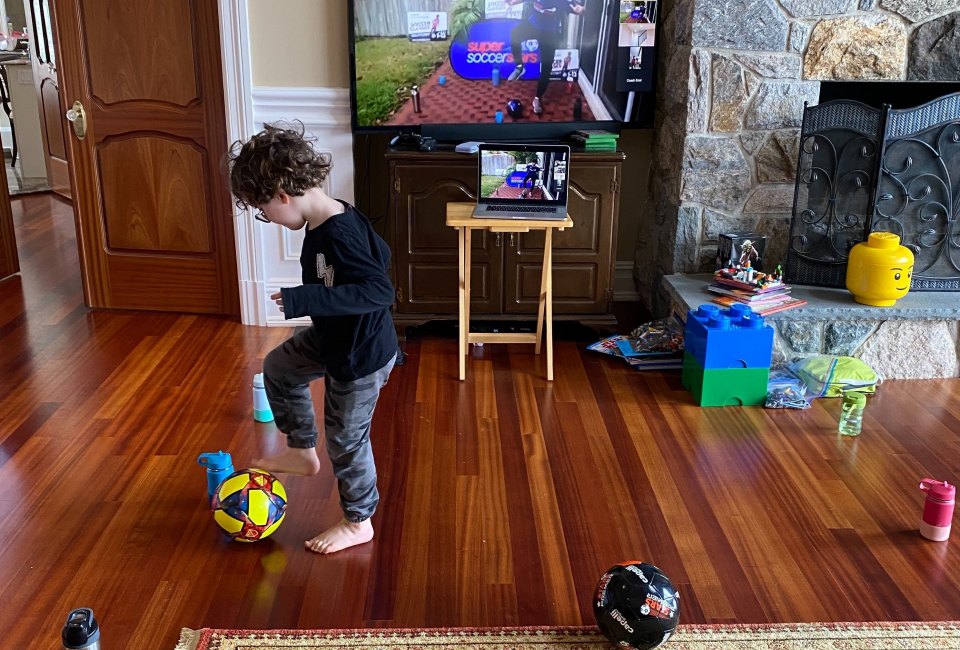 4/16/20
- By
Jessica Laird
Who would have imagined this is what "afterschool" would look like in 2020? But, we're grateful that many much-loved programs are in fact moving ahead with virtual offerings that bring everything from soccer to piano lessons to robot building right to your living room. Using video conferencing, live streams, or watch-when-you-want videos, these online classes are hands-on and interactive, just like the real deal.
To help you find the right fit for your family, we've put together a list of over 20 virtual classes from some of our partners. Make sure to click through for more details and some awesome deals.
Creative Classes and Virtual Music Lessons
Hey Joe Guitar Music School
Hey Joe Guitar Music School founder Joe Berger will personally speak with you about you or your child's learning style and goals, and then choose the best teacher for one-on-one virtual instruction in piano, guitar, bass, singing, voice, ukulele, strings, or horns.
Kids at Art
Live interactive online art classes are now available for ages 2 and up at the Kids at Art's Zoom Online Studio—and adults can join in as well! These virtual classes focus on the basics of visual arts, including painting, drawing, collage, sculpture, and more. Plus, parents can purchase sessions and use them at any time for maximum flexibility.
Music Together in the City
Join Music Together in the City from your living room with real-time online Zoom classes. Once you've registered, you'll have access to twelve 45-minute classes a week, with music available every day in 3 languages—English, Spanish, and Mandarin—plus Bedtime Lullabies.
Natalia Huang Piano Studio
Keep up with your child's piano playing or start from the very beginning with online lessons from Natalia Huang Piano Studio. Private online lessons are open to all levels, ages 5 and up. Extra savings when you purchase three lessons.
The Second City
Second City's online comedy camp offers sessions in Improv, Musical Improv, and Sketch Comedy, with campers broken up by ages—7-9, 10-12, and 13-18. Offerings include one-day and five-day camps for kids ages 7-18 and 90-minute improv-only drop-in sessions for kids ages 10-18.
Storyteller's Cottage
Join The Storyteller's Cottage for a wide variety of creative virtual classes for kids, led by talented local authors and artists. Log into a Zoom class from home, or choose a downloadable class on video and watch it at your convenience. Options include Creative Writing for Kids, Fundamentals of Theater, and Create Your Own Cartoon Character.
Taste Buds Kitchen Cooking Classes
Taste Buds Kitchen offers online virtual cooking programs for all ages. Round up your family for a private cooking lesson, where kids ages 6 to teens can learn to whip up anything from dumplings to cinnamon buns. Kids of all ages can also join the Online At-Home Cooking Club to access a new cooking video every Tuesday and Thursday at 2pm EST.
STEM and Online Coding Classes
Brooklyn Robot Foundry
Choose from a number of live-streaming robot-making classes that use hands-on learning to teach fundamental engineering and technology concepts to kids in 1st-4th grade. These small group classes meet virtually at scheduled times and all necessary materials are shipped to your home so you're ready to build.
Code Advantage
CodeAdvantage is offering up interactive real-time robotics and coding classes for kids in grades PreK-10th in their online classroom. Choose from 1-, 2-, and 8-week courses where kids can learn how to create animations, 3-D video games, Roblox worlds, websites, and more, or opt for one-on-one lessons or a customized camp experience.
CodeWizards HQ
CodeWizardsHQ's live online coding classes teach real programming languages like Python, Java, HTML/CSS, and JavaScript to kids and teens ages 8-18. Pop-culture themed curriculums keep kids engaged, but also challenged. While schools are closed, daytime classes, custom schedules for groups, and special discounts are also available.
The Discovery Museum
While schools are closed during the COVID-19 crisis, The Discovery Museum is creating virtual educational STEAM content and activities. The new digital content will include "Stuck at Home Science" activities and videos, "Digital Discovery" lessons, and planetarium show webcasts. Contact them to purchase a program.
Empow
Empow offers award-winning online virtual STEM programs, like Digital Animation, 3-D Sculpting, Scratch, and Minecraft Explorations. Choose from a number of 4-week courses for children grades 2-8, all featuring live expert instructors and small class sizes.
Kodeclik
Register for the Online Academy, where kids and teens ages 7-18 can learn to code and build apps and games using Scratch, Minecraft modding, Python, and JavaScript. Also, check out the 5-day Online Camps covering everything from Android App Development to Augmented Reality. Lessons are available anytime from anywhere so kids can learn at their own pace.
Robofun
Robofun offers dynamic workshops where students ages 3-12 can learn about engineering, coding, problem-solving, creative thinking, and teamwork. In order to support at-home learning, they're now offering flexible online STEAM education options, including group classes, private lessons, and drop-in membership.
Snapology
​Snapology is taking their popular STEAM classes online! They're now offering daily virtual programs for students ages 4-14, including classes, playdates, and even birthday parties for up to 20 kids. Design a crown and septer, build LEGO roads and bridges, or choose from a number of STEAM-focused activities.
Virtual Sports and Enrichment Programs
Chess NYC
Chess NYC is now online with 11 classes a day. Choose between online group lessons and individually tailored one-on-one lessons, all available for beginner, intermediate, and advanced players ages 4 and up. Save by purchasing a 5- or 10-pack or lessons, which can be scheduled at your convenience.
Dedimus Potestatem
Dedimus Potestatem now offers its fun and civically engaging courses virtually via Zoom. Programs offered for elementary, middle, and high school students include Leadership, Debate, Mock Trial, Model Congress, Speechwriting, Etiquette, and Activism.
Got Game
This fully-customizable LA camp for kids ages 4-14 is now offering virtual after school! A new schedule is posted each week, including activities like Battle of the Schools, Shelter Forts, storybook art, HIIT, yoga, dance, LEGO engineering, basketball, soccer, superhero training, and more. Classes are held daily Monday through Thursday.
JCC, Sid Jacobson in Long Island
Sid Jacobson JCC has gone virtual! Live and on-demand programs are offered every day for all ages and interests. Read along with the Early Childhood Center staff, learn to cook Israeli recipes with the Center for Israel staff, workout with personal trainers and group exercise instructors, and more. Check out their weekly virtual program schedule for the latest.
Super Soccer Stars
Kids ages 1 to 12 can now register for fully-interactive 30-45 minute virtual classes designed to run in a small space (5 x 5 ft. is plenty) with common household items reimagined as soccer equipment. Age-specific live streaming content, skills and drills training videos, and private virtual birthday parties are also available.
Tutoring, Virtual Sitting, and Special Needs
Artist Babysitting Agency LLC
Artist Babysitting now offers virtual classes nationwide! Private one-on-one sessions are available with a virtual sitter who can provide stimulating play, homeschooling instruction, and homework help. You can also opt for group classes designed for ages 16 months to 12 years old, ranging from dance to story time to yoga.
EBL Coaching
EBL Coaching specializes in one-on-one online tutoring for students in grades pre-K through 12 with ADHD, dyslexia, learning disabilities, and executive functioning challenges. Each student is assessed and then matched with one of EBL's learning specialists who is trained in the methods most appropriate for that child.
FasTracKids/JEI Learning Center - Williamsburg
FasTracKids/JEI Learning Center's programs are now available on a secure online platform! The Center offers Common-Core aligned math, English, reading, and writing enrichment; expert homework help; a world-renowned STEM-based class; Gifted & Talented test prep; a fun, unique preschool; and expert Chess instruction; plus games, prizes, and more.
Photo provided by Soccer Super Stars