SPONSORED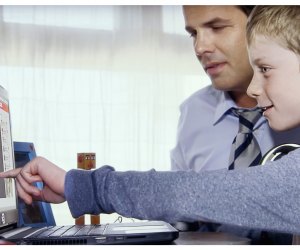 Tekkie Uni Brings Online Coding, Robotics, and Digital Art to Kids Everywhere
Ok, so here's some screen time parents can actually get behind! Thanks to the same web conferencing technology that probably powers your monthly board meetings, there's a remote weekly after school program that's busy turning young tech consumers into skilled creators and innovators by teaching them how to build apps, produce online videos, and even code robots. Yup, Tekkie Uni has been schooling kids in computer coding, robotics, and digital art since 2016 by connecting experienced teachers with small groups of students in virtual classrooms — and giving them skills that will undoubtedly serve them in today's tech-centric world.
Now, before you rejoice over the added bonus of saying buh-bye to the headache of after school pick up and drop off, read on to find out how Tekkie Uni works and what coding classes for kids they're currently offering for ages 8 to 18.

A New Kind of Coding Classes for Kids
As it turns out, most online coding classes out there are self-directed using software, with some utilizing prerecorded videos, but Tekkie Uni believes that young coders learn best with the support of an attentive and highly-qualified teacher and motivation from their peers. That's exactly why each nine-month Tekkie Uni course — think "Scratch Programming," where kids learn to code using virtual "blocks," and "YouTube Creator," where kids produce, shoot, and edit their own videos — consists of 32 live weekly two-hour sessions with just ten enrolled students. All courses even allow for two trial lessons, giving both kids and parents a chance to make sure it feels like a good fit.
Each week, students take part in an engaging hour-long project-based lesson that allows for real-time student-teacher interaction through screen sharing and live chat. Following this lesson, during which they may have coded a robot to navigate a 3D maze or practiced pitching an app to potential customers, students participate in a teacher-supervised practice hour where they get to explore concepts learned in class, bring up topics they want to learn more about, and get individualized attention from the instructor. Homework is a hard no, but outside of the weekly sessions, kids are also able to access Tekkie Uni's online learning environment 24/7, where they can share questions and ideas on community forums, rewatch recordings of their favorite lessons, and download fun related exercises.
Much like a traditional in-person class, parents are able to keep tabs on their kiddos too. After just a few lessons, you'll be invited to a virtual conference to get to know the teacher and familiarize yourself with the course content. Instructors also send out periodic progress reports, along with lesson reminders to help you stay on top of the curriculum. You'll even receive an absence alert email if your child doesn't show up for a class.
As if turning kids' natural interest in passive digital media into a seriously productive learning activity isn't enough of a win, Tekkie Uni's online classroom model and assortment of courses makes coding for kids accessible in a whole new way. And with coding become a fundamental skill in today's world — one that also boosts thinking skills, creativity, and confidence — getting an early start is sure to serve your kiddo well. Take a look at all of the Tekkie Uni classes currently available, and remember, you get two fully-refundable trial lessons when you register now.