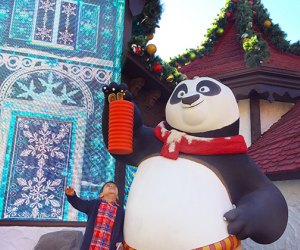 Visit Santa at this North Pole Adventure from DreamWorks
A giant panda has made himself at home at Westchester's Ridge Hill, which is once again teaming up with DreamWorks Animation to take families on an Adventure to Santa. The panda is none other than Po from DreamWorks' Kung Fu Panda, and he and his friends are part of a holiday attraction that takes kids on a journey to the North Pole to meet Santa.
This is Adventure to Santa's third year at Ridge Hill, though it's the first year that Po and the Kung Fu Panda gang are making an appearance (the two previous years featured Shrek). I recently made the hour-long journey from my home in New Jersey with my 4.5- and almost-2-year-old boys to check it out.
We have some important tips to know before you go, especially if you're making the trip from NYC, upstate or New Jersey.
Adventure to Santa Basics
Westchester's Ridge Hill's Adventure to Santa takes place inside a spectacular holiday cottage that sits at the center of the complex. Its facade is covered with LCD screens featuring Po and his friends, a light snowfall and seasonal sights. As soon as you enter, you're greeted by Santa's helpers, who issue your family a personalized passport. Then a tour guide ushers you into the first room, where a sign reading "Mr. Ping's Cookies" hangs above the fireplace.
Po and Mr. Ping appear on a large screen and explain that they need your help to deliver some fresh cookies to Santa at the North Pole. How will you get there? A rocket-powered cart, of course. But first, you're going to have to learn how to drive one. So your guide leads the way to the Design Lab, where tablets affixed to the walls allow kids to drive rocket-powered carts over snowy slopes. (Full disclosure: My 4-year-old outscored me in this game.)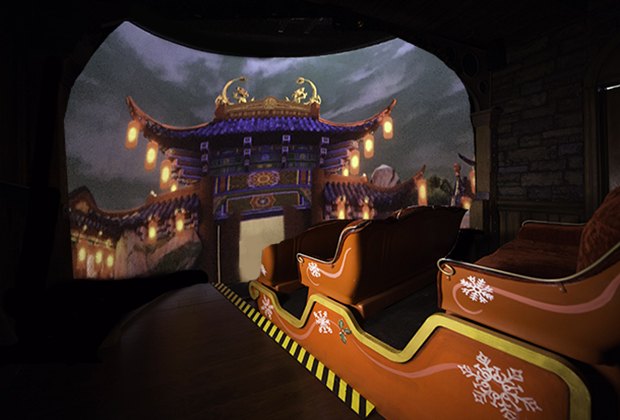 This "4D" sled ride was a blast for my older son. Photo courtesy of the venue.
Next, a set of doors open to reveal a life-size sleigh—er, rocket-powered cart—in front of a floor-to-ceiling screen. Hop on board for a cinematic experience that takes you on a roller-coaster ride through the night sky and down a snowy mountain with Po, Master Shifu, and friends. The cart shakes and jolts as it bounds down the mountain, and my 4-year-old loved it. His favorite part was when a machine blew cool mist at us so that we could feel the "snow" in our faces. My 2-year-old? Not so much. He started crying as soon as we climbed aboard the sleigh and didn't stop until the ride was over and we were safely out of the room. The dark room, loud noises, and bumpy movements proved to be a little too much for him.
The next stop is the North Pole Customs Shop, where you're greeted by more of Santa's helpers and get your passport stamped. While you wait for your turn to visit with Santa, you can sit on peppermint-swirl stools and use a tablet to design your own Po-themed holiday card.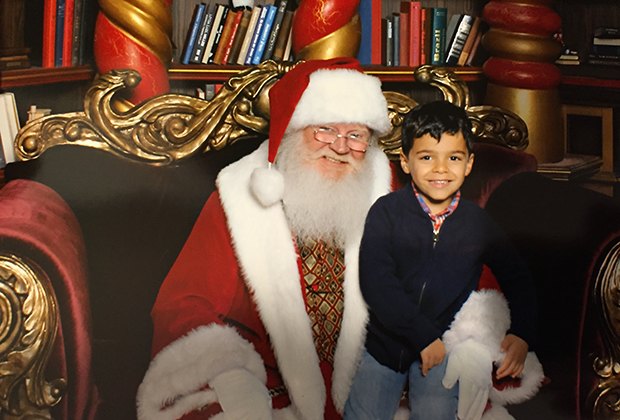 The kind Santa was able to coax a smile out of my shy guy.
Every family enjoys a private visit with Santa in his study. This Santa was the real deal: He looked the part more than any Santa I've ever seen, right down to the rosy cheeks and extremely realistic beard. He exuded kindness and warmth, and he got my shy kiddo to divulge a little bit about himself and what he wants for Christmas. After a few photos, we said goodbye to Santa and did a little twirl that magically returned us to Yonkers—via the gift shop, of course.
Adventure to Santa: Best Times to Go & Other Tips
Purchasing a photo package is required to book reservations in advance. You have to purchase a photo package in order to complete your online reservation. Packages range from $35–$75 per family.
Also: No photo taking allowed. The one bummer about the experience is you're not allowed to take your own pics. So if you want a memento, you'll need to purchase a photo package.
Advance reservations are strongly encouraged! Make sure you book your time slot online ASAP. The attraction sells out fast. The upside is the lines shouldn't be too long since entry is timed. Drop-ins are welcome this year if slots are available, though you should expect long wait times. Purchasing a photo package is not required for drop-in visits.
Warning: Your journey ends in the gift shop. You'll find DreamWorks merchandise for sale, and you can view photos and video of your Santa visit. There are several packages to choose from, and prints of your kids' holiday cards are also available.
Adventure to Santa is best for younger kids. Although guests of all ages can appreciate this interactive experience, I think the sweet spot is ages 3 to 6. Little ones younger than 3 might be frightened by some parts, especially the sleigh ride.
Make a day of it. Although the entire experience only lasts about 15 minutes, Westchester's Ridge Hill is also home to the Legoland Discovery Center, Frannie's Goodie Shop, a movie theater, and lots of great shopping and dining options. It also has an awesome playground, which my 4-year-old can't stop talking about.
Metro-North and a short bus ride or taxi can get you there if you don't have a car. Follow the directions offered by Legoland.
Adventure to Santa is located at Westchester's Ridge Hill, 1 Ridge Hill Boulevard in Yonkers, and takes place daily (excluding Thanksgiving Day) through Saturday, December 24. Visit the website for the complete schedule and to make reservations.
Find more seasonal fun in our Westchester and NYC Holiday Guides.
Unless otherwise noted, photos by Michelle Vames.
Places featured in this article:
---
Westchester's Ridge Hill