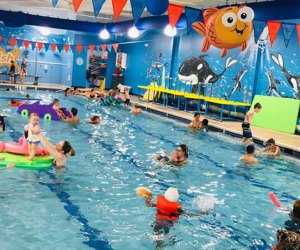 Indoor Swimming Pools for New Jersey Families
Baby, it's cold outside—but if your little fishies need an aquatic fix to work out the winter wiggles, you're in luck! New Jersey is chock-full of indoor swimming pools where little water bugs can splash around all year long. We've rounded up some of New Jersey's most family-friendly indoor pools where you can either drop in for the day or sign up for an affordable membership.
If you'd rather make a night or weekend of it, you can't go wrong with any of our local indoor water parks—think water slides and wave pools! But if a quick dip in some warm water sounds like the perfect way to spend a chilly day, grab your swimsuits and goggles and scroll down for a list of the best indoor swimming pools in NJ.
Find more cold-weather playtime ideas in our Winter Fun Guide.
Indoor Pools with Day Passes
Popular for swim lessons, the kid-friendly pool at The Connection will make little guppies feel right at home. Jump In & Swim on Tuesday and Thursdays from 1:30–2:30pm, with water toys, games, balls, and music, is $7 for kids up to age 6. Or dive in as a family during Recreational Swim on Friday evenings and weekend afternoons. It's free for members or $20 with a non-member pass.
If your little one is sensitive to chemicals, the saltwater pool at a Five Star Swim School may be gentler on their eyes, skin, and hair than traditional chlorine. The water is also heated to a tropical 90 degrees. It's $10 per swimmer to take a dip during open swim; kids under 2 are FREE. You can also purchase a 10-visit punch card for $80.
When not in use by the varsity team, the Stevens Institute of Technology pool is open for family swim seven days a week. You can drop in for $25, or get a monthly family membership—$100 per month if you sign up before the 15th (after, it's $60). Single parent memberships start at $65 per month, with a $15 drop-in fee. Note: the pool is kept at a temperature of 81 degrees for competitions and meets, which may be a little too cool for your littlest ones.
Goldfish Swim School opens up its shiver-free, 90-degree pool several times a week for Family Swim. It's a great way to test the waters before signing your little one up for swim lessons. Visit the website to find out the Family Swim hours at your nearby location.
RELATED: Splash and Slide at Indoor Water Parks for NJ Families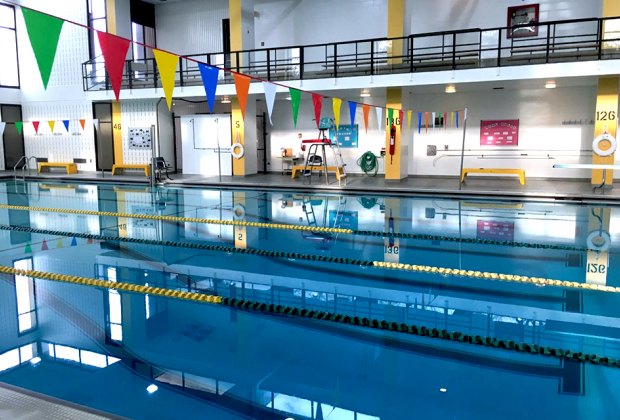 Mark your calendars for the once-a-month Family Fun Pool Party at JCC MetroWest.
JCC MetroWest pools are usually members-only, except for the once-a-month Family Fun Pool Party. Held on select Sundays from 1:30-2:30pm, it's FREE for all to swim, and the pool is filled with noodles, basketball, and other games.
Membership is not required to swim at this state-of-the-art pool at this private boarding school. At 25 meters long and 25 yards wide, the pool can accommodate 15 lanes, so there's plenty of room for everyone. Family swim times are frequent, so check the schedule for a time that works for you. The entrance fee is $6 per swimmer, with a maximum of $18 per family. Pre-registration online is strongly encouraged.
In addition to a skating rink, baseball fields, basketball courts, and a playground, Pershing Field also includes a 25-meter, 6-lane heated pool. Open to residents and non-residents, the pool has a light and airy feel thanks to its glass ceiling, and the water is 3.5 feet deep at its shallowest. Daily fees range from $2 per child/$3 per adult on weekdays for residents to $6 per child/$8 per adult for non-residents on weekends and holidays.
Union City is home to not just one, but two indoor pools, both with open swim hours Monday–Saturday. FREE to Hudson County residents, be prepared to show your ID to gain entrance. The Ron Dario pool also offers FREE swim classes for kids Saturday mornings at 9am and 10am.
Indoor Pools with Inexpensive Memberships
The ESCNJ Aquatics & Fitness Center is not as cheap as community pools, but it has pretty much everything an indoor pool should have: a 25-yard lap pool, a warm-water recreation pool for families, and a heated spa. There's recreational swim, but also lessons and exercise classes. Special Needs Aquatic Play invites children with special needs and their families to play and swim in a comfortable, welcoming environment. There's a $30 joiner's fee and family memberships are $56 a month ($47 for single-parent families).
After an extensive overhaul in 2017, the JFK pool boasts new tiling, upgraded lighting, and renovated dressing rooms. The unique indoor/outdoor pool has a retractable roof that can be opened on warm, sunny days. Fun fact: 2008 Olympic gold medalist Cullen Jones, who grew up in nearby Irvington, used the JFK pool to train. The pool is open Tuesday–Saturday and a yearly membership is $5 for Newark residents and $15 for non-residents.
RELATED: Free Indoor Play Spots for NJ Kids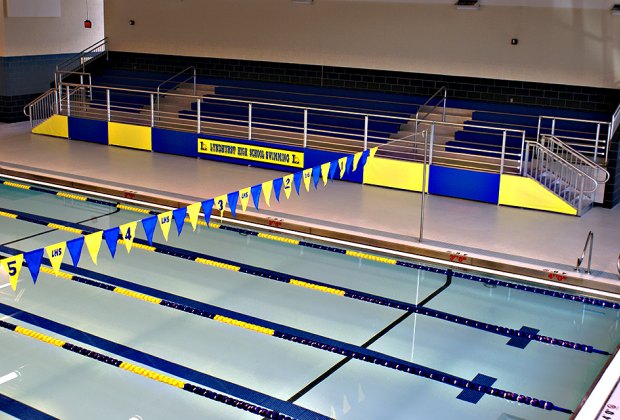 The Lyndhurst Community Pool is open daily for recreational lap swim.
Located on the Lyndhurst high school campus, big windows allow plenty of sunshine to pour into this clean and well-maintained indoor pool. Open daily for recreational lap swim, a seasonal membership is the perfect way to pass the cold-weather months. For a family of four, it's $280 per season for residents or $310 for non-residents. The pool also hosts swim lessons and birthday parties!​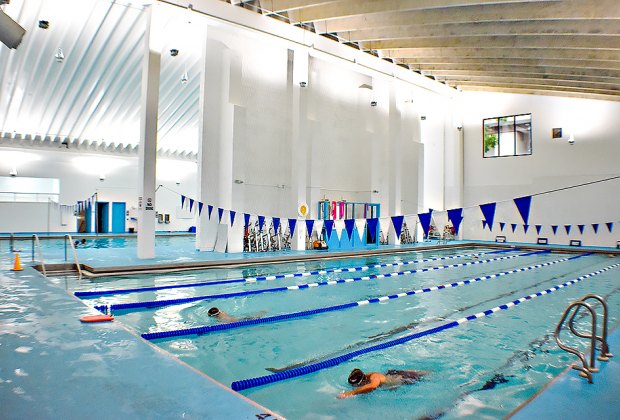 Snag a membership to the Mercer County Community College Pool.
Grab your goggles and take the plunge at this local community college. The Olympic-size pool is perfectly heated so that little swimmers can stay warm while they float, swim, or splash. Family memberships include up to five people and can be purchased on an annual ($275) or semi-annual ($165) basis. Locker rooms and showers are available during the pool's open hours.
Photos courtesy of the colleges and centers