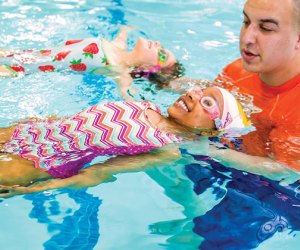 Swim Lessons and Classes for New Jersey Kids
Looking for a way to introduce your child to the pool? Mommy-and-me swim lessons are a great way to help kids develop a love of swimming and instill confidence around the water. These swimming lessons for kids in New Jersey teach water skills in a safe and age-appropriate way, and most allow children as young as 6 months old to participate; many of the swim programs listed below estend programming up to age 12 or beyond and some even offer competitive swim teams.
Once your little one is comfortable in the water, you can take the family to the local swimming pool, a Jersey Shore beach, or one of these cool, local water parks with confidence.
For more kids classes, be sure to check out our guide to the Best Kids Classes and Activities in New Jersey.
Subscribe to our newsletters to get stories like this delivered directly to your inbox.
Swim Lessons for Kids in Northern New Jersey
Whether you're seeking a welcoming mommy-and-me swimming class or wish to concentrate on stroke development, The British Swim School of North New Jersey has options for you. Classes begin at age 3 months and extend all the way up to adults. Special needs classes are also offered. Beginner classes have a maximum ratio of 4:1.
OUR LATEST VIDEOS
Swim lessons for every skill level are offered at The Connection. Groups are organized by age and skill set, beginning with parent-child classes for children ages 18 months to 3 years. As your child progresses, classes adapt to their meet needs. Private swim lessons are also offered.
SwimQuest – Whippany and Milburn
SwimQuest lessons focus on getting kids comfortable in the water while having fun. From there, students progress—and build confidence—on their own timeline. Small-group, semi-private, and private lessons are offered at each of SwimQuest's two locations. Registration is accepted on a rolling basis and lessons are available seven days a week. A competitive swim team is also offered.
RELATED: Back-to-School Guide for NJ Kids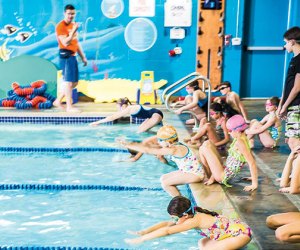 Goldfish Swim School offers swimming lessons for ages 4 months to 12 years.
Jumping into swimming lessons at Goldfish Swim School is a great way for little ones to learn to love the water. Parent-and-me swim lessons begin at 4 months old, and lessons continue for children up to 12 years old. There is also a competitive team for advanced swimmers ages 5 and older.
At KimSwims, your child can learn everything from blowing bubbles in the water to the backstroke, depending upon their skill level. Parent-and-me classes are available for the younger swimmers. Diving and scuba lessons, as well as adult lessons, are offered. Registration takes place over the phone as part of KimSwims' effort to provide a personalized learning process. Class sizes are kept intentionally low, with a maximum of four kids per group lesson.
North Jersey Aquatics boasts small-group classes with personalized attention. Most classes offer a 3:1 student-to-instructor ratio, and private lessons are available. Mommy-and-me swim lessons begin as early as 3 months and advance to age 6+. A swim team is also offered.
Safe Splash Swim School teaches swimming as a life skill, with a curriculum designed with help from Olympic champion Missy Franklin and lessons for children of all ages and skillsets. Small-group classes offer a 4:1 ratio, but private or semi-private lessons are also offered.
Offering expert swim instruction for more than 30 years, TMTTW swimming lessons welcome students ages 6 months to adult. Baby-and-me classes are available, along with private, semi-private, and group lessons.
Swim Lessons for Kids in Central New Jersey
The Parent-Child classes are the first level of swim lessons at this local community center and cater to kids as young as 6 months old. Group lessons continue to be offered for all skill sets and all age levels, including adults. Swimmers ages 5+ may try out for the competitive JCC Bridgewater Tide Team.
Compassion, empowerment, family, and excellence are the words they live by at Little Dolphin's Swim Academy. Classes range from Bathtime Babies, for parents and babies ages 2 to 6 months old, and Baby & Me, for ages 2 to 24 months, up to teen and adult lessons.
Instructors at Pied Piper have been teaching the children of Toms River to swim for more than 25 years. Options are offered at all skill levels, from infant to advanced.
Swim Classes With Multiple New Jersey Locations
Five Star Swim School is dedicated to providing quality swim lessons to students of all ages and swim levels. Semi-private and private lessons are also available.
Lessons here are offered for children of all ages and skill levels, starting with Baby & Me. Older children are placed in a class appropriate for their skill and water comfort level. In addition to flexible scheduling, the professionals at this facility also offer private and special needs classes.
JCC – Multiple Locations
JCCs offer lessons for everyone, from infants and toddlers to teenagers and adults. Young children will have fun splashing, blowing bubbles, and just getting comfortable in the water. As they progress, the staff helps them build skills and endurance. For more information, visit your local JCC's website.
Making Waves offers private, semi-private, and sibling lessons, as well as Infant Swimming Resource (ISR) lessons for babies ages 6 to 12 months old.
RELATED: Best Pools with Day Passes in New Jersey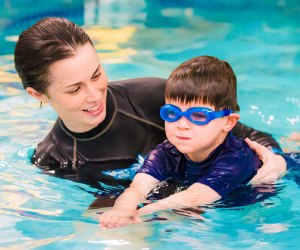 NJ Swim Schools offers parent-and-child classes for ages 6 months to 3 years.
NJ Swim Schools offer year-round private and small-group developmental swim lessons for parents and children from ages 6 months to 3 years. The infant/toddler program is designed to provide kids with a "positive introduction into the aquatic environment." Beyond age 3, levels are determined by skillset.
YMCA – Multiple locations
Swim classes at the YMCA are offered for children of all ages, from 6 months to 19 years. The Y prides itself on building confidence in the water while having fun. Parent-child classes are offered, and the organization also encourages competitive swimming as children get older.
Photos courtesy of the schools.
Originally published in 2016, this post is updated regularly.