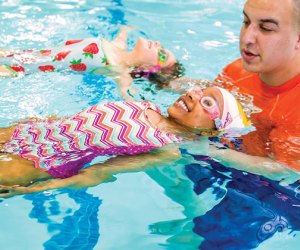 Swim Lessons and Classes for New Jersey Kids
Looking for a way to introduce your child to the pool? Parent-child swim classes are a great way to help kids develop a love of swimming and instill confidence around the water. These programs teach water skills in a safe and age-appropriate way, and most allow children as young as 6 months to participate. Once your little one gets the hang of it, you can take the family to the pool, beach, or water park with confidence. And most programs continue to offer lessons for kids up to age 12 and beyond.
For more kids' classes, be sure to check out our Guide to Classes and Enrichment Programs.
Swim Classes in Northern NJ
Berkeley Heights Community Pool – Berkeley Heights
Now that pool season is here, you may want to consider starting swim lessons this summer at the Berkeley Heights Community Pool. Summer swim lessons are offered in three different sessions during the season, and lessons begin at age 3. The cost varies for members and non-members.
British Swim School – Mt. Arlington
Whether you're seeking a welcoming Mommy and Me swim class or wish to concentrate on stroke development, The British Swim School North New Jersey has options for you.
The Connection – Summit
Swim lessons for every skill level are offered at The Connection. Groups are organized by age and skill set, beginning with parent-child classes for children 6 months to 3 years. As your child develops, classes adapt to their needs. Teen and adult lessons are available, too.
RELATED: Deals and Special Offers on New Jersey Kids' Classes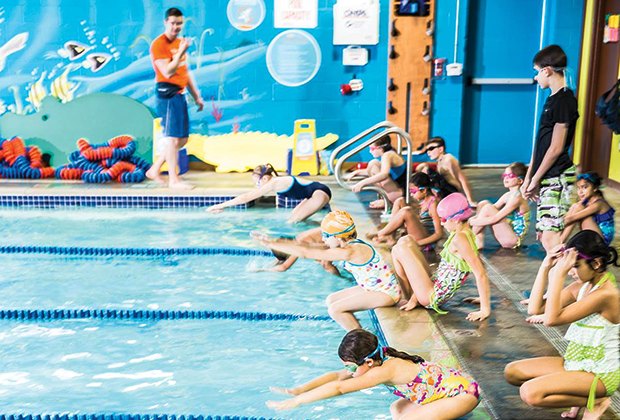 Goldfish Swim School offers swimming lessons for ages 4 months to 12 years.
Goldfish Swim School – Wyckoff
Jumping into lessons at the Goldfish Swim School might be a great way for your little ones to learn to love the water. Parent-child classes begin at 4 months old, and lessons continue for children up to 12 years old. There is also a competitive team for advanced swimmers ages 5 and up.
Hamilton Health and Fitness – Jersey City
Swim lessons begin at 6 months and continue to about 12 years. Adult classes are also available. Cost varies for members and non-members.
Kim's Swim – Denville
At Kim's Swim your child can learn everything from blowing bubbles in the water to the backstroke, depending upon level. Diving and scuba lessons are available, too.
Kristie's School of Fish – East Hanover
Kristie's School of Fish has been teaching for more than 30 years and prides itself on providing early, positive exposure to the water. Lessons begin with parent-child classes for children 6–16 months old. After that, children work with instructors to develop their love of the water. Lessons are offered for children through age 9.
Safe Splash Swim School – Various Northern NJ locations
Safe Splash Swim School teaches swimming as a life skill, with a curriculum designed with help from Olympic champion Missy Franklin, and lessons for children of all ages and skill sets.
Stevens Athletics – Hoboken
Parent-child classes are offered for children ages 12 months to 3 years. All classes are taught by certified instructors who balance fun with safety to teach such skills as kicking, front floating, and opening eyes underwater. Classes are also offered for children up to 13 years old, as well as for adults.
Take Me To the Water Swim School – Morristown, Paramus, Ridgewood
Offering expert swim instruction for more than 30 years, TMTTW welcomes students ages 6 months to adult. Baby-and-me classes are available, along with private, semi-private, and group lessons.
Swim Classes in Central NJ
Shimon and Sara Birnbaum Jewish Community Center – Bridgewater
Aquatots, the first level of swim lessons, is suggested for children 6 months to 3.5 years old. Group lessons continue to be offered for all skill sets and all age levels, including adults.
Highland Grove Pool – Fords
Members of Highland Grove pool will receive 15 percent off swim lessons. Cool off and join your preschooler as they learn to swim. Teen, adult, and special needs classes are offered as well.
Little Dolphin's Swim Academy – Bound Brook
Compassion, empowerment, family, and excellence are the words they live by at Little Dolphin's Swim Academy. Classes range from Bathtime Babies, for parents and babies ages 2–5 months old, and Baby & Me, for ages 6–24 months, up to teen and adult lessons.
Pied Piper Swim School – Toms River
Instructors at Pied Piper been teaching the children of Toms River to swim for more than 25 years. Options are offered at all skill levels, from infant to advanced.
Swim Classes in Multiple NJ Locations
British Swim School – Multiple locations
The British Swim School concentrates on fun and gentle methods of teaching. Lessons are offered for all levels, from parent-child classes to the beginning competitor.
Five Star Swim School – Eatontown, Edison, Princeton
Five Star Swim School is dedicated to provided quality swim lessons to students of all ages and swim levels. Semi-private and private lessons are also available.
Infant Swim Resource – Multiple locations
Founded in 1966, Infant Swim Resource offers a one-on-one learning experience for children 6 months to 6 years old. Each lesson is customized for your child's needs and skill level.
Into the Swim – Multiple locations
Lessons here are offered for children of all ages and skill levels, starting with Baby & Me. Older children are placed in a class appropriate for their skill and water comfort level. In addition to flexible scheduling, the professionals at this facility also offer private and special needs classes.
JCC – Multiple locations
JCCs offer lessons for everyone, from infants and toddlers to teenagers and adults. Young children will have fun splashing, blowing bubbles, and just getting comfortable in the water. As they progress, the staff helps them build skills and endurance. For more information, visit your local JCC's website.
Making Waves – Multiple locations
Making Waves offers private, semi-private, and sibling lessons, as well as Infant Swimming Resource (ISR) lessons for babies 6–12 months old.
RELATED: Best Pools with Day Passes in New Jersey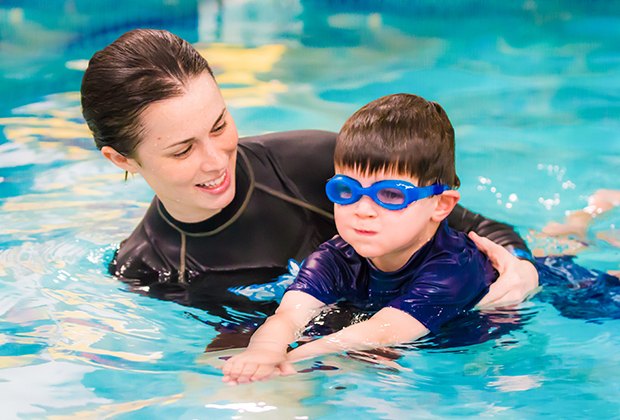 NJ Swim Schools offers parent-and-child classes for ages 6 months to 3 years.
NJ Swim Schools – Florham Park, Lakeside, Warren, Sparta, Manasquan
NJ Swim Schools offer year-round private and small-group developmental swim lessons for parents and children from ages 6 months to 3 years. The infant/toddler program is designed to provide kids with a "positive introduction into the aquatic environment." Beyond age 3, levels are determined by skill set.
YMCA – Multiple locations
Swim classes at the YMCA are offered for children of all ages, from 6 months to 19 years. The Y prides itself on building confidence in the water while having fun. Parent-child classes are offered for kids 3–4 years old. The organization also encourages competitive swimming as children get older.
Photos courtesy of the schools.
Originally published 2016 and updated regularly.
Kim's Swim
424 Route 46 West
Denville, NJ 07834
The Little Dolphin Swim Academy
424 Vosseller Ave
Bound Brook, NJ 08805