Kids Can Be the Doc (McStuffins) at Liberty Science Center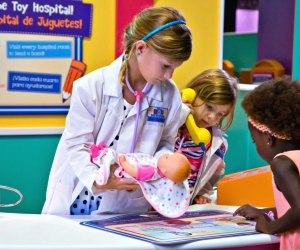 10/25/18
- By
Margaret Hargrove
The Doc is in the house! Well, at Liberty Science Center, that is. Doc McStuffins: The Exhibit is a real-life replica of Doc's backyard clinic where she uses her magical stethoscope to fix hurt toys. Visitors to the exhibit, inspired by the Peabody Award-winning television series, are transported to the hospital where they can help Doc McStuffins and her friends take care of all kinds of dolls, gadgets, and stuffed animals.
My 5-year-old superfan was so excited to attend the exhibit's recent grand opening that she wore a lab coat from last year's Halloween costume. But don't worry, there are plenty of white coats and stethoscopes to go around at LSC so that your kiddo can help care for toy patients like a pro. Feel free to bring your own "hurt" stuffed animal from home, too.
Read on for our tour of the highly-interactive Doc McStuffins' toy hospital where young doctors-in-training can perform check-ups and diagnose toy patients, while learning about healthy habits, compassion, and nurturing care.
As we approach the third-floor exhibit, a life-sized Doc McStuffins cutout greets us at the entrance to the backyard clinic. My daughter stops to pose for a picture before stepping through the Toysponder Transporter. Sparkly purple lights transport her to the clinic's Reception Area. Little thrill-seekers also have the option to climb a few stairs and slide down into the waiting room.
At the hospital's reception desk, we help Chilly answer the phones and make appointments. Once checked in, toys that need help fast head straight to the Emergency Room. Changing stations provide white lab coats, as well as toy thermometers and blood pressure cuffs for pint-sized physicians to triage and treat their stuffed patients.
Visual diagrams explain the name and use of each tool, in both English and Spanish. (All signage through the entire exhibit is dual-language.) Hallie, Doc's hippopotamus nurse, leads kids to the bright pink and purple treatment tables to perform an exam. Signs at each table suggest activities and healthy habits to reinforce the importance of health and well-being, such as how washing your hands can help keep germs away, and why food, exercise, and rest are important to maintain a healthy body. Doc's stuffed animal friends also help little ones understand that a trip to the doctor doesn't have to be scary.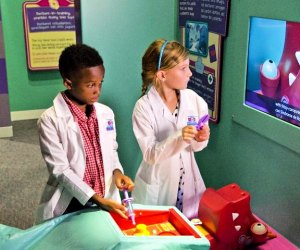 Once the check-up is complete, healthy pets move on to the Pet Vet for a bath and grooming at a double sink filled with faux water. With Stuffy at the helm, we feed the toy fish to help them grow; turn the crank to help "recharge" Squibbles, Stuffy's toy pet critter; and clean the tank by dropping in blue balls of clean water.
Toys that require more testing can get an X-ray at the Vet Clinic. Place a stuffed animal on the scanner and a picture of the animal pops up on the screen with the test results. If surgery is required, walk on over to the Operating Room. After scrubbing in (with plenty of soap), an interactive operating table awaits. It looks a lot like the classic Operation game. A video playing on the screen prompts would-be-surgeons to help Doc fix Dragon-Bot's insides.
Once the medical work is done, Lambie guides kids to the nursery outfitted with rocking chairs, cradles, and changing tables for coos and cuddles. Young helpers are charged with bathing, diapering, and feeding the babies, as well as performing naptime and bedtime rituals to help the newborns fall asleep.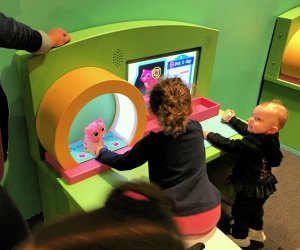 Other activities around the exhibit include two large iPads were kids can flip through digital copies of Doc's trusty "Big Book of Boo Boos." An air pump allows kids to re-inflate Boppy, the dog shaped punching bag. There are also plenty of photo ops with life-sized cutout figures of Doc's friends sprinkled around the exhibit area.
There's a lot to see and do at Liberty Science Center's Doc Mc Stuffins exhibit. Plan to spend about 45 minutes to an hour in the toy hospital. And while the Disney Junior show targets tots ages 3 to 7, kids under age 10 will probably enjoy the exhibit too, as they likely grew up watching the show that's been a hit since it premiered in 2012.
The exhibit is included with regular Liberty Science Center tickets, so you can refuel at the café, which offers plenty of kid options, or take a bathroom break in one of the family-friendly restrooms before exploring the rest of the always entertaining and educational 300,000 square-foot learning center.
The Doc McStuffins exhibition runs through Sunday, January 27, 2019. Liberty Science Center tickets can be ordered online in advance. Admission is $23.75 for adults; $19.75 for children ages 2-12; and free for kids under two.
Photos courtesy of Liberty Science Center