Basketball Exhibit at Yogi Berra Museum Is a Slam "Dunk" for NJ Kids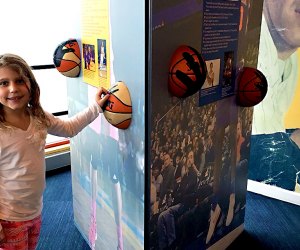 What do you get when you mix basketball and baseball? A new exhibit called Dunk! at the Yogi Berra Museum & Learning Center in Little Falls.
The exhibit, on loan from Science and Arts Engagement New York, will be up through June 1, 2019. This hoops-focused installation combines memorabilia and interactive stations that kids can delve into.
Located just north of Montclair on the campus of Montclair State University, the museum is a quick and easy day trip destination for sports-loving kids and families in NJ. Read on for more about its newest attraction.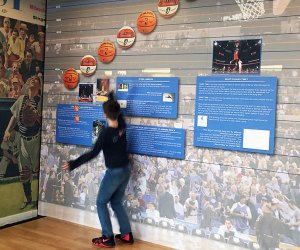 The new mini exhibit is tucked away behind the center's permanent collection of baseball memorabilia. Just past a pinstriped cow statue signed by famed Bronx Bombers including Mariano Rivera and Andy Pettitte, around the corner from Yogi's old catcher's mitts, masks, and chest protectors, you'll find a departure into another type of ballgame.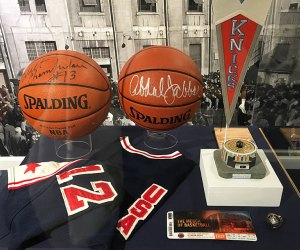 Take a moment to look at the signed photographs of basketball legends such as Michael Jordan and LeBron James. Display cases highlight basketballs signed by Wilt Chamberlain and Kareem Abdul-Jabbar, a Patrick Ewing jersey, a championship ring, and a bobble head of Jason Kidd.
But the more hands-on fun is centered around the science of basketball. Large murals explain concepts such as hang time, and standing vs. jumping reach. Get a running start, then leap up and tap the wall to see how high you can get. Outstretch your arms to see how your wingspan measures up to Kristaps Porzingis'. Compare your height to some of the game's tallest and shortest players, and see how your foot and hand sizes measure up. (One of our favorite finds was Bob Lanier's size 22 shoe!)
RELATED: Fun Things To Do with Kids in Montclair, NJ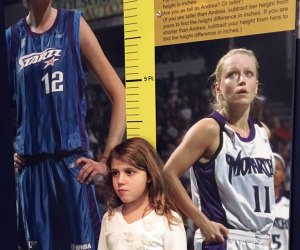 From standing in the shadow of 7-foot 2-inch Margo Dydek to stepping into the outline of Shannon Bobbitt's small sneakers, girls can salute their very own role models from the WNBA.
In addition to Dunk!, kids will love Pitch!, an indoor interactive pitching experience they can try out on the way in or out of the museum. Located in the center's atrium, the netted tunnel lets kids young and old throw rubber balls at an animated batter. The screen posts ball speed and accuracy and even churns out Yogi-isms every so often.
RELATED: Best Museums for Kids in Northern NJ
Though the museum isn't big, the baseball draw is a must for any Yankees fan. And if you're into basketball, too, go now to enjoy the two-for-one attraction. As Yogi would say, "You can observe a lot by watching."
Know Before You Go
The museum is open Wednesday – Sunday, noon – 5pm. Admission is $10 for adults, and $5 for kids under 18. Visit the museum's website for more info.
Photos by the author