Indoor Play Spaces in Warren and Sussex Counties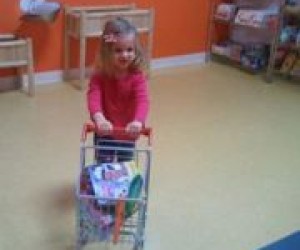 "The sun did not shine. It was too wet to play. So we sat in the house all that cold, cold, wet day."-- Dr. Seuss. Well, you're not making any more of a mess in MY house--my basement looks like a Disney Princess Island of Misfit toys. Even if Punxsutawney Phil predicted an early spring, I'm still not seeing the light at the end of this tunnel. Get out and explore some of the best indoor play spaces in Northwestern NJ--in other words, a place where your kids can make a mess and you don't need to clean it up!
Chuckle Time (Andover, NJ)
Unfortunately, this venue has closed.
Chuckle Time is a family favorite because of its little grocery store, 50's diner and princess play area. They also have a 3 story play structure, slides, arcade games, a toddler play area, and a vending machine with healthy, organic snacks. The best part: you can watch your children from a parents waiting area with a TV and wifi. Like them on Facebook to stay up to date on their discounts and open play schedule. Why not get a bunch of friends together for a play date? Best for the under 8 crowd. Walkers up to 8 years old $10 plus tax, crawlers are $6 plus tax
All Play, LLC (Hackettstown, NJ)
​Unfortunately, this venue has closed.
All Play recently opened and is great for families with a wide age range of children. When you first walk in you enter a huge pretend play space with play kitchens, a fleet of ride on toys, foam blocks, sports equipment and soft play spaces for little ones. The next section hosts arcade games such as air hockey and a claw machine. Finally the mother lode: 2 giant bounce houses. All Play offers a a bird eye view on the second floor for snacks and parents waiting and watching. Like them on Facebook so you are notified of open play hours and specials such as discounted Wacky Wednesdays. They stay open later than usual play spaces as they cater to older children as well--All Play can amuse kids up to 12 years old. $12 for the first child, $10 for the second sibling, and $1 off for each additional sibling. 12 months and under are free.
Clown Around (Flanders, NJ)
This indoor jungle themed playzone has been a family favorite for years. Always cleans and bright, they offer a soft play baby and toddler zone as well as a 3 story play structure with slides, ropes, nets, and obstacles. There is plenty of seating for parents and a snack room as well. They have free wifi and you can schedule play dates or attend open play. Check out their website for special events. 7 years and under. $15 for the 1st child, $10 for a sibling.
Monkey Doodles Play Room (Lake Hopatcong, NJ)
​Unfortunately, this venue has closed.
The perfect play place for the droolers, crawlers, and the "I will put everything in my mouth that I lay eyes on" crowd. Monkey Doodles Play Room is designed specifically for the 5 and under set. A clean, airy space with a wooden play structure and slide, ball pits, tunnels, and a helicopter! You can drop in for open play or schedule private play dates. They also offer a variety of classes, with a new class specifically for super heroes. $10 per child and $8 per additional sibling.