25 Things To Do in Verona With Kids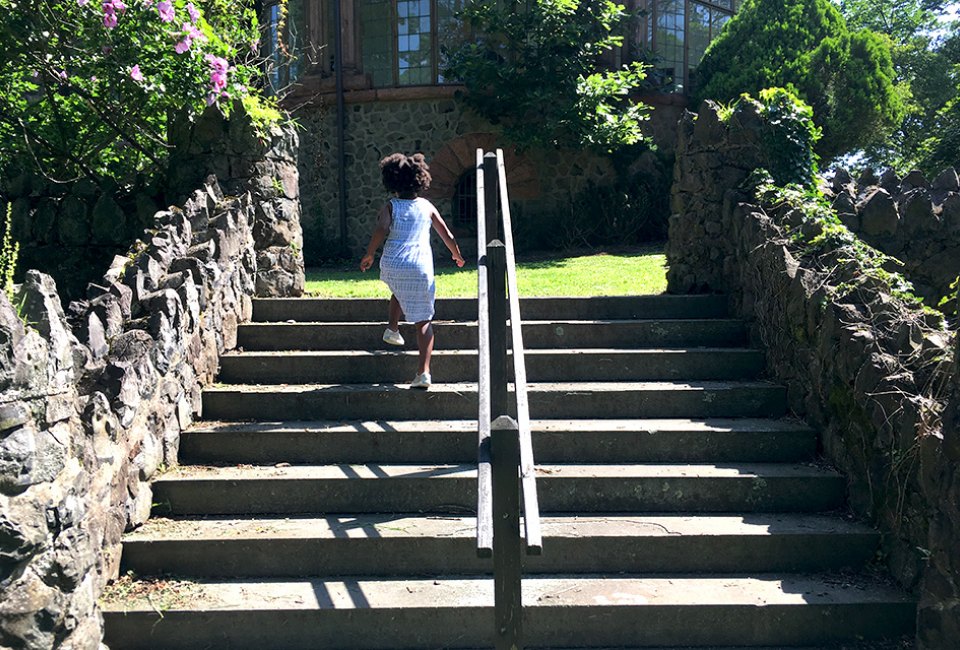 9/14/21
- By
Margaret Hargrove
Essex County is home to so many amazing family-friendly towns, but Verona is definitely one of our favorite small towns in New Jersey. Nestled between Montclair and West Orange, Verona enjoys proximity to these great communities but has a distinct personality and flavor that's all its own.
Verona is probably most well known for Verona Park, a 54.32-acre park with a lake bordered by Lakeside and Bloomfield Avenues, situated in the southern part of town. It's the fifth-largest park within the Essex County Parks system. But, Verona is also home to an actual castle. Not to mention, the town is a robust hub of excitement that's easily walkable, with a slew of fantastic eateries and shops to visit. With a population of about 13,000 residents, Verona caters to its diverse community with engaging family-friendly events and cultural entertainment throughout the year. It's the best of both worlds—small-town charm coupled with the perks of a big city.
Read on for 25 of our favorite things to do in Verona. Come for the park but stick around for so much more!
Subscribe to our newsletters to get stories like this delivered directly to your inbox.
1. Kip's Castle
Take your lil' prince or princess to tour the grounds of Kip's Castle. This 9,000 square-foot mansion is another Verona treasure.
2. Hilltop Reservation
Keep an eye out for deer as you explore Hilltop Reservation, a 284-acre nature preserve, once the site of the Essex County Hospital Center.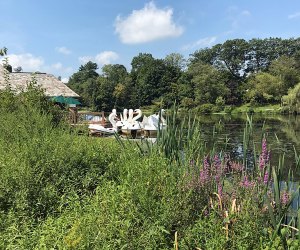 Rent a paddleboat to take a ride around the lake in Verona Park. Photo by the Rose Gordon Sala
3. Swan Boats
Paddle around the giant 13-acre lake in the middle of Verona Park on a swan-shaped paddleboat.
4. Go for a Stroll
Verona Park's 1.3-mile loop has a smooth surface that is perfect for strollers, scooters, and new bike riders.
7. Civic Center Movies Under the Stars
Bring a chair or blanket for a FREE family-friendly movie under the stars on the Civic Center lawn during the summer. Free snacks are also included.
RELATED: Worth The Drive: 12 Destination Playgrounds in NJ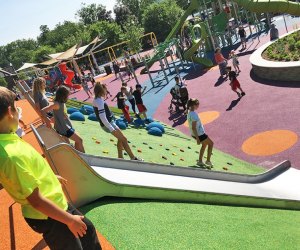 The Verona Park Playground has been recently redone and offers tons of space to climb, explore, and let imaginations run wild. Photo by Elaine Paoloni Quilici
6. Verona Park Playground
Visit the playground at Verona Park, one of the biggest and best in Essex County.
7. Verona Community Center
Avoid the crowds at the Verona Park Playground and visit the Verona Community Center Playground instead. Just up the road from Verona Park, this playground has smaller-scale yellow slides and a few animal climbers, making this low-key play space perfect for little ones.
8. Hit the Tennis Courts
Bring your tennis rackets and balls to play on one of Verona Park's three public tennis courts.
9. Verona Inn Tavern
Grab the best burger in town—with a side of tater tots!—at Verona Inn Tavern.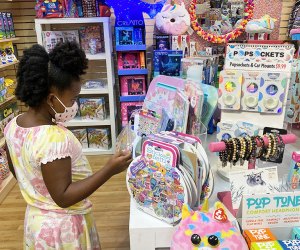 Learning Express Toys is jam-packed with fun finds. Photo by the author
10. Learning Express Toys
Shop for last-minute birthday gifts at Learning Express Toys. They'll even wrap the gift for FREE.
11. Summer Concerts
Or, pack a picnic dinner and enjoy live music on the lawn as part of the Summer Concert Series.
12. Famous Ray's Pizza
Share a massive slice of pizza at Famous Ray's Pizza of New York.
RELATED: Moving Guide: Towns and Villages in New Jersey for Families

Wander the new Fairy Trail at Grove Park. Photo courtesy of the Verona Environmental Commission
13. Fairy Trail
Walk the newly installed fairy trail at the Grove Park and Nature Preserve, which was created by a local Girl Scout.
14. Peckman Nature Trail
Find some adventure along the Peckman Nature Trail. Located behind F.N. Brown Elementary School, the trail runs along the Peckman River that flows through Verona, Cedar Grove, and Little Falls.
15. West Essex Trail
Or, take a hike along the West Essex Trail, which follows a short, 3-mile section of the former rail bed of the Caldwell Branch on the old Erie-Lackawanna Railroad between the Essex-Passaic county line.
16. Verona Diner
Have breakfast at the crowd-pleasing Verona Diner.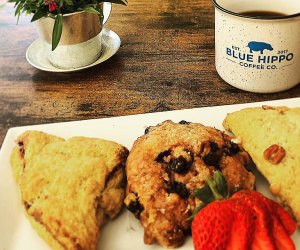 Enjoy breakfast on the patio at Blue Hippo Coffee Co. Photo courtesy of the cafe
17. Blue Hippo Coffee Co.
Enjoy an iced coffee, salad, and Nutella sammy from Blue Hippo Coffee Co. on its adorable back patio.
18. National Night Out
Take part in the activities, games, and an obstacle course at Verona's National Night Out celebration on the first Tuesday in August.
19. Bagelwich Bagel Bakery & Cafe
Get up early to snag a coveted rainbow bagel from Bagelwich Bagel Bakery & Cafe.
RELATED: 100 Things To Do With New Jersey Kids Before They Grow Up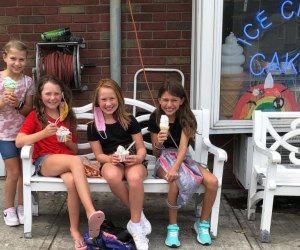 Coof off with a treat from The Towne Scoop. Photo courtesy of the shop
20. The Towne Scoop
Cool off with delicious, homemade ice cream at The Towne Scoop.
21. Fireworks Displays
Don't miss the annual fireworks show on Liberty Field, usually held a few days before the Fourth of July and accompanied by live music, food, and entertainment.
22. Green Point Juicery
Or, choose your own fruit to make a custom kids' smoothie at Green Point Juicery.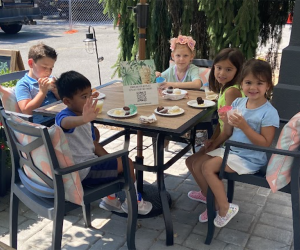 The kid-friendly Compound Coffee Co. offers plenty more than a caffeine fix. Photo courtesy of the cafe
23. The Compound Coffee Co.
Go for coffee and light bites at Verona's newest coffee shop, The Compound Coffee Co. (affectionately known as The CoCoCo).
24. Go Fishing
Yes, really! The annual Verona Park Fishing Derby is held in June
25. Baked Bouquet
Stop for a cupcake at Baked Bouquet, known for its beautiful cupcake bouquets.
Originally published in 2014. Laura J. contributed additional reporting.
Sign up for the Mommy Poppins Newsletter today!
i