New NJ Law Protects Women Who Breastfeed and Pump at Work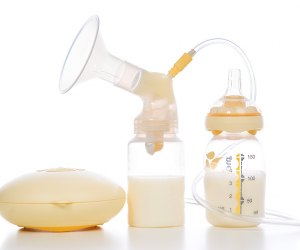 Nursing moms headed back to the office now have one less thing to worry about. On January 8, Gov. Chris Christie signed into law new protections for women who choose to breastfeed or pump breast milk for their babies while at work.
The amendments made to the New Jersey Law Against Discrimination state that employers cannot refuse to hire, fire or mistreat women because they choose to breastfeed. A federal law already protects women who work for companies with more than 50 employees, but the NJ law takes it a step further.
"The law was unbalanced," says Colleen White, a leader with La Leche League of the Garden State, a group that promotes breastfeeding. "It favored those women who worked for larger companies. Now all women have the same rights."
Companies must also provide suitable break time for women to nurse or pump. That time can be unpaid, unless the employee already receives paid breaks.
The new stipulations also require employers to offer reasonable accommodations to women who are breastfeeding or expressing milk, specifying that a bathroom stall is unacceptable. There needs to be a dedicated, private space near the employee's work area.
"It's just more comfortable for everyone," White says. "You won't have uncomfortable, awkward moments between the mom, and other employees and the employer. If they know there's a dedicated space, it will save time, too."
The legislation was sponsored by state Sen. Teresa Ruiz, D-Essex, and Senate Majority Leader Loretta Weinberg, D-Bergen, who also championed efforts to create a lactation room at the Statehouse last year. The room is now located on the third floor, near the women's restroom.
"No food offers more health benefits to a baby than breast milk. We must ensure that new mothers returning to work have the ability to breastfeed, and that no woman is harassed fired, or provided restrictive accommodations for expressing milk for their child," said Senator Ruiz in a statement commending the new rules.
Though smaller companies might initially worry about having to carve out a private area within limited space, White suggested they'll see a positive return in the end.
"If you're a smaller company and have to do this, you're going to have happier employees and they'll feel better working for you," White says. "The employees will be healthier and their children will be healthier."
In addition, breastfeeding could be one of many factors new mothers consider when deciding whether or not to return to work as it does add a level of complication to the return. "With this, there will be a good chance of retaining them better," White says.
Top photo of a breast pump via Bigstock