Best New Jersey Kids Rock Music Bands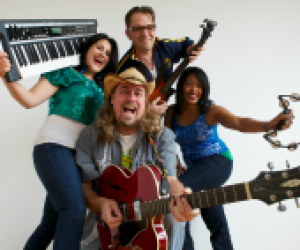 New Jersey is known for its rich musical history. Birthplace of both Bruce Springsteen and Jon Bon Jovi, the state has deep rock n' roll roots. It's no surprise that New Jersey kids love to rock out too. We've found some great New Jersey kids bands and performers that are sure to entertain your little music lovers. From rock to pop to folk our picks know just how to keep your little ones jamming. Whether you're looking to book some entertainment for a birthday party, or just catch a great public performance, our list below has you covered. If your child is a budding musician who wants to be the star of the show, check out our post on the Best Music Classes for NJ Babies, Toddlers and Preschoolers.
The Fuzzy Lemons
Get ready to jump, wiggle and shake with The Fuzzy Lemons, the juiciest family-friendly rock band on the New Jersey scene. With laugh-out-loud lyrics and memorable melodies, every one of their songs tells a story. Every show they perform is full of fun, inspiring kids of all ages to dance and sing along with music that the whole family will enjoy. Whether playing for an audience of 20 or 20,000, The Fuzzy Lemons brings tons of energy. This Hoboken-based, 5 member band can be booked for birthday parties and events. Their performances combine a medley of music styles from rock and reggae, to folk, funk and ska. They also offer a "mini-gig" unplugged trio for smaller events. More information on booking the band can be found here. Their music is available on iTunes, Spotify and Pandora. To see where they are playing next, check out their Gig Calendar or follow them on Facebook.
The Little Rockers Band
The Little Rockers Band plays cool Indie Rock music for kids. They call it "Kindie Rock". This "seriously silly" band performs rock concerts, parties, school assemblies and community events. Their energetic and fun concerts incorporate segues into the parts of the guitar, musical counting and the different instruments in the band. A tasty mix of rock show and TV show, their performances are sure to entertain. You can check out some of the songs from their award winning album, Count Me In, here. The Little Rockers also offer music classes for children throughout Monmouth County, including private voice and piano lessons. For upcoming performances check out their website or follow them on Facebook.
Jason Didner and the Jungle Gym Jam
With a sound that's been compared to Bruce Springsteen and The Ramones, it's no wonder Jason Didner and the Jungle Gym Jam is popular with both kids and their music-loving parents. Over the past year, the band has entertained families at the Turtle Back Zoo, school functions, outdoor festivals and house parties. Jason and his wife Amy write the lyrics to the bands songs, with inspiration from their three year old daughter. They approach their songwriting with humor, warmth and an emphasis on how we treat each other. Their award-winning album, Everyone's Invited, has been getting great reviews from bloggers, kids and parents. You can listen to songs from the album here. For more information, including upcoming tour dates, visit their website.
The Uncle Brothers
The Uncle Brothers, founded by singer-songwriter Tommy Garder, brings the magic of original award-winning children's music to local schools, fairs, libraries and public and private events. The Uncle Brothers family shows are upbeat and fun, with songs that are chockfull of important messages wrapped in spirit and humor. The band's music has won them acclaim with kids and parents alike. All of their 4 original CD's have won Parents Choice Awards. Check out one of the bands performances here. For information on booking, or to see where the band is playing next, check out their Facebook page.
Yosi & The Superdads
Led by musician and composer Yosi, Yosi & The Superdads performs high energy, humorous children's shows each year to enthusiastic audiences. Yosi has released five award winning rock albums for children. Touring both solo and with his band, The Superdads, Yosi performs regularly throughout the Garden State. A father of four, Yosi truly believes his true calling is to bring a joyful experience to children through his music. Check out one of the band's music videos here. For information on booking the band, as well as upcoming tour dates, check out the bands website or Facebook page.

Rockin Solo Act
Jumpin' Jamie
Jumpin' Jamie plays "kindie rock" for all ages. Best known as the Dinosaur Troubadour, at Field Station Dinosaurs, he has played everything from small birthday parties to stadium crowds of 12,000. Jumpin' Jamie performs at libraries, schools, festivals and private parties. He offers a variety of party themes, including a "Do You Wanna Build A Snowman?" packages with special guests. You can listen to Jumpin' Jamie's music here. For upcoming public performances, visit his website and Facebook page.
Ron Albanese-"Polka Dot"
Since 1999, Ron Albanese, otherwise known as Polka Dot, has been entertaining kids throughout the Garden State. This school teacher "by day" is known throughout New Jersey as The King of Kiddie Rock 'n Roll®. A professional writer, Ron creates music with offbeat and quirky lyrics. Songs like A Lotta Energy urge his audience to sing, laugh and dance. You can check out his music here. Ron has performed everywhere from backyards to festivals, schools and fairs. He is available as a solo performer or with a full band. He also performs comedy and can be booked as a DJ/Emcee. More information on booking can be found here or by contacting Ron directly. For even more information, including upcoming performances, check out his Facebook page.