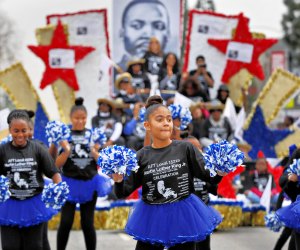 Martin Luther King , Jr. Weekend Things To Do in LA: Kingdom Day, Peace and Unity, Day of Service
Dr. Martin Luther King, Jr. once said, "Life's most persistent and urgent question is 'What are you doing for others?" This weekend, families can join together to answer that question by participating in the MLK Day of Service. A day spent giving back is just one way to honor Dr. King's memory. There are parades, celebrations, and concerts throughout the weekend to bring our families and communities together in honor of his legacy.
Little ones can learn from Dr. King's example as well, with a number of events this weekend particularly geared toward young children. Kids can listen to inspiring stories, appreciate kindness, and consider ways to serve.

Inspiration can be found on other fronts with founding fathers, marching mommas, and singing sisters, bodacious bulldogs , wascally wabbits and friendly tigers, and manic motocross, acrobatic aerialists, and stunning street sport-inspired spectacle, all serving as examples of what one can achieve. Now is a good time to ask our children: how do you try to make a difference? And where do you find your inspiration?
Keep reading for some of our most inspired picks for this weekend.