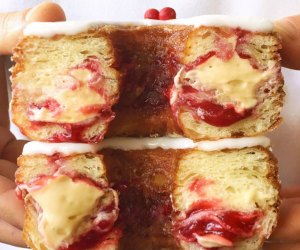 The Cronut Arrives in LA—and Your Kids Are Gonna Want One
It's no coincidence that a French pastry chef came up with what has become an enduring pastry trend. In 2013, Dominique Ansel created the cronut, a pastry that puts a twist on the American donut by combining a donut and croissant in a pastry filled with a slow-cooked jam and creamy ganache. The creation took New York by storm—and has finally hit the LA food scene.
Since he created the cronut at his eponymous New York bakery, Ansel has opened bakeries in London and Tokyo and now opened his first West Coast location at The Grove. Dominique Ansel Bakery features the pastry chef's other signature creations, such as frozen S'mores, DKA (Dominique's Kouign Amann), the Cookie Shot, and an ever-changing menu of sandwiches, quiches, and salads. There is also a restaurant upstairs, 189 by Dominique Ansel (the pastry chef's first ever), open for dinner daily and brunch during the weekend. But what brings in the curious is the cronut.
RELATED: Take a Chocolate Tour at Orange County's ChocXO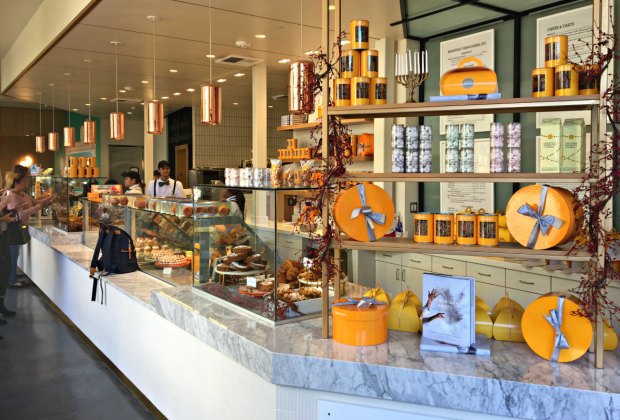 Dominique Ansel Bakery at The Grove. Photo by author
When I went on a Friday morning with my 15-month-old in tow, I was afraid I was going to have to wait in line for a long time. To my surprise, the elegant yellow and white bakery was busy but not jam-packed (no pun intended). I had time to look over the pastry case. The Gingerbread Pinecone (a pinecone-shaped speculoos ganache with a ginger mousse and a spiced cake) and the Ruby Tart (pomegranate seeds on top of lychee mousse and cherry jam) are like little sculptures. There are some pastries, like the Ruby Tart, that Ansel has created exclusively for LA, such as the Paris-LA (a Paris-Brest made with orange blossom ganache and raspberry Chambord jam), the California Roll (an olive-oil biscuit with avocado mousse and vanilla lime mousse), and the Avocado Toast (made with avocado ice cream).
I decided to get the Cronut (how could I not?) and Dominique Ansel's second most popular pastry, the DKA, a flaky and tender bread with caramelized layers. I also ordered the Blossoming Hot Chocolate, which comes with a marshmallow flower that blooms as soon as it's placed on the hot chocolate, to wow the baby (and satisfy my chocolate craving).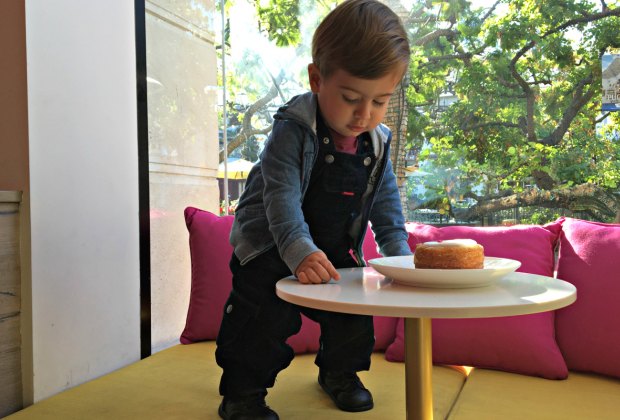 Standing ovation for the Cronut. Photo by author
The bakery, located right across from The Grove's iconic fountain, has plenty of open seating both outdoors and indoors. There's also plenty of stroller parking by the entrance (though high chairs are only available at the restaurant upstairs). The cronut was a balance of crunchy and soft dough with strawberry preserves and cinnamon ganache (filling flavors rotate monthly). I will be back to try the cronut's new flavor of the month and the Frozen 'Smores (Tahitian vanilla ice cream wrapped in honey marshmallow torched to order on real wood sticks). Vive la France!
Dominique Ansel Bakery is located on 189 The Grove Drive, G/F in Los Angeles. It's open from 9am to 9pm daily. The Grove's main parking structure is right behind the bakery.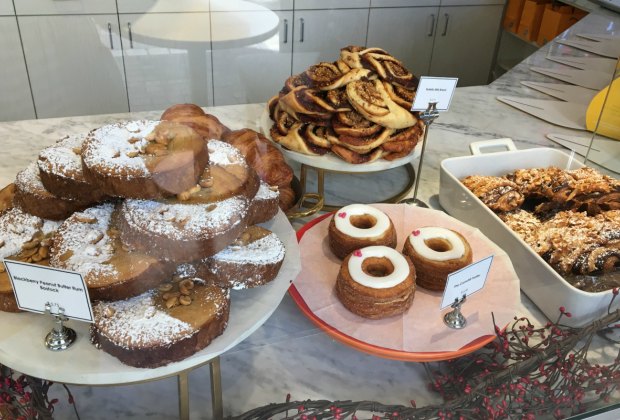 Let Them Eat Cake! Some of the masterpieces on display. Photo by author