ChocXO Chocolate Tour: Is There a Willy Wonka Factory in Orange County?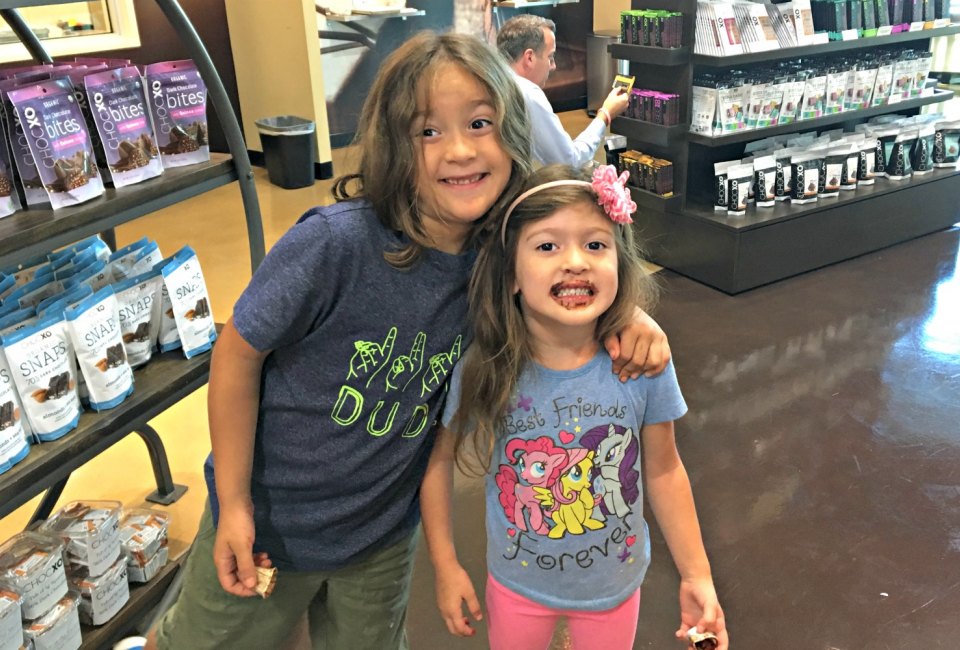 10/27/17
- By
Dana Zepeda
Sadly, this location has closed as of 2019.
The answer to this tantalizing question is yes and no—but mostly yes.
Down the 5 freeway, in a nondescript Orange County strip mall past the Irvine Spectrum, is one of SoCal's best-kept secrets. ChocXO is a bean-to-bar chocolate factory, complete with direct trade cacao beans, organic chocolate, and an on-site retail store that whips up steaming mugs of decadent hot chocolate. But most remarkable of all is that your kids can go behind the scenes and witness for themselves the magic that turns those little beans into the most revered food in their diet. It's the closest thing to Mr. Wonka's factory this side of Hershey.
My kids could barely contain their excitement as we pulled into the small (but free!) parking lot outside of the 9,000-square foot facility on a recent Wednesday afternoon. Visions of chocolate rivers, Oompa Loompas, and candy gardens danced in their heads as they excitedly raced into the building.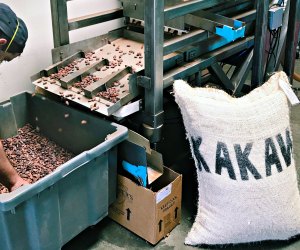 Our tour guide, Brett, did a great job schooling us in Chocolate 101. He is also the company's current production manager, so he really knows the ins and outs of chocolate making. The level of detail he shared about this process was more aimed at the adults in the crowd than the kids—including explanations of how chocolate is fermented and dried, and the differences between ChocXo's cacao beans vs. the inexpensive bulk ones used by chocolatiers like Hershey and Nestle. Truth be told, my kids' eyes glazed over a bit during this talk, and there was at least one case of the wiggles. But to be fair, our tour was mostly adults, with just one teenager and my kids, ages four and seven.
RELATED: 30 Things To Do in Irvine with Kids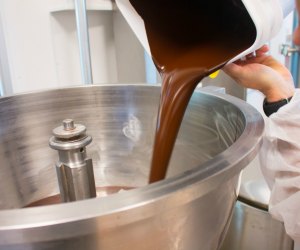 Brett did regain my kids' attention when he passed out samples of cacoa beans to smell and dark chocolate nibs to taste. We all enjoyed this sensory experience; my kids couldn't get enough of the chocolate nibs, which they ate by the handful. They also enjoyed the chocolatey smell of the dried cacao beans, which Brett told us to peel in our hands then rub between our fingers for a delicious fragrance.
Another high point was looking at the giant mixing machines where Brett personally oversees 1,000 pounds of chocolate being produced each and every week, before it is set in molds and shipped off to distributors.
After the tour ended, we were all treated to samples from the gift shop, as well as bottomless cups of liquid chocolate, which the kids poured themselves from a spout in the wall. It wasn't a chocolate river, but pretty darn close.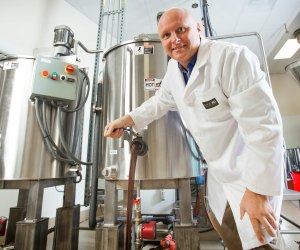 Insider tip: The day we booked our tour turned out not to be a production day, so we missed out on seeing the machines in action. Be sure to ask when you make your reservation when you can actually see chocolate being manufactured. Also, if you have allergies, please advise the staff when you make your reservation so they can help you steer clear of unsafe candy during the tour.
The ChocXO factory tour lasts 45 minutes, and I thought it was a great educational experience for chocolate lovers of all ages. That said, it's definitely geared toward older kids and adults; ChocXO's website says the experience is only appropriate for children ages 6 and up, and I can see why.
ChocXO tours are offered most days but can book up several weeks in advance; reservations should be made on the ChocXO website. Tickets cost $10 for adults, $7 for children ages 6-11.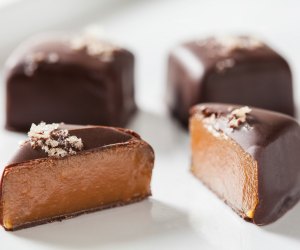 All photos courtesy of ChocXO unless otherwise noted
Places featured in this article:
---
ChocXo Bean to Bar Chocolatier
Sign up for the Mommy Poppins Newsletter today!