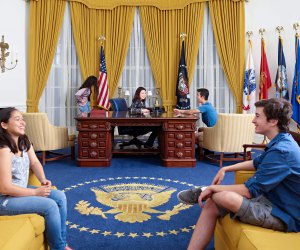 Presidents Day Weekend Things To Do in LA with Kids: Mardi Gras, Whales, and Black History
This weekend is about more than just the long weekend (though it is a long weekend). This weekend asks us to examine the power of the individual: to do good, to achieve, to entertain and inform.
Whether your skill is trick shotting, krill eating, or sheep herding, whether you aim to be a ninja master, a seal rescuer, or a prima ballerina, this weekend reminds us that we can all rise up and achieve great things.
On Monday in particular, we look at the American presidency and the power of one individual to impact the lives of so many. LA is lucky to have two presidential libraries in the region, both of which offer up observances of the holiday. Ask not what your country can do for you; ask what you are going to do with your kids on this long weekend.
Read on for our most statesmanlike picks for this weekend …