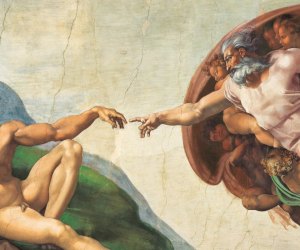 Michelangelo at the Mall: the Sistine Chapel Is in the Valley this Month
One of Rome's greatest draws is close to home this month, particularly if you live in the Valley. The ceiling of the Sistine Chapel, one of the Vatican's great wonders and Michelangelo's most famous work, can be enjoyed up close—in between shopping at The Gap and skating on the pop-up ice rink. While tourists who have saved all their lives for this moment are shepherded through the Vatican in a mob for a brief glimpse of the famous Creation of Adam, Angelenos can take a gander at a leisurely pace, feasting their eyes on a traveling exhibit that's as close as the mall.
No travel plans this winter break? Here's a way to add international and cultural flair to the season. Westfield Topanga & The Village in Canoga Park are hosting this historic slice of Rome, Up Close: Michelangelo's Sistine Chapel, through the end of 2017. The exhibit on the shopping center's second level faithfully reproduces the wonders of the Vatican's most famous ceiling in life-size proportions.
Specially lit screens project 34 of the Renaissance master's famed frescoes detailing of some of the Bible's most memorable moments, including The Last Judgment and The Creation of Adam, in gorgeously restored color. And it's possible to see them all without craning your neck or crossing the Atlantic.
One benefit of seeing the reproductions here is being able to read the informative placards and labels that accompany the artwork, explaining a bit about what you're seeing and offering details behind the creation of the masterpiece. An optional audio tour is available ($2) for viewers who want a more in-depth explanation of each tableau.
Living in Los Angeles, certain European experiences may feel out of reach, but in reality art appreciation events are all around if you keep your eyes open. Michelangelo at the mall may be an easier sell for some kids than a trip to a museum anyway—maybe even than a trip to Italy. And Michelangelo and Leonardo da Vinci make for great name drops and hashtags, right?
Just be prepared for the giggly question that can come with such an outing: Where the heck are everyone's clothes in these pictures, anyway?
Up Close: Michelangelo's Sistine Chapel is on through December 31, 2017. General admission tickets are $10, with children under 12 free. Additional audio guide costs $2.