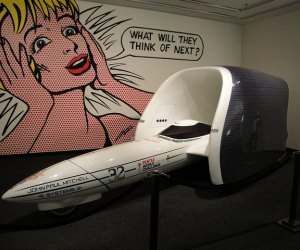 Fun Things To Do When Grandma and Grandpa Visit Los Angeles
We've all been there. Your parents are in town, and nothing would please them more than spending a day with their grandkids—but what can you organize to make everybody happy? The kids are all about roller coasters and water slides. For Grandma and Grandpa, nothing can beat a museum exhibit on medieval etchings. And therein lies the problem.
Believe it or not, there is a middle ground. Activities that can please both young and old actually exist, with enough action for the young ones without too much of an overload for Grandma and Grandpa. If you are lucky enough to coordinate such an excursion, your parents will be able to spend some bonding time with the grandkids, and you will reap the ultimate reward: a child-free date for you and your significant other. Or at least a well-deserved nap.
It's tough to go wrong with the California Science Center. A popular destination for those of all ages, it has a variety of interactive exhibits relating to science. The Forest Zone has live animals, and the aptly named Rot Room explores decomposition. Kids can show Grandpa the actual space shuttle Endeavour, and the current exhibit on the Science behind Pixar is fascinating to just about everyone. Also in the plus column, the California Science Center has free admission, although the captivating 3-D IMAX movies require a paid ticket.
Museums aren't always the best go-to destinations for children, but the Peterson Automotive Museum may convert small boys and girls, while also pleasing the grandparents. There's a James Bond car for Grandpa, Lightning McQueen for the kids, and the set decoration, such as vintage garages complete with time-period tools, impress the entire clan from young to old.
RELATED: 10 Places Open on Thanksgiving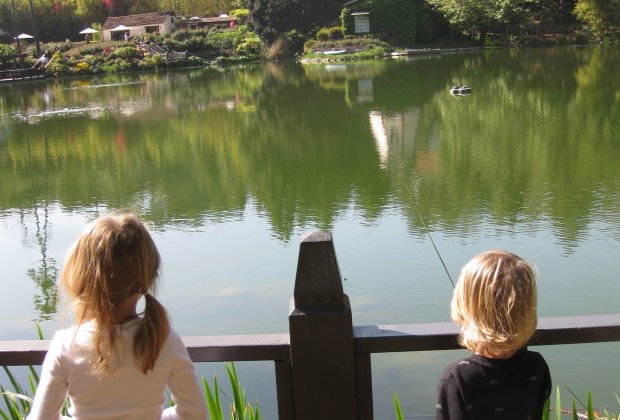 The Self-Realization Fellowship Lake Shrine
A calming, insightful, meditative lake may not sound like an appealing destination for children, but believe it or not, this unique Pacific Palisades landmark is a perfect place to bring both Grandma and the kids for a leisurely stroll around the lake, enjoying the peace amid the large metropolis of Los Angeles. The grandkids love seeing koi, turtles, and swans while the grandparents can enjoy the tranquility of a welcoming path around the water. And everyone likes the free admission.
Trying to get children to enjoy history may not be the simplest of tasks, but bringing them here to the first street in Los Angeles with their grandparents is a good start. The tree-lined walking street contains some of the oldest buildings in the city, such as the Avila Adobe built in 1818 and now a museum that is both kid and adult-friendly. There are tasty Mexican restaurants, old churches, and souvenirs galore. What child can be cranky while eating a churro?
Granny and Gramps know where the swallows return to, and they've probably always been a bit curious to see it. Visiting a mission is a great family outing, covering history, pretty gardens, and impressive architecture while offering an outdoor romp and maybe even a jump on class projects. San Juan Capistrano is the "jewel of the missions" — and has the added advantage of putting a tune in older visitors' heads.
Located inside the Skirball Cultural Center, the Noah's Ark is best described as an indoor playground filled with fanciful animals made from recycled materials. Young children can crawl through tunnels, explore, and play inside of a recreation of Noah's Ark. Grandparents love the animals that are art pieces in themselves, and they might even sneak out to explore the Skirball's Jewish exhibits. This one just might be a first choice for Bubbie.
Finally, if it's the holidays that bring grandparents to town, why not book the whole family tickets for a performance of The Nutcracker? When else would everyone watch ballet together?
Top photo: Petersen Museum by Greg Gjerdingen via flickr