The Science of Pixar: Big Kid STEM Inspiration at the Science Center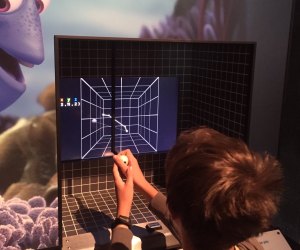 If your kids are fans of Pixar movies (and who isn't?), if they are into any element of STEAM (as in Science, Technology, Engineering, Arts, and Math), then there's a treat waiting for them at the California Science Center. The Science Behind Pixar takes a never-before-seen look at the artists, engineers, and computer scientists at Pixar, and how they use STEM concepts in the creation of Pixar films. Videos, interactive computer activities, and hands-on physical activities use characters, scenes, and elements from Pixar movies to explain concepts and challenges and explore solutions created by Pixar staff. Lighting Nemo under water, getting Merida's hair to bounce as she runs, putting the gleam on Lightning McQueen—it's all in the hands of our kids.
The exhibit itself is large, colorful, interactive, and non-linear: visitors can move to any open station, since (as we learn) the production process itself is not completely linear. Pixar's animation production pipeline provides the map to the exhibit, with more than 40 stations for modeling, rigging, surfaces, sets and cameras, animation, simulation, lighting, and rendering. Movies including Inside Out, Toy Story, Brave, WALL-E, Monsters Inc, Finding Nemo, and more provide examples for each activity: How did Pixar create the perspectives in A Bug's Life? How did animators create changes to time and mood in Up? How did they differentiate surface textures in Cars, or add attitude to movement in The Incredibles?
RELATED: 10 Things Tweens and Teens Love at the California Science Center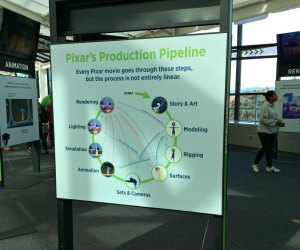 It all gets done eventually.
Each area begins with a video featuring Pixar production employees who explain what they do and how they became interested in this part of the process. After the video, guests move on to physical activity stations—building robots, adjusting light to create different effects, moving cameras to change the viewpoint, etc—and then to computer stations where they can explore how 3D images are drawn and scenes designed to replicate the physical realities they've just manipulated. By the time they finish each activity, kids not only have a clear picture of how the movie effect is achieved; they also have a sense of how math, science, and art are working together every step of the way.
While the familiar faces of The Science Behind Pixar are sure to attract the preschool and early elementary crowd, it is older kids who enjoy and learn the most at this exhibit. Kids in grades four and up not only know the movies; they also have been introduced to many of the math, art, and computing concepts at school, and they can appreciate seeing how it all comes together to create what they've watched. My middle school son especially enjoyed the "Sculpt by Numbers" station, where he was able to draw a cube onscreen using a coordinate geometry system—combining the x, y, z grid system he has learned in math with 3D drawing he has done in art classes.
RELATED: San Fernando Valley's Science Museum for Kids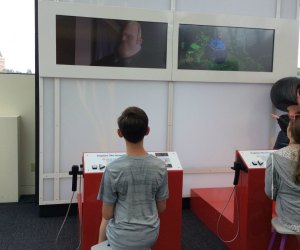 A pair of fascinated middle schoolers
Anyone (not just kids!) interested in animation, coding, math, art, rendering, sculpture (clay and computerized), physics, and computer science is bound to find The Science Behind Pixar fascinating. Timed tickets should be booked in advance, as this is clearly going to be the thing to see at the Science Center for the next few months. Tickets for the exhibit include admission to The Endeavour as well.
The Science Behind Pixar Exhibition is at the California Science Center October 15, 2016 - April 9, 2017.
• Adults $15; Children (4-12) $10, (12-18) $12
• Groups of 15 or more and schools are eligible for discounts.
• Charges are for the exhibit only. Museum admission is always free.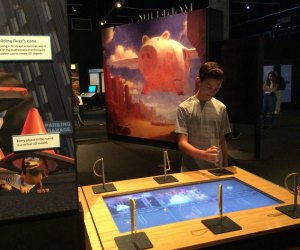 Math can be more fun than homework...