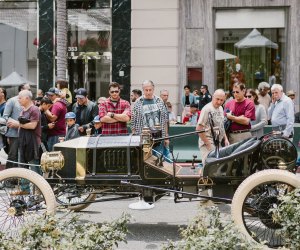 Father's Day Weekend for LA Kids: Pasadena Chalk, Bowl Opening, Rodeo Drive
Settle down, padre; we get it. It's Father's Day. This weekend it's all about you. Dad's choice from sunup to sundown: make way for baseball (with or without a game), BBQ and buffets, heroes on the half shell, and Indiana Jones. Or, if you prefer, kittens and unicorns. As long as you're happy, we're happy. Yep, whatever it takes, no expense spared...
Psst: Moms and kids! Did you know there's a ton of cool stuff going on this weekend that you can take Dad to for free? Luxury cars on Rodeo Drive, no-cost concerts, movies by moonlight, festivals, and celebrations. You can even make him a variety of from-the-heart gifts. All without dipping into the trust fund. There are also things you can do that cost money, if you're into that. (And we have a feeling some of it Dad will be very into!)
Whichever way you go, it's sure to be the bestest weekend ever, if you get to spend it together. Hey, look! Next week it's officially summer!
Keep reading for the father of all weekends...