The LA County Fair Turns 100 — And Moves to May!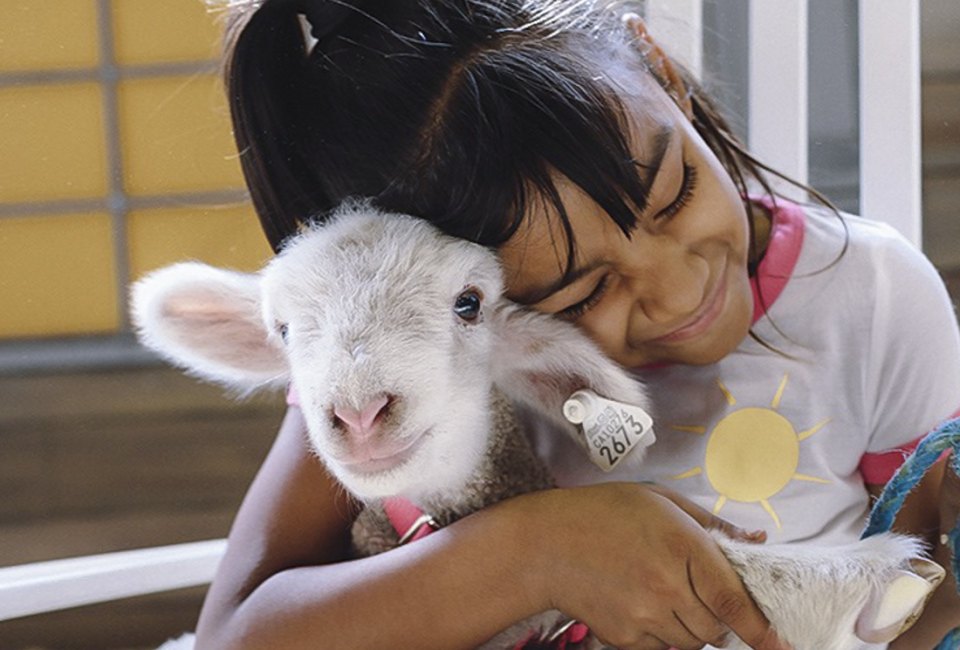 5/5/22
- By
Melissa Bean Sterzick
Get ready for cotton candy, popcorn, baby pigs, bumper cars, music, and all the hoopla of the LA County Fair beginning on May 5. The Fair's brand new dates line up with its 100th anniversary, Mother's Day, and the gorgeous late spring weather in Los Angeles. It's open throughout May, including Memorial Day weekend, so you can have your funnel cake and eat it, too, all in the comfort of cooler weather.
For more May events and fun, be sure to check out our picks for the Best Things To Do in Los Angeles in May and our roundup of the coolest Free Events and Activities in May.
Subscribe to our newsletters to get stories like this delivered directly to your inbox.
The LA County Fair Moves to May
The LA County Fair is back after two years of cancellations. Instead of waiting for the end of the summer to put up the tents, ticket booths, and Tilt-a-Whirl, organizers made the brilliant decision to move the fair to a cooler month. After years of loving the fair, but dreading the heat, this decision is a most welcome one!
I mean, who doesn't want to world's largest cheese? Photo courtesy of the LA County Fair, Facebook
100 Years of LA County Fair Fun
In 1922, LA County Fair founders created the event to celebrate the region's agriculture. It was first held in a former beet field in Pomona and highlights of that opening year were harness racing, chariot races, and an airplane wing-walking exhibition.
These days, carnival rides, concerts, parades, specialty shops, and animals are the stars, and fairgoers can sample a long list of fried foods (deep-fried Oreos, Twinkies, pickles, cheesecake, and more) and some seriously authentic BBQ.
RELATED: Best Animal Encounters and Petting Zoos Near Los Angeles
Place your bet on which little piggie is the fastest. Photo courtesy of the LA County Fair, Facebook
The fair is a family affair and nobody's forgetting about the kids. Look for the petting zoo, the Fairplex Garden Railroad, the Bee Building and Vegetable Garden, and The Americas Kids Building with competition entries including art, collections, sewing, Lego builds, photography, and more—plus free play areas.
RELATED: Hip Glamping in the Desert at AutoCamp Joshua Tree
There are rides for little ones and thrill-seekers. Photo courtesy of the LA County Fair, Facebook
Hidden Gems at the LA County Fair
Don't skip the America's Great Outdoors section on The Hill. This longstanding exhibit area includes animals, fire safety talks, and new this year there's a performance by the U.S. Forestry's Tree Circus featuring professional tree climbers on the center stage.
Check out the return of the Lost Levels Arcade at Club 1. Step back into 1988 and play more than 50 classic restored video games and pinball machines.
We're looking forward to CEEM Takeover Weekend, a tribute to Black Experience, on May 13 - 15. The weekend includes live music, entertainment, Black-owned shops and food trucks, an interactive Kids' Zone, and Gospel Sunday.
RELATED: The Los Angeles and OC Spring Fun Guide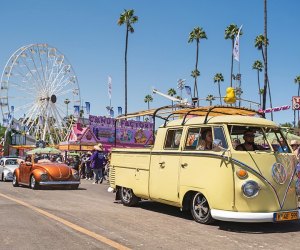 Classic cars hit the streets. Photo courtesy of the LA County Fair, Facebook
Old favorites from years past are hidden gems and freebies such as the blacksmith show, and things to do besides roller coasters like the Sky Chair.
History buffs won't want to miss the gallery with photography and artwork depicting the Fair's history in the Millard Sheets Art Center.
And music lovers, rejoice. The concerts are back. Some of the big names this summer include classics like WAR, The Beach Boys, and ZZ Top. Check the schedule for the complete lineup.
RELATED: Spring Wildflower Hikes Near Los Angeles
There is nothing better than fair food. Photo courtesy of the LA County Fair, Facebook
LA County Fair 2022 Dates, Tickets, and Parking
The first full-fledged LA Count Fair since 2019 has new dates and new prices, so keep track of details at lacountyfair.com where you can get the schedules, maps, tickets, and info you need to make your visit a great day—or three. One other new thing this year is that the entire fair, including parking, will be cashless—just tap or swipe for rides and food.
The fair is open May 5-30, 2022, 11am - 11pm on Thursday - Sunday and Memorial Day Monday. Tickets are $8 - $12 for children ages 6-12 and $15 - $25 for adults. One-day parking bought in advance is $15 while at the gate it's $20. For those planning on visiting multiple days, there are Season Passes available.
Places featured in this article:
Sign up for the Mommy Poppins Newsletter today!