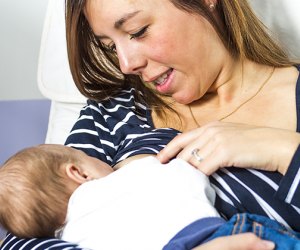 New Breastfeeding Centers Offer Support to Long Island Moms
Nursing mothers in Suffolk County rejoice.
Baby Café, a well-known FREE resource for pregnant and breastfeeding mothers throughout the country, has come to Long Island, with locations in Bay Shore and Wyandanch.
According to founder Lucia Jenkins, Baby Café hopes to "re-create the village where mothers always supported mothers." As of October 2017, there are more than 85 cafes in 24 states.
The first of the Long Island Baby Cafés is at Southside Hospital in Bay Shore and is open on Tuesdays from 1:30 to 3:30pm. The café can be found inside a boardroom in the hospital. The Wyandanch Baby Café, which opened in September 2017, is located inside Community Nazarene Church and is open Saturdays from 11:30am to 1pm.
Baby Cafes are run by registered nurses and board-certified lactation consultants who offer support and counseling to breastfeeding and expectant mothers. The cafes are free to attend, and you don't need an appointment. Additionally, the cafes are a great place to meet other new moms and make friends. Refreshments and comfortable seating are available.
Baby Café also offers support and advice on weaning your child, pumping, growing your milk supply, and incorporating breastfeeding into different types of lifestyles, including working moms.
For more information on the Bay Shore Baby Café, contact Wendi Andria at wandria@northwell.edu. For the Wyandanch café, reach out to community@communitynazchurch.org for information and questions.