New Party Spots on Long Island for Kids' Birthdays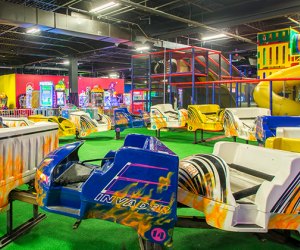 Oh, birthday parties! Kids adore them; parents usually dread them—whether it's for your own child or someone else's. If you're tired of the usual circuit of cold pizza, warm soda, and fill-in-the-blank main activity—or if you don't have the space or time to organize a party in your own home—we've rounded up half a dozen new Long Island kids' hot spots that offer something a little different.
Most new(ish), in a new location, or have recently added birthday parties to their repertoire, and all offer solid basics like a private party space, food and drink, staff hosts, and favors and invitations (sometimes for an additional fee). From science to sewing, yoga to trampolines, laser tag to frolicking with dogs (and, yes, there are some bouncy castles and pottery painting, too), we're pretty sure there's something here to delight everyone on your child's guest list—and to help keep parents and adults guests relaxed and happy, too.
Find even more birthday party inspiration in our Long Island Party Guide for Kids.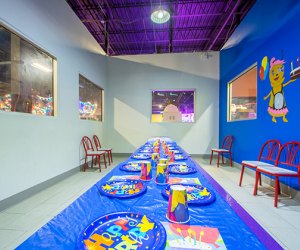 Enjoy a private party room after a romp at the indoor amusement park, @Play Amusements.
@Play Amusements — Farmingdale
229 Broadhollow Rd.
With six private party rooms and 44,000 square feet, this brand-new indoor amusement park has plenty of space for everyone's birthday blowout. @Play will also customize the party to your child's age and interests, but all packages include a private room for your child and 12 friends, credits for free games, personal party hosts, pizza, and drinks. You can also add on visits from a roster of 39 popular characters. Amusements include 65 arcade games, laser tag, four inflatable structures, a 55-foot maze including three slides and capsules in the rafters, a safari ride, a carousel, bumper cars, and a dedicated toddler area. Most parties are about two hours but can go on longer as well. Rates range from $449 to $499 for 13 kids.
​Craftree — Huntington
7 Green St.
Craftree provides a creative sewing or craft party tailor-made for your little one: you pick any theme your child can imagine—from fairies to dinosaurs—and Craftree will customize the projects to match. Each 90-minute party at its new Huntington space includes one small and one or two large craft projects. The $400 base package covers 20 kids for a craft party, 12 for a sewing party, two party hosts, instructions, all materials, and invitations. Cake and food can be ordered from a local vendor for an additional charge; other add-ons include a custom fabric banner, crown, dress, favors, and photography.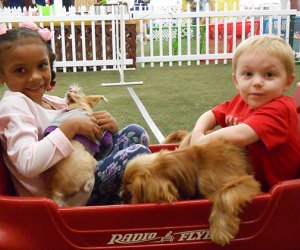 Snuggle up to therapy dogs at a DogAbility Center party.
DogAbility Center — Syosset
P.O. Box 7437
Does your child pine for pooches? At DogAbility Center—a local nonprofit offering canine interactions with specially trained dogs and dog therapists—there's now a 90-minute Pooch Party that lets children spend an hour with gentle, affectionate service dogs as they ride wagons, jump through hoops, run through tunnels, and play tug-of-war, then retire to a party room for pizza and cake. It's $300 for the first 10 children, and each additional guest is $15.
Great Play — Syosset
180 Michael Dr.
This new location of the popular Great Play chain offers six diverse themes, from Olympics and superheroes to dancing. You can further customize the party based on your child's and guests' ages and interests. The 90-minute parties take place in Great Play's 3,000-square-foot "Interactive Arena," where six computers control eight projectors, screens, a directional sound system, and more than a dozen sensing systems to turn your child's theme into an immersive experience. The cost for 18 kids is $449 for members, $499 for nonmembers (it's $60 extra for 19 to the maximum of 25 guests).
Krafty Hands — Syosset
​49 Ira Rd.
The recently rebranded, Krafty Hands (formerly Fun Craft), takes its art parties beyond basic painting: think pajama parties, stuff-a-pet parties, silly science, pirates and superheroes, and cupcake decorating. Depending on your budget, you can choose between several packages, but the parties are all 90 minutes and include crafts, dancing and games led by a DJ, and pizza and drinks.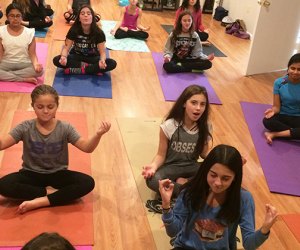 Kids find their zen (or at least a few new tricks) at a Yoga Shack birthday party.
The Yoga Shack — Bethpage
​100 Benkert St.
The recently relocated Yoga Shack offers a more peaceful incarnation of the traditional birthday celebration. Think focused breathing instead of a stampede of sugar-fueled children tearing through your living room. Parties include 90 minutes of yoga and meditation, as well as activities like crafting "vision boards" and painting yoga mats, not to mention pizza and drinks and even an optional candy table for dessert. The rate is $300 for 10 kids ($15 per additional child).
Top photo: There are loads of options to choose from at the sprawling@ Play Amusements. All photos courtesy of the venues.