2017 Long Island Bestie Guide: Enrichment Program Winners
10/8/17
- By
Margaret Hargrove
Long Island families, you have spoken! We asked you to weigh in on the Long Island's Besties—the best family businesses across 24 categories ranging from restaurants, party places, swim schools and more. With all the great family fun experiences and resources on Long Island, it was hard to narrow it down to just one winner per category, but you were up to the task! In the pages that follow you will get to know our Besties, the most highly regarded Long Island businesses that live to serve, entertain, teach and enrich the lives of your family.
We can't thank each of our 236 finalists and their fans enough for participating in our contest. We'd also like to extend a special thank you to our Bestie Sponsors and our congratulations to the four lucky voters who were picked at random to enjoy some amazing prizes! You made our contest awesome and we love you.
And now, without further ado, Mommy Poppins proudly presents your guide to the best of family-friendly Long Island, the 2017 Long Island Besties! Because 24 is a lot of winners, we've divided them into three groups: Family Fun, Parenting Resources, and Enrichment Programs. Enjoy!
Best Family Fun Winners | Best Parenting Resources Winners | Best Enrichment Programs Winners
Best Enrichment Programs Winners
Best Dance Studio for Kids: A Step Above Performing Arts — Massapequa Park
From ballet to tap, jazz and hip-hop, A Step Above Performing Arts offers classes for children starting in preschool all the way to adults. Creative Movement classes for the littles builds the foundation for more advanced classes to come. Want to try something new? Pop & Lock incorporates hip hop with street dancing using isolation and popping techniques. And if you're looking for an end-of-season recital, complete with costumes and choreography, A Step Above's won't disappoint.
Best Place for Kids' Art Classes: Abrakadoodle — Roslyn
There's truly something for every petit artist at Abrakadoodle. Toddlers as young as 20 months old can develop their sensory and fine and gross motor skills by experimenting with color and texture. Preschoolers can gleefully create their own masterpieces while developing school readiness skills. And classes for elementary-age students allow them to hone their craftsmanship, build knowledge of artistic styles and art history, execute their own imaginative projects, and cultivate the power of self-expression. There are even special classes for fashion design and sewing and cartooning.
Best Place to Learn a New Language: Spanish Immersion Workshop — Garden City, Manhasset, Dix Hills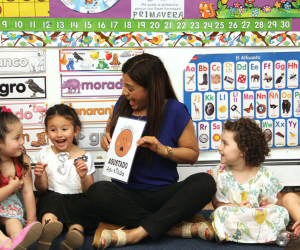 Photo courtesy of Spanish Immersion Workshop
It's never too early to start learning a new language. Come sing songs, listen to music, engage in creative movement and play games together – all in Spanish! Spanish Immersion Workshop's age-appropriate classes are taught by experienced native Spanish-speaking teachers. The immersion-style program (no English allowed!) helps children learn far more than just a few key vocabulary words. The Chiquitos program for kids ages 18 months to 3 starts off with a caregiver present, but as the child begins to feel more comfortable and interact with the teacher independently, partial separation is encouraged.
Best Place to Learn How to Play an Instrument: Great Neck Music Conservatory — Great Neck
Have your kids every played the didgeridoo, King David harp or baliphone? These are just a few of the instruments kids will experience at the Great Neck Music Conservatory. Committed to providing a nurturing environment while developing and enhancing music skills, this conservatory offers musical education for just about anyone, regardless of age or ability. Their Meet the Orchestra program targets children as young as 3, allowing mini Mozarts to touch, listen to and actually make sounds on different orchestra instruments. Private and group lessons in flute, violin, drums and guitar are also available, as well as courses on music theory and composition.
Best Sports Program or Class: Lil' Athletes Sports Training — Various Locations
For your little kicker, Lil' Athletes Sports Training is the place to be. The Soccer Tot program can be found at a dozen locations throughout Suffolk and Nassau counties, and caters to pint-sized soccer stars starting at age 20 months to 5 years old. Parents take part in the fun on the field in classes for the under 3 set. The best part of the Lil' Athletes program, other than the fun your kiddo will have, is that classes are held year-round indoors, unless you're one of the brave parents who chooses one of their outdoor satellite locations. In addition to soccer, Lil' Athletes also offers baseball, lacrosse, hockey, basketball and football.
Best Summer Day Camp: Ivy League Day Camp — Smithtown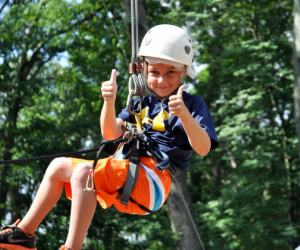 Photo courtesy of Ivy League Day Camp
Established in 1961, this 16-acre summer camp caters to children from age 2 to 10th grade. Ivy League has everything a camp should: incredible grounds and facilities, an impressive array of activities, and a well-trained and caring staff. Your camper's daily schedule will be filled with swimming, arts and crafts, performing arts, sports, and more. All-inclusive programs provide everything from transportation and lunch, to towels and sunblock, and low staff-to-camper ratios ensures each camper gets the attention they deserve. Teen Travel camp for campers entering grades 7-10 allows adventurous, older kids to experience day excursions and overnight trips.
Best Theater Class for Aspiring Actors: John W. Engeman Theater — Northport
Broadway babes can begin at age 4 at this performance-based theatrical training program. The nurturing and supportive atmosphere allows your star to build stage confidence and shine. Fun, play-focused classes for young thespians help teach the basic elements of musical theater. Dancing, acting and singing classes are also offered for students from first grade to high school. Taught by professionally-trained faculty, each 12-week session leads to a grand, end-of-season performance for family and friends. The intimate theater also hosts three-week musical mini-camps during the summer.
Best Family Fun Winners | Best Parenting Resources Winners | Best Enrichment Programs Winners
Sign up for the Mommy Poppins Newsletter today!