Cold Spring Harbor: The Whaling Museum, DNA Lab and Firehouse Museum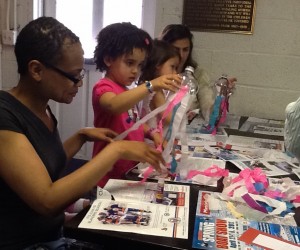 Each of Cold Spring Harbor's sites that we've chosen to feature here have managed to weave the village's rich past into its present. For example, the Whaling Museum features exhibits on whaling history and it also stresses the importance of present-day conservation. The Cold Spring Harbor Lab provides walking tours where visitors can learn about the history of DNA discovery, as well as the lab's Nobel legacy in that discovery. Lastly, the Firehouse Museum teaches fire prevention while demonstrating to visitors just how complicated battling a blaze was in the early 1900s with a hand-drawn Phoenix pump.
The Cold Spring Harbor Whaling Museum
301 Main St
631-367-3418
Open Tuesday thru Sunday
11am–5pm
Adults $6, children $5, under 5 free
Inside you'll find displays showcasing the whaling industry; including a model whaling ship, a fully equipped 19th-century whaleboat and a vat (resembling a witch's cauldron) for boiling the blubber down to oil. Kids can climb aboard a model crow's nest, fish a pair of binoculars out of the basket and shout, "THAR SHE BLOWS!" like a true whaler and grab the ship's helm while facing a mural of a roaring sea.
We are regulars at the museum, and for each program we've attended my kids have been engaged and have learned a ton. Programs are offered here for all ages and I definitely recommend planning a visit around one. Nomi Doyan, the program director of education, encourages the students to solve problems for themselves. She said she prefers to focus on the process of learning rather than the final product. In addition, she says, "We're always looking for innovative ways to connect people to the ocean." Last week my kids learned to say and write whale in Chinese. Check out the Sunday Science explorers, nature camp and Monday Minnows (a fave among toddlers and preschoolers).
Cold Spring Harbor Fire House Museum
84A Main St.
631-367-0400
Fridays and Saturdays 11am–4pm
Sundays 12–5pm
Free admission
Built in 1896, this building was slated to be torn down in 2007. A group of dedicated citizens rallied to save it, and today the museum is a nationally registered firehouse. Here you can really get an idea of how difficult it would have been to put out a small house fire with minimal equipment long ago.
Cold Spring Harbor Laboratory
1 Bungtown Rd., Laurel Hollow
Tours: $5 per person
A world-renowned laboratory, the Cold Spring Harbor Lab offers visitors a glimpse of the cutting-edge research taking place here daily, as well as the lab's Nobel legacy in the discovery of DNA on a guided walking tour offered on alternate weekends. Public concerts and lectures are also offered throughout the year. Check the calendar for a full listing of events.
Dolan DNA Learning Center
334 Main St.
516-367-5170
Movies shown at 10 and 11am and 1pm weekdays
Free admission
The center shows a movie depicting life on Long Island and the discovery of DNA on weekdays. The current exhibit here is temporarily closed for renovations. We will keep you posted on its reopening. In the meantime, teens and tweens can sign up for Saturday DNA and summer camp.
Coming Up: Enjoying the outdoors in Cold Spring Harbor