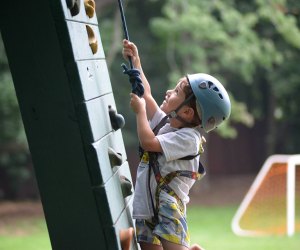 Nassau County Summer Day Camps for Long Island Kids
It's never too early to think about summer. There are family vacations to organize, and then there's the issue of what to do with the rest of the time. Summer camp is an excellent option for many families, and day camps can be affordable and fun.
Camps across Long Island are beginning to hold open houses, so it might be time to figure out where to send your little ones once school lets out. Looking for a general camp? How about one just for preschoolers? Or how about a camp for older children? Here we check out the best camps Nassau County has to offer.
From special events, programs that focus on art, sports, or science, to field trips, these camps are sure to create fun experiences and great memories. Each camp below has its American Camp Association accreditation; for a comprehensive list, check out our Long Island Camp Guide and our directory of camp listings. A guide to Suffolk County camps can be found here.
Note that summer camp information for the 2020 season is changing daily. Please click the links to the individual camps below to see which ones are offering programs this year.
Children ages 3 to 14 can enjoy traditional camp activities such as swimming, arts and crafts, and athletics in anywhere from four- to eight-week sessions. Weekly special events such as a carnival and Olympics are a highlight. Lunch, snacks, and bus service are included. The camp is divided into Lower Camp for grades 1-4 and Upper Camp for grades 5-8. Nursery and Kindergarten students are Junior Campers. The camp schedule in 2020 begins on June 29 and ends August 21.
Buckley works with parents to customize an ideal summer experience for children. Parents choose a session length of between two and eight weeks, and the weeks do not have to be consecutive. Buckley even offers a Parent & Child camp for 18-30-month-olds. A Junior Camp for tots entering Nursery through Kindergarten includes small groups led by certified teachers and individualized swim instruction. Parents can tailor camp programs to better suit the needs and interests of children as they age, including science, Lego building, dance, performing arts, and more. Buckley offers a counselor-in-training (CIT) program for older campers and has extensive indoor and outdoor facilities, so a rainy day is not likely to ruin the fun. Choose from Mini-Day and Full-Day options.
Located at the Friedberg JCC, Camp Achieve is for children ages 5 to 13 who are on the autism spectrum or who have learning or speech disabilities. The camp staff focuses on fostering independence, socialization and building skills. Kids also get to participate in camp activities like swimming, art, and yoga.
RELATED: STEM and STEAM Summer Camps for LI Kids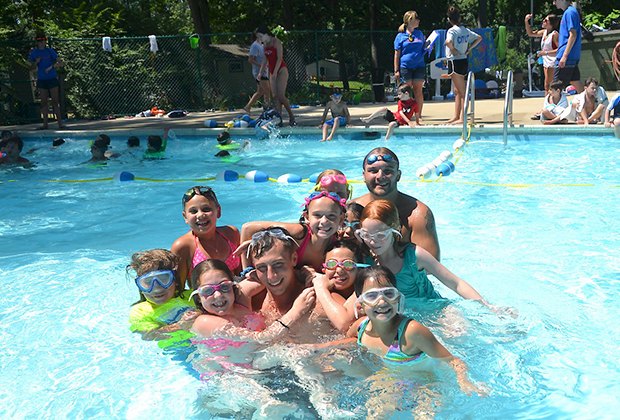 Three heated pools highlight the 15-acre campus at Camp Jacobson in Old Westbury.
Three heated pools, tennis courts, playing fields, and a rope-climbing adventure course await campers at this 15-acre campus run by the Sid Jacobson JCC. This camp prides itself on a low staff-to-child ratio and its inclusion of community service projects and trips. Campers must enroll for a minimum of two weeks with any number of additional weeks (up to eight) possible. Rates are all-inclusive and include transportation, lunch, towel service, and snacks. Financial assistance is possible. This camp also offers a Teen Leadership program.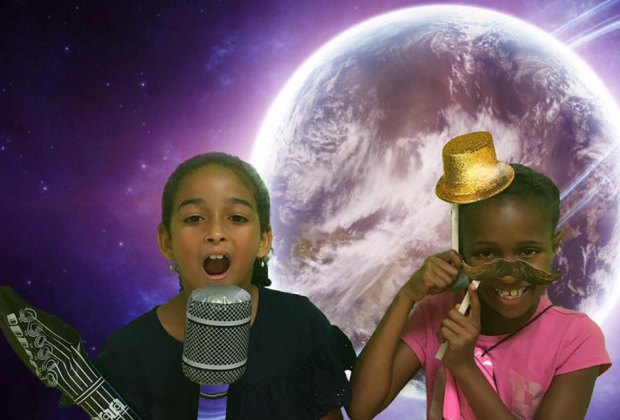 Singing and dancing are among the activities to choose from at Camps 'R' Us across Nassau County.
Camps 'R' Us — Multiple locations, including Baldwin, Bellmore, East Rockaway, Farmingdale, Hicksville, Syosset, and Valley Stream
Camps 'R' Us operates at some of the top independent schools on Long Island and bills itself as the ideal choice for working parents. All camps include state-of-the-art facilities and playing fields. Camps offer a mix of activities and a travel program for older teens. Parents can enroll children in three- or five-day sessions from one to eight weeks. Students can attend for Full Days (9AM to 5PM,) Mini Days (9AM to 2PM,) or Half Days (9AM to 12PM.) You can also choose before and after-care options.
The motto here is the "Power of Fun." This camp offers traditional activities such as swimming, canoeing, horseback riding, and more in a Western theme. Other activities include archery, basketball, cooking, computer, jewelry, nature, and more. This camp has programs for children nursery aged through 10th grade. Coleman is a "tease-free zone," emphasizing the importance of eliminating bullying and creating an inclusive environment.
This camp offers children 3-15 more than 30 programs on a 65-acre campus along with access to offsite facilities. Kids can enjoy courses like cooking, dance, and American Sign Language. Friends Academy offers flexible options, including mini-day camps for younger children and travel options for older kids. Lunch and transportation are included.
RELATED: 100 Things to Do With LI Kids Before They Grow Up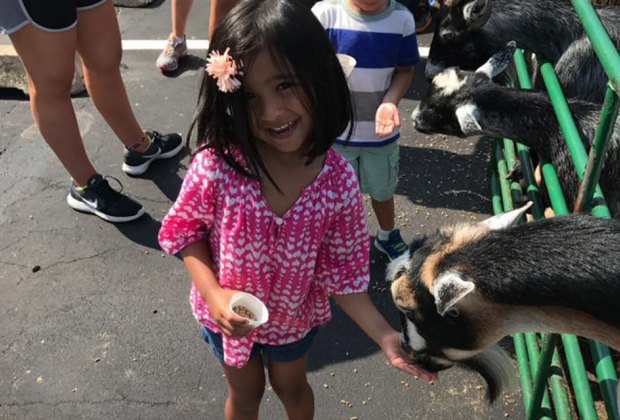 Get close to the animals at Greentrees Country Day School and Camp.
For almost 30 years this camp has provided younger children with a safe and fun summer experience. Children 2-6 enjoy swimming, music and dance, theater, arts and crafts, cookouts, cooking, non-competitive sports, yoga, and gymnastics. Camp staff has been trained in the safety and well-being of campers.
Choose from a number of programs at this specialty camp, including academics, sports, arts, and more; offerings rotate every two weeks. Half of the day is spent on that specialty, while the rest of the day features recreational sports, swimming, and a daily hot buffet. The camp is open for children entering grades K-12. Transportation is included with all Specialty and Learning Institute programs. Among the more than 50 electives, children can focus on cheerleading, music, theater, dance, and more. The Hofstra Camp website is full of information on program choices.
Parents can choose from three different options depending on a child's age. The Early Start Imagination Camp is perfect for children ages 3-5 who are starting a camp for the first time. The LIU Oasis Day Camp is geared for campers entering first through sixth grades. Its campus is divided into upper and lower camps, and counselors tailor the programs to fit any age group's needs. The Teen Travel camp is for campers in seventh, eighth, and ninth grades and features day trips and special overnights. New families who register early are eligible for special discounts.
This camp, founded in 1956, features a wooded, landscaped campus, including three heated pools, playing fields, and 14 crafts workshops. Activities include swimming, athletics, woodworking, ceramics, puppetry, leatherwork, cooking, drama, and art. There is also a travel program and a counselor program for tweens and teens. Parents can enroll for four or eight weeks.
Parents with younger children can choose between the camp's JCC location or the Henry Kaufman Campgrounds in Wheatley Heights, in Suffolk County, The JCC offers a pool, outdoor play areas, indoor, air-conditioned facilities, and plenty of fun. The HKC, better for older children, is on 50-plus acres with four large swimming pools, a huge indoor gymnasium, athletic fields, a challenge course, and more. The JCC offers programs for preschoolers through those in sleepaway camp, with different week and day options. Its Adler Camp is designed for children with special needs.
RELATED: New Summer Camps and Programs for LI Kids for 2019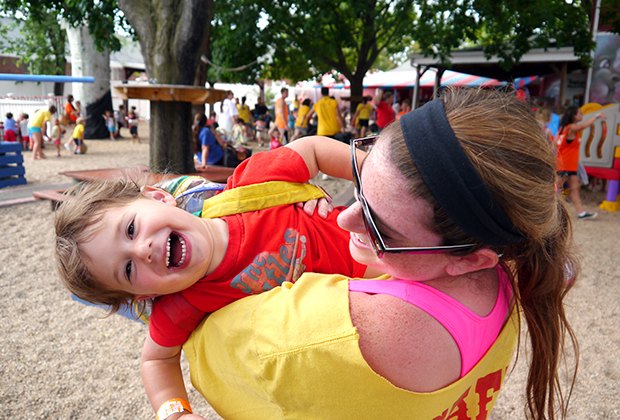 Miss Sue's specializes in outdoor activities for children ages 3-5.
This day camp for children 3-5 is run by the same team that runs its nursery school during the school year. From a pirate ship to pool parties and the zip line, Miss Sue's attractions delight even the littlest campers. Parents choose from three different session lengths (four, six, or eight weeks) and either a full day (9:15AM-3:30PM) or a mini day (9:15AM-1:30PM.) Parents pick the number of days per week their child attends. Miss Sue's offers door-to-door busing, lunch, and even has a non-competitive "Color War" activity at the end of summer. Kids also enjoy theme days such as crazy hair, PJs, and more. Sports instruction includes windsurfing, paddle boats, and rafts.
Set on a 14-acre Gold Coast estate overlooking Long Island Sound, North Shore teaches children 2½-15 the skills of making and keeping friends while building self-esteem and confidence. Camp runs from June 29 to August 21 in 2020. North Shore offers flexible enrollment options of three through eight weeks. Tuition includes transportation, lunch and healthy snacks. Sibling discounts are available.
Operating for 100 years, this family-owned camp offers all the bells and whistles. Campers as young as 3 have the option of attending a full day or mini-day. Programs are also available for ages 5 and older, including a special sports academy. Pierce prides itself on a low camper-to-staff ratio, its seven temperature-controlled pools, interactive splash park, zip lines, events, field trips, and more. Families also have the option of enrolling campers in Pierce's sleepaway camp, Pierce Camp Birchmont.
Portledge Summer Adventures are led by warm, nurturing teachers who foster growth and creativity. Programs for students ages two through fifteen include classes in the arts, theater, sciences, and technology. Visit their open houses to check out their lovely grounds and instructors.
Since 1957, this camp has welcomed children with activities that include swimming, sports, and arts and crafts. The camp is one of only a few that allow campers to sign up for any 16 days or any 24 days rather than the customary weekly options. It also offers a half-day program. Day trips and overnights are also available.
RELATED: 10 Great Summer Camps for LI Preschoolers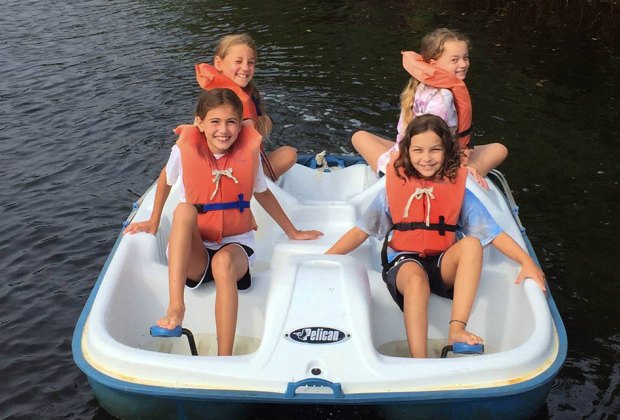 Thrill to water fun at Rolling River Day Camp in East Rockaway.
For more than 25 years, Rolling River has provided children with a warm, comfortable, family-oriented camp. It is divided into four age divisions, starting as young as 2 and going through its CIT program at age 15. Parents can choose from four-, six-, or eight-week sessions, and Rolling River also offers a three-day option. The camp offers swimming, sports, arts, academic-based enrichment programs, and more.
Shibley offers three programs—a junior camp for kids ages 3 to 6; a senior camp for those ages 7-13; and a CIT program for ages 14-16. Junior campers have an area designated just for them, which includes a small adventure park. Senior campers have two elective options, one is for an activity such as go-karts or air bungee, the other for a class such as theater, cooking or lacrosse.
Family-owned and operated since 1975, Twin Oaks focuses on children 20 months through 13 years old. It combines swimming, arts and crafts, sports, woodworking, theater, and music. Each week has its own theme, and campers can enroll for four, six, or eight weeks. Pricing is based on age and session length.
The YMCA offers traditional and specialty camps, aiming to build confidence through skills-building, bonding rituals, and interactive activities. Membership in the Y is required for all camps, and transportation is available from most of the north shore of Nassau County. Affordable rates are per week and vary depending upon your child's age. You can also extend the day for an added fee. A multi-week Counselor-in-Training Program is also available.
This post is updated annually.

All photos courtesy of the camps