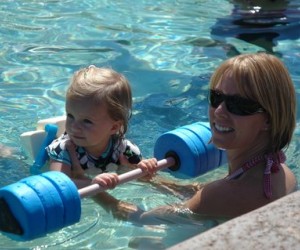 Affordable Summer Swim Classes on Long Island
Kids can have fun and learn valuable water-safety skills. For parents, it's a great value and the opportunity to indulge in a half hour of reading and coffee—definitely a win-win situation! You can also check out Indoor Swimming Pools on Long Island for those rainy summer days.
We've rounded up affordable swim classes run by town parks and recreation departments across the Island. Spots in classes for school-age children usually fill up fast, so check the calendar in your town for registration dates and requirements. Proof of child's age and residency is almost always required for registration. Proper parking permits will also be required to park during class time so make sure you're up-to-date with parking permits on all the cars before the first day of class. If you register for a class at a town pool you are not a member of, you may have to pay daily admission fees, so be sure to get all the details for your town at registration because classes are typically non-refundable.
Town of Hempstead
Town residents ages 4–5 free, residents ages 5 and up $55
516-292-9000, ext. 239
The Town of Hempstead currently has 20 outdoor pools and 1 indoor pool that participate in their American Red Cross Learn-to-Swim program. All swim instructors are American Red Cross Water Safety instructors, as well as certified in CPR/AED, First Aid and certified by the Nassau County Health Department as Lifeguards. Classes are offered once per week for eight weeks. The daily admission rate or a valid pool pass is required of all persons participating in the Learn to Swim classes. Registration is on a first-come, first-serve basis. They offer programs for children ages 4 and 5, all the way up to lifeguard training. Find out more by visiting their site here.
Town of North Hempstead
Town residents $75 (updated price March 2017)
516-869-6311
NO FURTHER INFO on classes available for 2-3 weeks. Registration sometime in May/ classes begin in June. (Kimberly-March 2017)
Town of North Hempstead runs American Red Cross swim classes at Manorhaven Beach Park in Port Washington and Michael J. Tully Park in New Hyde Park. At the time this post was written there were still a few spots available for lessons in levels 3–6 and the "guppies" program for ages 6 months–3 years at Michael J. Tully Park. Click here for schedule. Call 516-869-6311 for information on in-person registration. Registration for lessons at Manorhaven Beach Park is Saturday, June 3rd from 10am–4pm. Cash, check or credit card are accepted in-person only for registration.
Nassau County Department of Parks and Recreation
County residents $55
516-572-0508 - Lisa Dennis contact will get back to me (Kimberly March 2017)
Swim classes are offered at four Nassau County parks. There are four, two week sessions at each park and cost is $55 per session. Swimming lesson run Monday through Friday. Registration for North Woodmere Park is June 4th from 6pm-8pm, Wantagh Park Pool is June 5th from 6pm-8pm, Cantiague Park Pool is June 6th from 6pm-8pm, and Christopher Morley Park is June 7th from 6pm-8pm. Click here to find out more information.
Town of Babylon
Town residents $50, siblings in same session $40
631-893-2100
The Town of Babylon progressive swimming lessons program incorporates guidelines set forth by the American Red Cross to teach the latest swimming and safety skills for children from infant–16. Lessons are held at Anthony Sanchez Pool in West Babylon, Fabio Buttitta Pool in Deer Park, Phelps Lane Pool in North Babylon, North Lindenhurst Pool, and North Amityville Pool.
Town of Brookhaven
Town residents $85, nonresidents $95
631-281-2866
Town of Brookhaven offers American Red Cross swimming lessons in town pools at Brookhaven Aquatic Center in Mastic, Centereach Pool and Holtsville Pool and at town beaches including Cedar Beach in Mt. Sinai, Corey Beach in Blue Point and West Meadow Beach in East Setauket. All classes are taught by American Red Cross Instructors and follow American Red Cross curriculum. Each program includes ten classes and schedules vary by location.
Town of Huntington
631-351-3089
Town of Huntington offers beach swim classes at Asharoken Beach Park, Centerport Beach, and West Neck Beach and pool classes at Dix Hills Pool for children ages 4-17. Registration for classes can be performed online and you can see maximum class size, current enrollment numbers current waitlist numbers and prices. Beach permit required for parking.
Town of Southold
Town residents $21, nonresidents $26
631-765-5182
American Red Cross Swim classes are held throughout the Town of Southold at Veteran's Beach in Mattituck, Nassau Point Beach in Cutchogue, Founder's Landing at Southold and Norman E. Klipp Park Greenport. Town parking permits required to park at town beaches.
Town of East Hampton
Town residents free
631-324-2417
Classes are held at Havens Beach in Sag Harbor, Maidstone Park Beach in East Hampton, East Lake Beach in Montauk, and Albert's Landing Beach in Amagansett.
Town of Oyster Bay
Country residents $50 for first session, $25 for each session thereafter
516-797-4128
Swim lessons are available for residents and pool members ages 5 and up. Classes are 45 minutes and held on weekdays from 9am-noon. Lessons are held at Syosset-Woodbury, Bethpage, Marjorie R. Post, and Plainview-Old Bethpage. First Session: June 30 to July 11, 2014; Second Session: July 14 to July 25, 2014; Third Session: July 28 to August 8, 2014; Fourth Session: August 11 to August 22, 2014