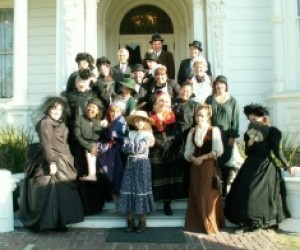 Museums of the Arroyo Day: One Sunday, Five Free LA Museums
Does a day of living history, local history, architectural history, dance, traditional craft demos, kids' crafts, storytelling, art, and live music sound good to you? While several LA-area museums offer free admission the first Tuesday of each month (and one offers the first Wednesday), the annual Museum of the Arroyos Day offers free Sunday admission to and special activities at five different historical museums along the Arroyo Seco in Pasadena and Los Angeles each May.
The 24th Annual MOTA Day is Sunday, May 19, 2013. All five museums profiled below are free from 12pm-5pm. Visit just one, or check out all five. Each museum holds special activities for the day, and there is limited free shuttle service between the museums. If you plan carefully, you can park once (the Heritage Square Gold Line Station and Gamble House have the most parking). Or take the Gold Line and don't worry about parking at all.
Want some swag? MOTA Day is sponsored by Yelp! Each museum has some swag for those who show staff their checked-in screen.
Heritage Square
3800 Homer Street
Los Angeles 90031
323.225.2700
Go back in time to Los Angeles at the turn of the 19th century. Traditional woodcarver demonstrations, the San Gabriel Valley Storytellers, a Spanish-American war encampment, traditional dancing, and children's period games--Heritage Square is hoppin' on MOTA Day! Children can also do crafts, play with Victorian toys, and learn about plants and flowers in the Ford House Kitchen garden. Costumed interpreters answer questions, and visitors can take a self-guided tour of the eight historic buildings on the square.
Pasadena Museum of History
470 W. Walnut Street
Pasadena 91103
626.577.1660
Guests can take a mini-tour of the newly remodeled Fenyes Mansion and the Finnish Folk Museum, housed in a replica of a 19th Century Finnish farmhouse. Pasadena Society of Artists members display their works and actively work on new pieces during the afternoon. Current exhibitions include I Do! I Do! Pasadena Ties the Knot featuring a display of vintage wedding gowns and Relationships, showcasing art inspired by the vintage gowns. Kids can take home three different art projects involving a rain stick, a Japanese brush painting, and a family colla. Visitors can purchase a meal from the Pie 'n Burger truck.
The Los Angeles Police Museum
6045 York Blvd
Los Angeles 90042
323.344.9445
Does your child want to be a police officer when he or she grows up? At the LA Police Museum kids can climb into a retired LAPD helicopter, try on police gear, and be "locked" into a real jail cell (don't forget your camera for this one!). There is also historic police memorabilia to view, dating back to the 1800s. Be aware that the limited engagement Gangster Squad exhibition and the upstairs exhibits (on the Black Dahlia, Patty Hearst, and the 1997 Hollywood Shootout) may not be appropriate for all ages.
The Gamble House
4 Westmoreland Place
Pasadena 91103
626.793.3334
Tours through this Arts and Crafts Style 1908 National Historic Landmark are on offer, with the last admittance at 4pm. Kids can enjoy special crafts in the backyard. The line to tour the Gamble House can get very long—you might want to start here and even come early.
Lummis Home and Garden
200 East Ave 43
Los Angeles 90031
323.222.0546
With a facade made of river stones pulled from the Arroyo Seco and concrete, the Lummis Home represents the beginning of the Arts & Crafts Movement in California. Tours of both the home and garden are available for MOTA Day, as is a newly developed computer program that answers visitors' questions.