Movie and Animation Camps for Kids in LA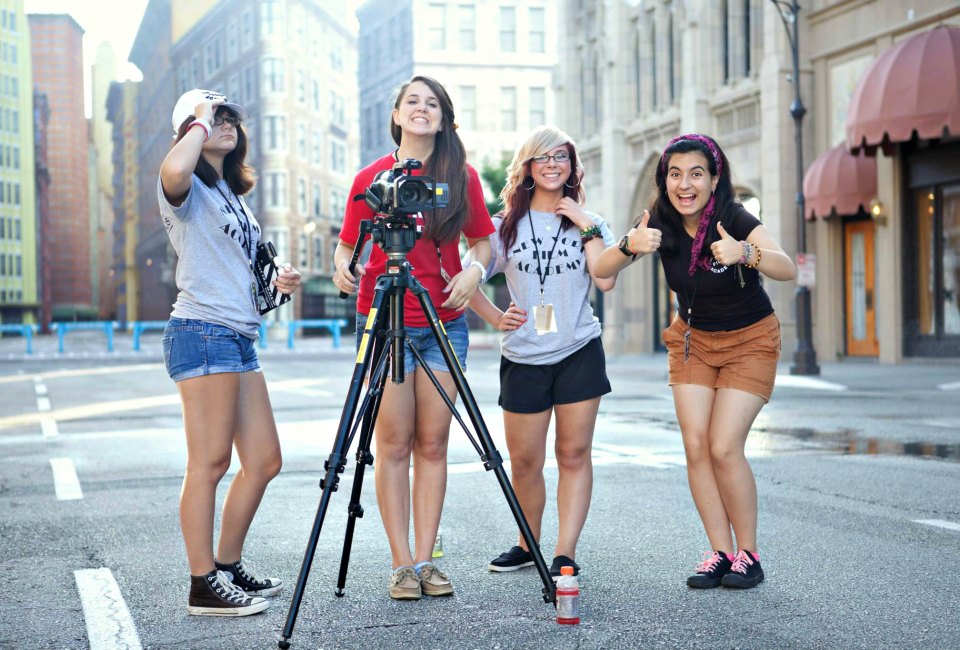 5/9/18
- By
Martha Hall
Hurray for Hollywood! It all happens here, baby. For better or for worse, our LA kids are growing up in the thrum of movie shoots, celebrity buzz, and giant billboards. If your child's mom or dad isn't in The Industry, her aunt, neighbor, or friend's father most likely is. Ever get stuck in traffic, or have to slow to a crawl because a caravan of white Craft Services trucks is lining two blocks of your commute? Yep, they're everywhere. Well, we say if you can't beat 'em, join 'em. This summer, if you haven't yet found the perfect camp from our Summer & Vacation Camps Guide, consider a movie making or animation camp. If any city has them, LA has more. That's a wrap.
Note that summer camp information for the 2020 season is changing daily. Please click the links to the individual camps below to see which ones are offering programs this year.
Digital Media Academy
Various locations
888.656.3342
Mon-Fri 9am-5pm; extended day 7:30am-6:30pm
Meals and extended care available
Ages 8-18 (9+ for Overnight Camp)
With locations at prestigious universities from Canada to New York to California, Digital Media Academy offers summer camps to aspiring young filmmakers be they beginners or experts. And lucky us, two of those camps are (you could say) in our own back yards. Both UCLA and UC San Diego host this state-of-the-art immersion into the world of movie making. Here kids write their own stories and are then guided through all stages of production and post-production as they fine-tune professional-quality final digital products. Hands-on, interactive, informative, but most of all fun. Choose from day or overnight options (campers can stay in the dorms) with several classes to choose from.
iD (Internal Drive) Tech Camps
Various locations
888.709.TECH (8324)
Mon-Thur 9:00am-5:00pm, Fri 9:00am-3:30pm; extended care available Mon-Thur, 7:30am-7:00pm, Fri 7:30am-3:30pm
Ages 9-17
No lazy afternoons canoeing on the lake at this camp (not that there's anything wrong with that). It's lights, camera, action here every day from start to finish. With locations all around the country, iD Tech Camps offer cutting-edge film making and editing camps for budding film makers. Area locations that offer the film-related courses include UCLA, UC Irvine, and UC San Diego. iD Tech also offers computer programming, digital photography, and video game design classes in these and other Southern California locations.

Idyllwild Arts
52500 Temecula Road
Idyllwild-Pine Cove, CA 92549
951.659.2171
8:30am-3:30pm for day students; extended care until 5:00pm
Ages 9-12
Nestled in quiet and cozy Idyllwild, this summer camp offers a rich arts experience led by creative and passionate counselors and instructors. Fall through spring Idyllwild Arts operates as an arts-based boarding school. And come summer, the school opens its doors to students of all ages, including kids who want to learn a thing or two about movie making. The two week Collaborative Film Making class runs the gamut, giving day or residential campers the opportunity to write, story board, act, film, direct, produce, and edit. All students experience all aspects of the process.

Incrediflix
Multiple locations in Orange County and Long Beach
3 hour morning and afternoon sessions vary depending on location
Ages 7 and up
Your child has a curiosity about the movies, but maybe he wants to act and maybe he wants to direct, or maybe he wants to animate. At Incrediflix, he can choose to do it all. Campers practice casting calls and making commercials and also have time to write, direct, and act in live action films of their own making. Animation classes are also offered. Most Incrediflix camps are held at community centers and area parks.

Movies By Kids
Multiple locations in Los Angeles and Orange County
818.702.6000
Hours vary by session and location
Ages 7 and up
Movie shoots are notorious for the "hurry up and wait" phenomenon. Lots of fuss followed by hours of waiting. No kid I know would want to go at that pace. Movies By Kids thankfully follows a different protocol. Summer camp here means kids are given the instruction, gear, and props to make their own movies or animated shorts, and can do so at an engaging pace with direction and supervision from real industry professionals. Choose from animation, claymation, super hero movie making, horror movies, even rock star music videos. The list goes on.

New York Film Academy
Universal Studios
100 Universal Center Drive
Universal City, CA 91608
800.611.FILM (3456)
Ages 10 and up
This is what you might call "The Real Deal." Summer film and animation camp at the Universal Studios Back Lot. Hello? Might this be the opportunity of a lifetime? Choose from one week to six week sessions, depending on theme and camper's age. Intro and advanced sessions in digital film making, animation, and 3-D animation are all taught by the pros.

Pali Adventures
30778 Highway 18
Running Springs, CA 92382
909.867.5743
Ages 9-16
If your little camper is ready for a sleep-away experience, have a look here. Pali Adventures, located in Running Springs (near Lake Arrowhead) offers one and two week camp sessions chock full of action and fun. Choose from a variety of morning specialties (including film-making) and wile the afternoons away swimming, dancing, scaling the rock climbing wall, cooking, or paint balling. The Film Institute specialty allows campers to write, shoot, direct, and edit their own short films under the inspiration and supervision of Hollywood veterans. Happy campers head home with a DVD and movie poster, as well as a brain full of amazing memories. [Note that Pali Adventures requests that outside websites do not link to its website; you'll have to search for the camp manually if interested.]

PlanetBravo
Various locations from the Valley to Rancho Palos Verdes
310.443.7607
Mon-Fri 8:30am-4:30pm
Merit and need based scholarships available
Grades 2-9
Lego Animation, Stop-Motion Animation, Special Effects, Digital Shorts - so much to choose from, and so much time. PlanetBravo's full day summer camp sessions offer a healthy balance of computer creation time, and outdoor fun and play. Though this is camp, the technology-based classes here follow in a standards-based curriculum. Founded by a certified teacher, and now 10 years in the running, this popular summer camp destination offers the best of both worlds.

Venice Arts
1702 Lincoln Blvd.
Venice, CA 90291
310.578.1745
Mon-Fri, 9:00am-noon, ages 10-13
Mon-Fri, 2:00pm-5:00pm, ages 14-18
Free for low-income families ($25 registration fee). Low income families receive priority.
In person registration is required at Venice Arts. Call for appointment. No drop-ins accepted.
Ages 10-18
Do camp sessions called Movie Madness and Animation Overload make you curious? What about Documenting Realty? All these themes are offered at this Venice based half-day camp that gives participants hours of creative, hands-on opportunities. Campers appreciate the nurturing and dedicated instruction here. Many kids return again and again, hankering for more. Beginners and more experienced movie makers welcome.
Originally published May 5, 2012, updated seasonally
Sign up for the Mommy Poppins Newsletter today!
i