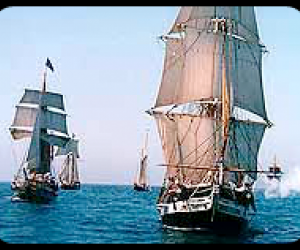 Fun & Free Things To Do This Weekend with LA Kids: Tall Ships Festival, Tchaikovsky with Fireworks and Brazilian Day
School may have started this week but the fun is still going strong for Los Angeles families! Mommy Poppins LA is here to point you towards some of the best local events.
Summer hasn't had its last hurrah just yet. There's one more Twilight Dance concert on the Santa Monica Pier and a final fiddle from the winners of the Topanga Banjo & Fiddle Contest at the Peter Strauss Ranch. If you're looking to get your beach on, the shores of Malibu will be lined with surfers at the Malibu Surfing Association's MSA Classic.
This Sunday also marks the 10th anniversary of the September 11th attacks. It can be difficult to know how to address the anniversary of such a profoundly tragic event with children. Several local institutions offer options that are both life-affirming and respectful; the ZImmer Museum has an event particularly geared toward families with young children, while the Museum of Tolerance event might be more suited to kids with a better understanding of the day.
Read on for some of our favorite choices this weekend.

All Weekend
Tall Ships Festival – Dana Point
Families get to tour eight real, working tall ships as well as experiencing interactive living history encampments, sea chanteys concerts, cannon battles at sea, an arts and crafts show, and hula performers.
The 15th Annual 2011 Original Lobster Festival - Long Beach
Celebrate everyone's favorite crustacean at the Original Lobster Festival in Long Beach this weekend. There will be live music on two stages and child-friendly entertainment on Saturday and Sunday
Tchaikovsky Spectacular With Fireworks - Hollywood
Pyrotechnics light up the sky over the Hollywood Bowl as the Los Angeles Philharmonic performs great works by Tchaikovsky. (Friday and Saturday)
Friday, September 9
Shark Lagoon Nights - Long Beach
The Shark Lagoon at the Aquarium of the Pacific opens its doors for free on selected Friday evenings. Get up close and personal with bamboo sharks, or view their larger kin from a safe distance.

Family Art Night: Pee Chees, Pencils, and Paper - Pasadena
Using the works of Edgar Degas as inspiration, participants will design their own Pee Chee folder.

Saturday September 10
3rd Annual Latin American Parade & Festival - Long Beach
Long Beach celebrates Latin American culture with a lively Parade and Festival.

Brazilian Day in LA - Mid Wilshire
The Brazilian Street Carnaval is joins forces with Brazilian Day in Los Angeles to create one spectacular celebration of all things Brazilian.

Children's Flower Arranging: Busy Bees and Ladybugs - San Marino
Flower pots are transformed into bumble bees and lady bugs then filled with bouquets of fresh blooms in a creative workshop for kids
Story Theater with Victoria Goring - West Los Angeles
Victoria Goring creates new stories live from children's suggestions.

Sunday, September 11

Family Walk Celebrating Grandparents - Pasadena
The Children's Nature Institute honors grandparents and all those adults who have helped us with their experience and knowledge. The hike leader points out examples of multi generational plant and animal relatives and discusses many ways we learn from those who have come before us.

Wishes for Our World - Mid Wilshire
The Zimmer Museum opens its doors, offering a place for families to gather and play. Museum visitors can contribute to a communal art piece illustrating dreams for a better world.

Egg Concert - Topanga
The line between performer and audience is blurred as Egg encourages kids to join them on stage

Andell Family Sundays, NexGen at LACMA - Mid Wilshire
The whole family can enjoy a day at the museum with LACMA's Andell Family Sundays.

Plus there are loads more things to do on our daily events calendar. Have a great weekend!