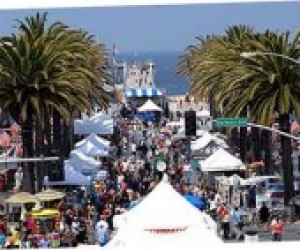 Fun & Free Things To Do Labor Day Weekend 2011 with LA Kids: LA County Fair, Fiesta Hermosa, and Shakespeare in the Park
Labor Day weekend is always bittersweet - a big, barbecued symbol of the end of summer and the beginning of a new school year. This year, the festive farewell to summer brings something else new to LA families: Mommy Poppins! Angelenos can now enjoy their own edition of New York City's favorite family online guide.
To introduce you to the wonderfulness that is Mommy Poppins LA, we bring you the Labor Day Weekend Fun Guide, with suggestions galore for great ways to enjoy the three-day weekend and send summer out with a bang!
For starters - or more accurately for finishers - there are a few great summer activities that sing their swan songs this weekend; this is your last chance to ride the Marina del Rey waterbus, the last of the Music Center's Drum Downtown series, the last Concert in the Park in Manhattan Beach, and the last chance to splash in several of LA parks' free water play areas.
On the other hand, this weekend also marks the beginning of the Los Angeles County Fair, bringing with it everything from kangaroos to deep fried Twinkies.
Read on for Labor Day weekend's best bets...
All Weekend
​Romeo and Juliet: Monsters in Love - Culver City
The Actors' Gang has added one extra weekend to its popular, free family Shakespeare in the Park season. Romeo and Juliet: Monsters in Love is a high-energy, silly romp based on Shakespeare's play with a similar title. The raucous Commedia del Arte style makes the story accessible even to the very young, and yet packed with enough wit to entertain adults as well.
E Hula Mau - Torrance
The three-day Hawaiian festival in Torrance swings and sways with free hula and musical performances, events, and workshops (some workshops charge a fee), as well as displays by artisans and island-style food.
Fiesta Hermosa - Hermosa Beach
The beach town's semi-annual blowout features hundreds of artisans and craftspeople along with opportunities to swim, bike, fish, or just relax on the beach. The fun includes a Kiddie Carnival, a doggie costume contest, and plenty of live music - all with the ocean as backdrop.
Farmer Days at Kidspace - Pasadena
​Kidspace bids goodbye to summer with a special weekend event at which budding farmers can churn butter, help bring in the crops, and get up close and personal with the animals in the petting zoo.
Civil War Days - Huntington Beach
The Huntington Beach Historical Society commemorates the 150th anniversary of the Civil War with a weekend-long living history re-enactment of the War Between the States, complete with daily deliveries of the Gettysburg Address.
Pick Your Own Roma Tomatoes - Moorpark
Underwood Farms' annual tomato-picking event allows families to take to the fields and pick as many tomatoes as they like, paying just 25¢ per pound with no admission fee.
Saturday, September 3
​Los Angeles' 230th Birthday Celebration - Downtown
Revelers gather on Olvera Street to celebrate the anniversary of the founding of Los Angeles and to greet Los Pobladores, descendents of the original founders, who walk from San Gabriel Mission to mark the day. Birthday cake, historic re-enactments, artisan demonstrations, exhibits, and live music are all planned.
Magician David Chen at the Skirball - Sepulveda Pass
To complement its (soon-to-close) Houdini exhibit, the museum hosts a magical performance by David Chen, featuring Chinese-themed tricks.
Public Star Party - Griffith Park
No, not that kind of star party. The Observatory offers a free chance for families to look at the sun, moon, planets, and other objects with the assistance of the Los Angeles Astronomical Society and the Los Angeles Sidewalk Astronomers.
Sunday, September 4
Birdie's Playhouse - Topanga
Birdie and her guitarist perform songs, pass out instruments, lead movement, and unleash the dancing beasts in children at an outdoor morning concert at the Theatricum Botanicum.
American Indian Culture Day: Stick Ball - Griffith Park
The Autry explores American Indian culture through the playing of stick ball. The day starts with Navajo storytelling and a museum tour, followed by a game of stick ball. Live music finishes the afternoon's activities.
Monday, September 5
Big Boddy's Back Yard - La Canada/Flintridge
Descanso Gardens bids summer goodbye at its annual Labor Day celebration. Families can bring a picnic meal or order one on arrival from the café. Entertainment includes guided walks, live music by the Mobile Homeboys, and a reading of Teddy Bears' Picnic.
LACMA's Free Holiday Monday - Miracle Mile
The museum celebrates the Monday holiday in its usual fashion - by treating Angelenos to free admission. Timed tickets are still required and can be booked online for both the main museum and the Boone Children's Gallery.
Plus there are loads more things to do on our daily events calendar. Have a great weekend!