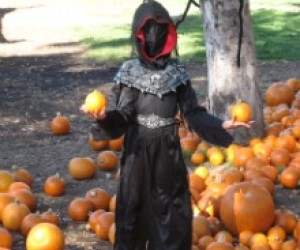 5 Halloween Events Not To Be Missed – Haunting Los Angeles
Angeleno families are offered so many options at Halloween time it can become overwhelming; with limited time and funds, what are the real must-spook events? Which ones are worth driving for, and which are just more of the same on the other side of the hill?

We've chosen our top five venues for pumpkins, spooks, and things that go "Boo!"
The Griffith Park Ghost Train
At the risk of giving away a great secret, one of the best Halloween events for the under 12 set is the Los Angeles Live Steamers Halloween Ghost Train. The small scale ride-on trains ramble at a leisurely pace through a Halloween wonderland that covers every spooky theme imaginable in a 15-20 minute ride. The decorations are creepy and wonderful, but they stay safely off the train, creating a haunt that's fun for all ages. Plan on arriving early with a picnic, as the line generally starts an hour or so before the gates open.
Underwood Farms or Pierce College
Both Underwood Farms in Moorpark (the famous pick-your-own farm) and Pierce College in Woodland Hills (famous for its Farm Walk in the spring) have hyperbolic Halloween Harvest Festivals that last the entire month of October. Both are great fun for young kids, with lots of wholesome entertainment like petting zoos, hay rides, panning for gold, and corn mazes. The two are actually quite similar by day, so picking one or the other would likely satisfy your family's harvest needs for the season.
By night, Pierce College is still a fun family destination, but it also adds three haunted houses only recommended for the 13 and over set. This can make Pierce a good choice for families trying to entertain big kids and little kids all in one go.
Frightfully Fun Fishy Fest
The Santa Monica Pier Aquarium's annual event rolls Halloween and Día de los Muertos into one big, aquatic celebration which is free for kids and only $5 for adults. For that price there's loads of crafts, stories, spooky science, bioluminescence displays (that's stuff that really glows in the dark!), and even trick-or-treating on the Pier as part of the weekend-long event. This event is all-age-friendly, wholesome, and even educational - amidst the spooks and sweets.
Boo at the Zoo
Whether it's the big zoo at Griffith Park, the even bigger zoos in San Diego, or one of the smaller local zoos, stopping in to see the animals tear incongruously into pumpkin treats is an experience worth having.
Knott's Scary Farm
Knott's nighttime haunt is strictly for older kids, but if you've got 'em and are looking for just the right amount of thrill without propelling them toward therapy, the Scary Farm is a great choice. Universal is for the more serious horror junky; Knott's generally achieves a slightly less dark and disturbing haunt - think 12 year-olds rather than 16-year-olds.
Originally published October 19, 2011