Sign up for our free newsletters.
Wizards and Fools Halloween Magic Show at the NoHo Fringe Festival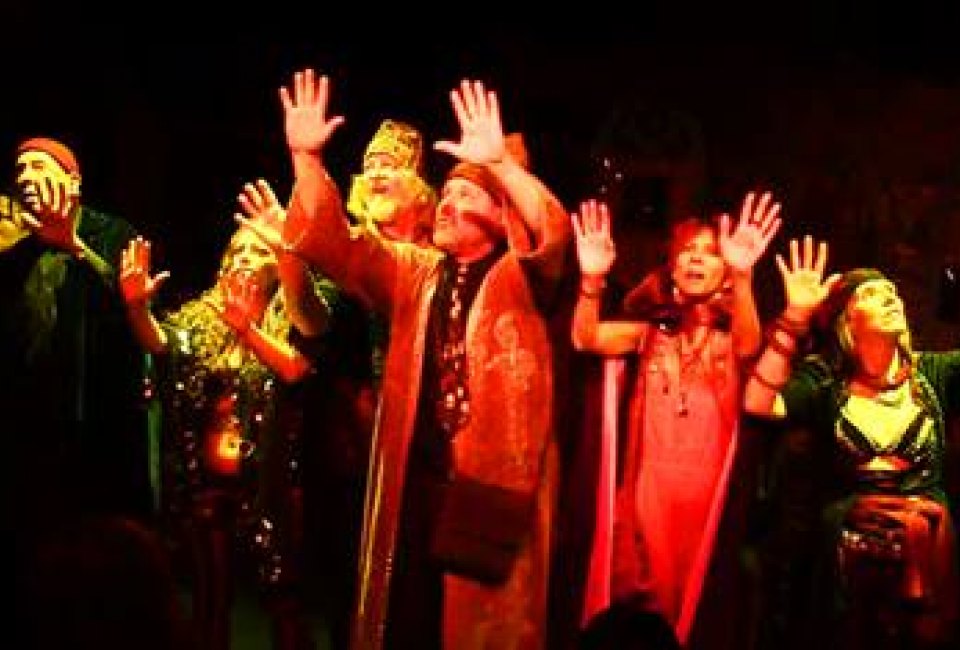 10/15/15
- By
Roberta B
North Hollywood is on everyone's maps but not everyone's radar. The just barely Valley neighborhood has been experiencing a Renaissance over the past decade, growing into an arts hub proud of the nickname NoHo. The small theaters of the NoHo Arts District have banded together this year to establish the first ever NoHo Fringe Festival, which takes place throughout the month of October and into November, at a variety of venues. A few of the Fringe productions are family friendly, including one that couples Fringe with Halloween to create the uniquely October offering, Wizards and Fools.
Wizards and Fools: The Hallows' Fool Moon Magic Show is a show for anyone who loves magic; entirely family friendly, the play is essentially a top notch magic show, starring Magic Castle veteran Brandon Scott and an eclectic supporting cast of characters. The quirky band of performers and musicians play the extended wizard family who are preparing for some "fool moon" rituals on Halloween night. The fun involves time travel, escapism, and mystical tortillas in a 90 minute show (with intermission).
The show has no content to concern parents at all—just a first half that could be a little long for very antsy kids, which is the main reaso for the 7+ age recommendation. The plot might sometimes get obscure for little ones to follow, but since the story is really secondary to the magic, that's not likely to bother most kids. As long as the cards get found and the torn paper gets put back together, everyone is happy. What makes it different from your typical magic show is that the tricks are woven into a tale that makes them seem almost coincidental, while still leaving room for kid-pleasing audience participation and several delightful surprises. (There's a great volunteer opportunity for a kid who's good at math, and the payoff is awesome.)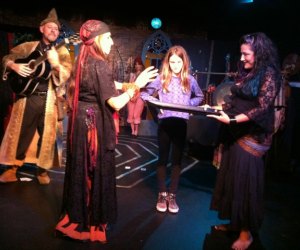 Picking a card from the tarot deck
Wizards and Fools runs weekends through October 25, and Goldstar has tickets for $15. Street parking is available all around the Acotrs Forum Theatre, and snacks are available in the lobby. The theater has open seating with every seat a good one; but if you head in early, your kids might get to sit on the sofa in the front row, which our kids loved.
Other productions of interest to families in the 2015 Fringe Festival include Charlotte's Web, The Emperor's New Clothes, and Willy Wonka, the Musical. To check for other family friendly shows in NoHo this month, check the full NoHo Fringe Festival schedule.
Places featured in this article: