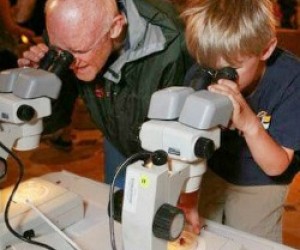 Weekend Fun with LA Kids: Bug Fair, LéaLA, and Singing with Muppets, May 16-17
So here's the funny thing (and I'm sure it will make you laugh): I'm going through and updating events, and I'm noticing that a lot of annual summer favorites already have their schedules up. A summer concert series here, a movie series there; no surprise that baseball games are up—they already started—and Hollywood Bowl, of course.

But I'm seeing more and more summer series locked and loaded, ready to go, which is weird, because it's totally still spring; I can tell that from the calendar. May is spring unless there was some act of Congress I missed, and then it hits me: next weekend = Memorial Day. Memorial Day = unofficial start of summer. Transitive property, yada yada, I'm sorry, what? Summer???

And now you see that the laughing I said you would be doing is of the "or else I might cry" variety. Schools start letting out over the next few weeks; I'm sure you've got your camps picked out and know exactly what you're going to do with your kids all summer, and all I have to say to that is, "Ha! Ha Ha!"

Keep reading for some seriously funny events this weekend...
ALL WEEKEND

Bug Fair 2015 - Exposition Park
The Natural History Museum celebrates things winged and creepy-crawly with the biggest bug festival in North America. This year celebrates the Year of the Butterfly!

REDCAT International Children's Film Festival - Downtown
This is the final weekend of the kid-centric film festival.

LéaLA Spanish Language Book Fair - Downtown
Spanish language books take center stage at the LA Convention Center, with plenty of activities and performances geared towards kids.

Play Days - Monterey Park
Monterey Park's birthday celebration includes a four day carnival and a parade on Saturday.

Annie - Costa Mesa
The plucky little redhead reminds us to smile at the Segerstrom Center for the Arts.

Circus Vargas presents ArleQuin! - Burbank
For thrills and awe, Burbank is the place to be this week.

Kiddee Matinees - Hollywood
Head on over to the New Beverly Cinema, or The People that Time Forgot will be the movie your kids never knew.

California Strawberry Festival - Oxnard
Strawberries are the only fruits that have their seeds on the outside. They are also yummy. Nibble on a pound or two at this annual festival.

Rose Festival - La Cañada Flintridge
Name your favorite flower. Mine, too! The Descanso Gardens agrees and honors the rose with its own festival.

Doctor Who & Sherlock Geeky Crafts Faire - Hollywood
Whimsic Alley's latest craft fair offers handmade goods inspired by the two fan-favorite genres.

Teen Arts Academy - Pasadena
Teens draw in the garden to learn basic landscape drawing and painting at the Norton Simon Museum.

Renaissance Pleasure Faire - Irwindale
Lords and ladies of the court, mount your fastest steeds and hie thee to the closing weekend of the Renaissance Pleasure Faire!

SATURDAY MAY 16

Waves 'N' Wheels - San Pedro
Head to the waterfront to check out the vehicles and vessels of Downtown Harbor and enjoy a free, 60-minute narrated boat tour of the Port of Los Angeles.

Heather Henson's Sing Along with The Muppet Movie (G) - Arcadia
It isn't easy being green. But it's a blast to sing along with The Muppet Movie!

Dinosaur Dig -Thousand Oaks
The dino-rific fun at the Conejo Community Center includes dinosaur crafts, games, and a hike to a "dig site" to dig for fossils.

Free All-Ages Art Class - Culver City
Bam! Pow! Alakazam! Kids create comic characters and write a story in a four-panel comic.

Free Hip Hop Dance JAM Session with Versa-Style - East LA
Versa-Style Dance Company teaches hip hop dance moves.

Long Beach Touch-a-Truck - Long Beach
Touch-a touch-a touch-a truck. You know you wanna. And it's free.

Wake Up with the Waves - Santa Monica
David Tobocman closes out the popular kids concert series on Santa Monica Pier.

Endangered Species Day - San Pedro
Cabrillo Marine Aquarium draws attention to endangered marine species with a free day of activities.

Endangered Species Event - Griffith Park
Los Angeles Zoo also looks at endangered species, focusing on four species it is actively fighting to keep from going extinct in the wild.

LA Sanitation West Valley Yard Open House - Northridge
Join Mr. Recycle and his sidekick Robo Blue at the West Valley District Yard, and see the city's trash trucks up close.

Santa Monica City Yards Open House - Santa Monica
Sanitation Yard Open Houses are so much fun that Santa Monica decided to get it on the action.

Community Stroller Fitness Class - Culver City
Families can stroll and enjoy snacks at this free workout in the courtyard of Helms Bakery.

Nothin' But Sand Beach Cleanup - Pacific Palisades
The whole family can participate in the beach cleanup at Will Rogers State Beach.

SuperSMASH Carnival - Santa Monica
Santa Monica Alternative School House brings on the fun at this annual fundraiser that includes a BBQ, games, rides, crafts, and a real car that you can help paint.

Colfax World Fair - Valley Village
Colfax Charter's annual fair features dozens of family-friendly games and attractions, two food courts, a huge silent auction with over 500 items, raffles, and musical performances throughout the day.

Neighbohood Nursery School's Annual Spring Fair - Silver Lake
The primo entertainment at this annual fundraiser includes Dan Bern, Jeff Parker, Wendy Wang, The Outlines, and Sam Amidon.

Kinderwise Live - Lakewood
Miss Sparkles and Busy-Bee host an interactive performance at the George Nye Library with singing, dancing, comedy, and balloons.

The Parenting Process: Understanding Our Family Legacy - Echo Park
"I'll never do to my kids what my parents did to me." Said by every parent, achieved by..?

Street Food Cinema - Culver City and Glendale
Life is like a box of chocolates multiplex. You never know what you're gonna see: Forrest Gump in Glendale or Pitch Perfect in Culver City.

Family Movie Night: The Thief Lord (PG) - El Segundo
ESMoA shows the movie adaption of Cornelia Funke's tale of two orphaned brothers who flee to Venice.

4th Annual Community Movie in the Park: Big Hero 6 - Manhattan Beach
Bring blankets, low back chairs, and snacks for a free screening of Big Hero 6 (PG) at Polliwog Park.

North Hollywood International Film Festival - North Hollywood
It's been a hard day's night, but it's made easier by the free screening of A Hard Days Night.

SUNDAY MAY 17

Arts of India - Westwood
It's an afternoon of Indian arts and culture at the Fowler, with family yoga, music and dance, henna tattoos, an art workshop, and a fashion show.

King Harbor Sea Fair - Redondo Beach
Outrigger canoe and sailboat rides, a sand sculpture contest, hands-on art, and entertainment thoughout the day – it's seven hours of free fun!

Special Needs Resource and College Fair - Sherman Oaks
Parents and professionals can learn about the resources that Los Angeles has to offer the special needs community.

55th Annual Topanga Banjo Fiddle Contest and Folk Festival - Agoura Hills
Whether you want to watch or join in, the Topanga Banjo Fiddle Contest and Folk Festival offers plenty of opportunity to enjoy music, with the backdrop of Western movie sets and the mountain locations of Paramount Ranch.

Museums of the Arroyo Day - Los Angeles & Pasadena
Families can discover living history, local history, architectural history, dance, traditional craft demos, kids' crafts, storytelling, art, and live music at five historical museums in Pasadena and Los Angeles.

10th Annual RockSTAR Music Education Battle of the Bands - Hollywood
These school kids have been honing their craft all year; watch as they play their little rock n' roll hearts out at the Wiltern.

Skirball Playdate: A Morning of Music - West LA
Does your kid sing the blues? Or are they more the jazz type?

Marzo's Variety Show for Kids - Hollywood
The kids variety show is at a special early time this month, with magic, music, and reptiles!

Kids Run the Bases, Dodgers Home Game - Echo Park
The Dodgers play the Rockies, and kids run the bases at Dodger Stadium.

Librarians' Choice: Short Film Gems - Santa Monica
Librarians helped choose these short family friendly films, that either started as or were adapted into books.

As always, there are many more activities listed on our Event Calendar, and if you didn't receive this info as a newsletter, you should sign up for our weekly events updates. Whatever you choose to do this weekend, we hope you have a terrific time!