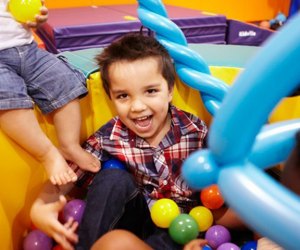 15 of the Best Party Places for Toddlers and Preschoolers in Westchester
As adorable as first, second and third birthday parties can be, the idea of my toddler and 10 to 15 of her closest friends wreaking havoc on my living room and our unsuspecting cats is enough to make me consider just skipping the festivities until she is old enough to lend a significant hand in the post-party clean up. Luckily, there are professionals all across Westchester County who have mastered the delicate science of toddler birthday parties.
If you prefer to party at home, check out our post on in-house party entertainers and stand back as little ones are delighted and amazed. For those of us who opt to leave the work entirely in the hands of the professionals, read on for our top picks for celebrating yearly milestones with the 4-and-under-crowd.
1. The Play Place – Elmsford
11 Clearbrook Road
Keep things simple with parties at The Play Place. Packages include two coordinators who will set up and clean up, as well as run things during the festivities. Several activities are available: field games, magic, disco dance, or play and paint.
2. Rockin' Jump – Yonkers and Mount Kisco
These indoor trampoline parks bring new meaning to watching kids bounce off the walls. Both locations offer different party packages with a variety of add-ons and time for bouncing. Take note that all partygoers must wear the special reusable socks for safety reasons, and parents will need to sign waivers.
3. Gymnastics City – Cortlandt
2121 Crompond Road
From the snack bar to the monkey bars and uneven bars, Gymnastics City routinely makes the "Best of Westchester" lists for children's parties. Families can choose from different party packages and a large list of add-ons to customize their perfect party. This is a great venue for toddlers because it features LOTS of soft spaces so there are no worries as little party goers tumble and bumble about.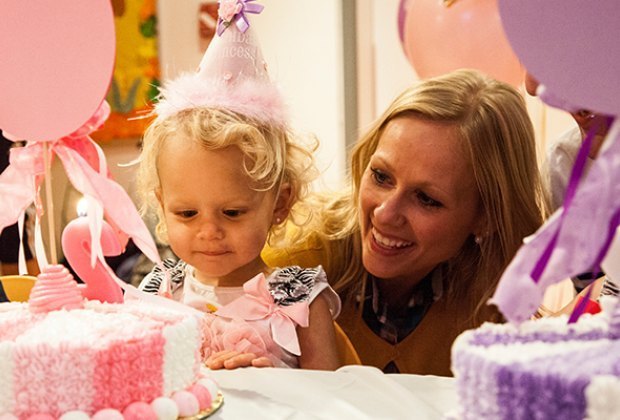 There are options a-plenty for party packages at Kidville.
4. Kidville – Mount Kisco
145 Kisco Avenue
Kidville offers two different preset party packages and even offers customizable parties. Fun extras—like bouncy castles—can be added upon request.
5. Sportstime USA – Elmsford
380 N. Saw Mill River Road
While there are a variety of birthday packages for families to choose from at Sportime USA, its Soft Adventure package is what sets them apart in the Westchester world of indoor play spaces. Designed specifically for children under 3, this 1.5-hour party package give little revelers unlimited play in the Soft Adventure Zone and two ride tickets. It also includes use of the general party room and free paper goods for the included pizza/hot dog lunch.
6. BounceU – Elmsford
150 Clearbrook Road
BounceU really is a birthday bounce paradise. Inside, excited bouncers will find two rooms full of bouncy castles, obstacle courses, games and slides. In a separate party room there can be cake, pizza and beverages. Party Pros help facilitate and supervise the kids while parents observe or bounce along. You can even add a New Years Eve-style balloon drop to the festivities!
7. Stew Leonard's – Yonkers
1 Stew Leonard's Drive
Though it had never occurred to me that a supermarket would be an ideal location for a toddler birthday party, I must admit that Stew Leonard's puts together a great package. With each of the themes (General Party, Princess or Cupcake Party, and Super Hero/Pirates/Hot Wheels) children get invitations, decorations, face painting, a craft, games, a visit from Wow Cow, paper products, balloons, pizza and juice, ice cream sundaes with self-selected toppings and birthday cake. With all of that supplied on premises, there is very little to do but show up with the birthday child in tow!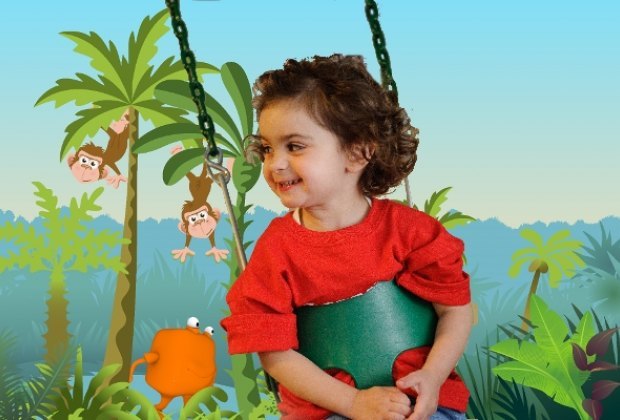 Great Play offers fun for even the littlest partygoers.
8. Great Play – Scarsdale
Kids as young as 1 can have parties at Great Play. Several different themes and packages are available, all of which are customizeable and provide time within the facility's interactive gym. Options include obstacles courses, treasure hunts, balloon hockey, scavenger hunts, bubbles, freeze dance and much more.
9. Muscoot Farm – Katonah
51 New York 100
If you prefer a real cow to Wow Cow, book a party date at Muscoot Farm. This Westchester County-owned working farm books parties from 10am to noon and provides both indoor and outdoor party space. Reservations are required—and usually need to be made months in advance—but the space is FREE with a the option of adding a hay ride from mid-April through October. After children enjoy their party they are free to explore the farm (with grown-ups) and complete a scavenger hunt provided by the farm. Families do need to bring all of their own supplies for a party at Muscoot; balloons are not allowed at the farm.
10. Peggy Izzo The Dance Workshop – Croton-on-Hudson
24 Old Albany Post Road
Budding ballerinas, dancers and tumblers will love The Dance Workshop's creative movement and tumbling parties for kids turning 3 and up. Available on weekends, these parties can be customized to the birthday child's interests and include pizza, juice, paper products, cake and party favors.
11. Jodi's Gym – Mount Kisco
25 Hubbles Drive
It is almost difficult to encapsulate in a single paragraph just how much Jodi's Gym has to offer young children celebrating a birthday. Party guests at a Jodi's Gym party will have the entire gym to themselves: 5,000 square feet filled with opportunities to climb, bounce, jump, swing, tumble stretch and squeal to their hearts' content. Also included, at no additional cost, is a bounce house, full-service set up and clean up and unlimited coffee for the adults. Not enough? Look into its add-ons to tack on some music, guest characters, food, party favors, piñatas, tattoos, face painting and more!
12. My Gym – Yorktown Heights, Dobbs Ferry and Larchmont
My Gym has three locations in Westchester, all of which offer birthday parties customized to the birthday child's age. Each celebration features games and activities, puppets, songs, music and movement and can be modified to accommodates a variety of group sizes. My Gym offers three party packages designed to fit a variety of budgets.
13. The Little Gym – Scarsdale
777 White Plains Road
Named the #1 place to host children's birthday parties by Parents Magazine, it would be hard to go wrong hosting a tot's first, second or third part at The Little Gym. Parties, or as The Little Gym calls them, Awesome Birthday Bashes, are fully customizable for children ages 1 to 12. Each party is different, featuring games, music and activities that are geared towards the birthday child's interests. All set up and clean up is done by Little Gym staff.
14. NYSC – Multiple Locations
At the Dobbs Ferry, White Plains and New Rochelle New York Sports Clubs locations, the Sports Club for Kids program offers a Gymnastics for Tots Birthday Party that will get little athletes jumping, tumbling, swinging and spinning for joy. Families can choose from Celebration, Bash or Extravaganza level parties and all parties last 90 minutes. Contact individual clubs for details.
15. Gymboree – Multiple Locations
Like My Gym, Gymboree has locations in both Northern and Southern Westchester. Gymboree truly specializes in toddler parties; in fact, they only host parties up to age 5. Each themed party—and there are a lot of themes to choose from—lasts 90 minutes and includes a variety of music and movement activities designed to engage children in a particular age group. Party supplies are provided; just show up with the birthday child and the cake!
For more party ideas, check out of Kids Party Guide.
This originally posted in 2014 and has been updated for 2018.
Images courtesy of the venues.