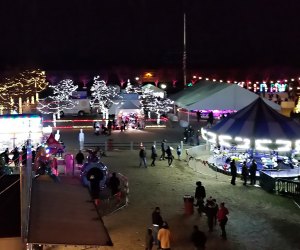 25+ Fun Things To Do with Westchester Kids Over the Holiday Break
This year, school generally lets out for the holiday break around December 20 and doesn't resume till anywhere from January 2 to January 6. That translates into two or even two-and-a-half weeks of no school! While we let that revelation sink in, let's move on to what we can do to help.
Whether you're in the market to keep the kids out of your hair, are hosting guests, or want to keep the holiday fun going, we've got 25 fun events for Westchester families over winter break 2019. Didn't get to all the holiday attractions we've been touting all season? Many will continue through the end of the month. More good news: Many of these are FREE (the just-right price for this time of year!). And if you've had your fill of excitement, perhaps it's time to just relax and let the kids run wild at one of our top indoor play spaces, or take a spin around the ice rink, both of which are also good to keep in mind in case the weather takes a turn.
Looking for even more activities? There are still plenty more to choose from on our Event Calendar, and a look at our 35+ Free Things To Do for the holidays is worth a gander to avoid further spending this month. Be sure to sign up for our newsletters to stay in the know!