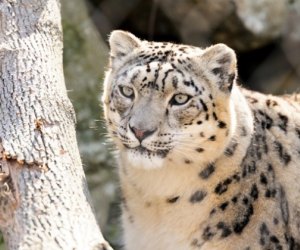 Things To Do During December Vacation Week with Kids in Boston
December Vacation Week is a wonderful chance to relax with family, but it's also a time when boredom can easily hit kids who are used to daily school and activity routines. To keep everyone happy, a good strategy is to pencil in a variety of events over the time off, making sure to include some free activities in the lineup. There are too many cool events to count this December, with everything from holiday shows to outdoor fun, so peruse our picks below to find some real gems to enjoy with the kids starting before Christmas Day through the New Year. Here's to a holly jolly vacation around town!
Museums and Attractions
Museums running cool programs during the vacation week include the MFA, the Children's Museum in Easton, the USS Constitution Museum, and the EcoTarium. Visit the Stone Zoo and meet the winter animals that live there, like the snow leopard pictured above.
Outdoor Activities
​Newton's Nahanton Park and Wellesley's Warren Recreation Department are hosting the PUDDLESTOMPERS™ providing the perfect opportunity to get little ones out and excited about nature. The Ipswich River Wildlife Sanctuary is having a Family Fun Day where kids can learn the tracks and signs of local wild life.
Shows and Indoor Fun
Most local venues are closed on Christmas Day, but LEGOLAND® Discovery Center Boston is open and offering visitors a special experience with the Holiday Bricktacular event. Vacation week is also the last chance to catch one of the local Nutcracker performances, and most other holiday shows are winding down as well. A lower-budget option that's every bit is fun is the Sing-Along Sound of Music with lyrics on-screen for the whole family to participate. The Holiday Pops event this year is a high-def screening of Back to the Future with Keith Lockhart and the Boston Pops performing the score of the movie live.
Freebies
A couple of local libraries are featuring free movies, including showings on Christmas Eve of The Best Christmas Pageant Ever and How the Grinch Stole Christmas. For a sweet view of Boston, families can check out the gingerbread houses designed by architects. Other fun picks include the LaSalette Shrine Lights and a free open skate in Foxboro.
New Year's Eve
New Year's Eve offers tons of great options for families, including First Night, but there are also lots of great picks on New Year's Day, including a free hike and a free afternoon show.
---
Photo of snow leopard at Stone Zoo by Eric Kilby, courtesy of Stone Zoo.