These Kids Really Do Rock: Boston Kids Who Are Making a Difference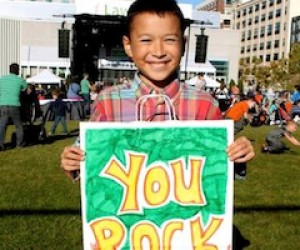 We wanted to know all about Boston kids who exemplify the spirit of the Kids Really Rock festival – kids who give back in small and big ways to their communities, demonstrate kindness, use their creativity to help others and make a positive difference in the world – so we asked for nominations from parents, nonprofits, youth leaders, and even the kids themselves.
The phenomenal entries we received confirmed our belief that Boston kids are making a difference in their communities, and that they really do rock! After careful consideration (and some very difficult decision-making), we selected five finalists, including one grand prize winner who is the recipient of $1,000 donation to local nonprofit Cradles to Crayons and a nonprofit organization of his choice. These are the inspiring stories of our five finalists in the Boston Kids Who Really Rock contest.
Abby, Age 6
When Abby was three years old, she cheered her dad on as he swam 1.4 miles across the Provincetown Harbor to raise money for the Provincetown Community Compact (a 501c that supports 10 local charities). She asked her dad if she could swim with him the following year. When he told her she would have to learn to swim first, the intrepid preschooler did just that. This past spring, Abby asked again to join in the swim. When told that children aren't allowed to swim across the Harbor, she proposed swimming the number of laps in the pool equal to 1.4 miles. Abby set out in June to swim 91 laps before September 6 (the actual day of the swim). By September 6, Abby had raised $1260 for organizations like Helping Our Women, The AIDS Project, and the Soup Kitchen, and had completed 193 laps of the pool!
Maegan, Age 7
Maegan's kind, creative and giving spirit can be seen in everything she does, from making tissue paper flowers for the local nursing home to helping out at a Halloween costume swap for clients of Solutions at Work. Maegan does more than just show up: She has become a young leader in volunteerism and giving. She has shown other kids how to make a difference using their creativity during service activities and helped the Canton Girl Scout Service Unit lead a day of service for all local Girl Scouts. Thanks in part to Maegan, many more local children have books of their own. Maegan helped her Daisy troop lead a book drive for Reach Out & Read via Catching Joy, led a bookmark making activity to go with the book donations, and even helped make a delivery of several heavy boxes of books to the Reach Out & Read headquarters.
Tomas, Age 7
When Tomas was in Kindergarten, he learned from his grandmother that Monarch Butterflies were going extinct. He decided to take action. With the help of his teachers, he explained to his classroom why saving monarchs (and the environment) is so important. Inspired, the Kindergarten class started a fundraiser for Monarch Watch, a nonprofit organization that supports the protection of monarch butterflies. Tomas was also invited to speak at an all school assembly (with kids from pre-K all the way up to 8th grade!), where he explained all about why monarchs are going extinct, raising awareness and inspiring others to take action. (Imagine getting up and speaking in front of the entire school as a Kindergartener! Wow.) Tomas and his class raised over $2000 through sales of monarch-friendly plants that people could plant in their own backyard to help ensure the butterflies would have more places to eat.
Aleena, Age 8
Aleena is always thinking of others. Through her work with Girl Scouts (especially the rockin' Dedham Brownie Troop 65392), Catching Joy, and of her own volition, she has made a difference in the lives of many. Whether it's going through her toys and clothes to pick out things to give away to local families displaced by house fires, making crafts to raise money for causes important to her, telling jokes at a comedy night to benefit the Strike 3 Foundation, donating her Halloween candy to local veterans, or making Valentines for the seniors served by Meals on Wheels, she loves to help others and adds a personal, creative touch to everything she does.

Maxwell, Age 11
Grand Prize Winner of the Boston Kids Who Really Rock Contest
Maxwell and his family started the nonprofit organization Catching Joy six years ago to provide local kids with opportunities to feel the joy of volunteerism and giving. Catching Joy's catchy slogan is "You got it, give it!" Through the work of the organization, hundreds of Boston kids (including several of our contest nominees and finalists) have found avenues for making a difference, including card making, spreading holiday cheer, participating in walks to raise money for local charities, making pet toys for animal shelters, spearheading clothing and food drives, singing in homes for the elderly, and more. Catching Joy led card making for first responders last year at the One Family Music Festival as part of a 26-project service marathon, conceptualized by Maxwell, in response to the 2013 Boston Marathon bombings. This year at the Boston Kids Really Rock Festival, Catching Joy was there to lead a bag decorating activity (pictured) and to deliver hundreds of pairs of socks collected by Maxwell and his friends for the Socks Rock! drive to donate to the festival's nonprofit partner, Cradles to Crayons.
As Creative Director of Catching Joy, Maxwell takes his ideas from nascence to fruition. He helps from start to finish, from prep to clean up and everything in between – creating posters and flyers, recruiting friends, leading service activities – even following up with thank you notes. Maxwell also serves as the organization's youngest Board Member and attends monthly board meetings to talk about the events he helps to organize.
Recently, Maxwell won the won the Strike 3 Foundation "Play It Forward" Challenge for initiating and organizing three projects to help in the fight against pediatric cancer: A comedy and magic show at the Blue Bunny bookstore to raise awareness and money for Strike 3 (which also resulted in a follow-up activity of making joke cards for kids in the hospital); harnessing the popularity of his school's basketball shootout to raise $13,000 for the Jimmy Fund; and launching a birthday card bonanza for a child fighting cancer, whom Maxwell met through the Jimmy Fund, with a tally of over 2,000 birthday cards to celebrate the child's tenth birthday. Maxwell's passion for the work of the Strike 3 Foundation is evident, so it was no surprise when he selected the foundation as the recipient of a $500 donation from Mommy Poppins as part of the Boston Kids Who Really Rock contest grand prize.
For Maxwell, volunteering isn't just a peripheral activity. He says that he could never stop because it's a part of who he is; it's a way of life. Joy: He's got it, and he gives it. Maxwell, Aleena, Tomas, Maegan, Abby, and all the other kids nominated really and truly rock!
Inspired by these awesome kids? Read our posts about volunteering with kids in Boston and holiday volunteering to find out ways your family can volunteer together and make a difference in your community.
---
Photo: Contest winner Maxwell S. at the Boston Kids Really Rock festival, courtesy of Catching Joy