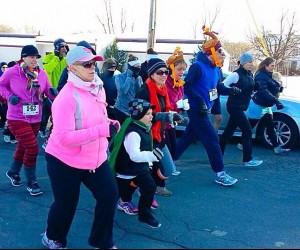 Thanksgiving Fun Runs: Kid-Friendly Turkey Trots in the Lower Hudson Valley
A turkey trot can be a fun way to get the kids out of the house Thanksgiving morning—and get out some energy! Many of these fun runs are held in support of a charity, so there's the added bonus of doing a good deed while you "earn" that extra slice of pumpkin pie.
We've already highlighted some of the best kid-friendly turkey trots in Westchester, and now we're turning our attention to the rest of the Lower Hudson Valley. Be sure to check out our Holiday Guide for even more Thanksgiving ideas for families, and keep up to speed with our November GoList.
DWTA Turkey Raffle – Dover Plains
Sunday, November 22, 2015
Dover Middle School/High School Track
Rather than collecting the typical fixed registration fee, the organizers ask that you bring a monetary donation or
three canned goods to support the Center of Compassion food bank. Every time you run or walk a mile during this race, you will be entered to win a turkey. There will also be post-trot refreshments.
3rd Annual Wallkill East Rotary Turkey Trot – Middletown
Thursday, November 26, 2015
1 Galleria Drive
This 5K race, which kicks off at the Galleria at Crystal Run mall, starts bright and early, giving you plenty of time to get the bird in the oven, or hit the road if you're traveling. You can register online or in person; register by November 7 to receive a long-sleeve shirt and a personalized race bib. There is even a discount if a family of four wants to register, so no one can give you an excuse!
Rockland Road Runners' 5-Mile Turkey Trot – Congers
Thursday, November 26, 2015
Rockland Lake
Held in support of The Marisa Fund, this 5-mile trot is said to be the largest running event in Rockland. You must register beforehand, and participants are encouraged to bring non-perishable food donations in support of People to People.
Turkey Trot - Freedom Plains
Thursday, November 26, 2015
Arlington High School
With a 25K, 5-mile, 2-mile or 1-mile courses, this is a race for all types of runners. (The 1-mile fun run is for kids ages 13 and under only.) Awards are given to top men and women in the 25K and 5-mile race, and kids can receive awards in their age brackets. Bonus: Pre-registered adults get t-shirts while kids receive puzzles! Kids race FREE if you pre-register ($10 if you don't). Sorry, no strollers, bikes, dogs, rollerblades or headphones allowed.
Rhinebeck Ferncliff Forest 5k Turkey Trot - Rhinebeck
Thursday, November 26, 2015
Montgomery Street
Wear your best Thanksgiving-inspired costume and enter for a chance to win a free dinner for two! Medals given to top male and female adult finishers, and all kids under 10 take home medals.
Family of New Paltz Turkey Trot – New Paltz
Thursday, November 26, 2015
This kid-friendly race, which supports the Family crisis-intervention center, is held on Thanksgiving morning. Not only are there chip-timed and fun-run 5K start times, but there's also a Mashed Potato 0.5-mile course just for kids ages 7 and younger. All kids who finish the Potato race will receive a prize.
Kingston Turkey Trot – Kingston
Thursday, November 26, 2015
Forsyth Park
This race has both a 5K and a 2-mile fun run. Registration starts at 8am, and the race kicks off at 9am.
1st Annual Tinsel Trot Fun Run - Rock Hill
Saturday, December 5, 2015
277 Rock Hill Drive
OK, so this is a different kind of trot, but it looks just as fun—and who knows how long you'll be eating leftovers? The inaugural Tinsel Trot will support the Monticello Teachers' Association, and you're invited to dress up as your favorite holiday character. The first 100 registrants will receive a t-shirt.
Photo credit: Junior League of Kingston