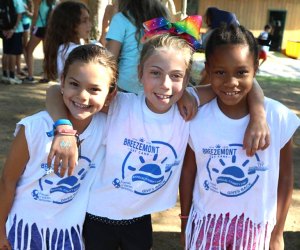 Popular Summer Day Camps for Westchester Kids
While it might be hard to imagine now, summer is on its way—and now is the time to consider summer camp options. If you're looking for a traditional day camp, we've rounded up several camp experiences in the county that offer an all-inclusive range of activities—from sports, swimming, and games to cooking, crafts, visual arts, and more.

For more options, check out our Camp Directory, which is full of information for camps of all kinds in and around Westchester. Plus, our Summer Camp Guide offers lots of great choices for kids of various ages and interests.
Badger Day Camp – Larchmont
Ages 3-12
This well-established day camp offers flexible scheduling options—both in terms of the number and length of day as well as the number of weeks—in addition to traditional summer camp activities, from swimming twice a day to a nature trail and crafts, plus things like STEAM and cooking classes. Badger also provides a hot lunch and laundered bathing suit service.
Beth El Day Camp – New Rochelle
Ages 2-8
Beth El Day Camp provides a safe and caring summer of fun where children grow and make new friends in a Jewish environment.
Breezemont Day Camp – Armonk
Ages 3-13
Kids can tick all the traditional summer camp boxes at this Armonk camp, which is situated on 18 acres, including swimming, sports, arts and crafts and a lake for canoeing—plus a whole lot more, from an "aerial playground" (think ropes courses) to an archery range. Lunch is made on-site every day and kids can attend anywhere from four to all eight weeks.
Camp Hillard – Scarsdale
Ages 3-13
Famous for being Westchester's first day camp (it has been around since 1929), Camp Hillard is set on 20-acres and offers a comprehensive camping program with everything from swim instruction (there are seven pools) to performing arts to a variety of special events, like roasting s'mores and hosting talent shows.
Deer Mountain Day Camp – Pomona
Ages 3-15
Campers enjoy a sleep-away camp's range of activities, facilities, and staff in a day-camp setting. Taught by experts, activities include swimming (instructional/recreational), sports, fine and performing arts, outdoor adventure, nature, STEM, lake, and special events.
Elmwood Day Camp – White Plains
Ages 3-12
Located in White Plains, Elmwood has everything from three heated pools to basketball courts and sports fields to multiple playgrounds and facilities where kids can do art, drama and more. Along with traditional camp activities, kids from Kindergarten and up can take various electives, which range from photography to cooking.
JCC of Mid-Westchester – Scarsdale
Ages 2-10
There are a variety of specialized camps offered, including swim and dance—with the traditional camp, Camp Godol, available for kids from age 2 through those starting the 4th grade. Kids have the chance to do activities like swimming (the youngest kids don't swim, but get to take part in water activities), sports and music. A Kosher lunch is included and starting this year, there is towel service available and flexible scheduling options.
Mohawk Day Camp – White Plains
Ages 3-15
Located in convenient White Plains, this sprawling 40-acre camp certainly offers room to run around in addition to eight heated pools and many great amenities, like two nature centers, a performing arts center, hockey rinks and lots more. Young children are exposed to various activities—from swimming to sports, and older campers have the opportunity to customize their experience by choosing from electives and specialties. Mohawk even offers a 'Sleepaway Week' for those kids looking to try out being away from home for one week.
Mount Tom Day Camp – New Rochelle
Ages 3-14
Situated on a 19-room estate, Mount Tom not only boasts amazing scenery, but also grounds full of activities including three swimming pools, an archery range, and an outdoor theater. They even have a challenge course equipped with a zip-line, bouldering wall and rock climbing wall sure to please even the most adventurous camper.
The Nature Place Day Camp – Chestnut Ridge
Ages 4-16
Camp at The Nature Place is about being in and connecting with the natural world: nature explorations, cooperative games, hiking, earth art, swimming lessons, mucking in the stream, camping, canoeing, climbing, farming and gardening, meeting animals, storytelling, music, archery, drama, and more.
Oasis Day Camp – Dobbs Ferry
Ages 3-15
Housed at The Masters School (younger kids) and Mercy College (older kids) in Dobbs Ferry, Oasis campers can engage in everything from performing and visual arts to field trips, depending on their age. There's also access to nature trails, numerous basketball and tennis courts, a theater, pool and more—plus there's transportation and even tutoring to get them ready for the next school year.
Purchase Day Camp – Purchase
Ages 3-15
Held at SUNY Purchase, this day camp offers four heated pools, a driving range, zip line, sports fields, a music and theater bandshell and plenty more for kids from 3 years old up through 10th grade. Plus, lunch is included, there are extended day options, and transportation is offered to select Westchester towns.
Rush Day Camp – Bronxville
Ages 4-13
While Rush Day Camp, which is held at Sarah Lawrence College, offers sports and specialty week-long camps—they also have a traditional summer camp program for kids between the ages of 4 and 13. There, they'll take part in a host of activities, including swimming, art and fun themed events and days, like Crazy Hat Day. The camp has a 5-to-1 camper to staff ratio as well as extended day options.
Westchester Summer Day Camp – Mamaroneck
Ages 2-13
Westchester Summer Day—located on the 26-acre grounds of Westchester Day School—centers on Jewish values in a traditional summer camp experience that includes tennis courts, sports fields and three in-ground heated pools, along with activities like arts and crafts and science. Plus, since they're right on the Long Island Sound, kids can try their hand at things like boating, wake boarding and more.
Originally published in 2014.