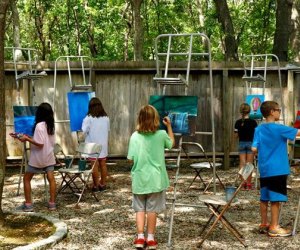 Summer Art Camps for Long Island Kids
For kids who want to explore and expand their creativity, there are several art camps on Long Island that go beyond cutting and pasting. Whether your child is an experienced artist or a true beginner, you're sure to find a summer program that fits your needs. And for more camp options, be sure to check out our Long Island Summer & Vacation Camps Guide.
Note that summer camp information for the 2020 season is changing daily. Please click the links to the individual camps below to see which ones are offering programs this year.
Abrakadoodle — Roslyn
Abrakadoodle Art Camps aim to inspire kids to reach beyond and create art that is unique to them. By doing so, kids feel empowered to be creative and expressive. Each camp includes art but also stories, activities, music and more.
Art League of Long Island Summer — Dix Hills
Art camps here are seperated by age group: Kids ages 5-10 participate in weekly activities at Art League of Long Island centered on exciting themes such as "Fabulous Furry Friends," where kids draw inspiration from live animal models. Mature Artists ages 11-14 can hone their artistic skills in a variety of media from sculpture and printmaking to drawing and painting. Summer Pre-College Portfolio Development, for ages 14-18, prepares students for winning portfolios designed to help them gain acceptance into higher education or program of choice.
Hofstra Art Experience — Hempstead
Kids in grades 2-9 can paint a picture of a summer camp filled with amazing art work at Hofstra University this summer. This camp teaches age-specific art techniques, styles, and mediums using individual and small-group instruction. Besides art, campers can also choose from dance, improv, and musical theater programs.
Long Island Academy of Fine Art — Glen Cove
There are summer programs at Long Island Academy of Fine Art in drawing, painting, and sculpture for young artists entering grades 3-7 and for teens. Students in third grade and up may also enroll in once-a-week classes. Teens, over 16, can join the portfolio development and adult classes for weekly classes, or there's also the chance to create a customized intensive program during the summer term. Weeklong sessions for grades 3-7 run all summer.
Nassau Boces at Long Island High School for the Arts — Syosset
This Summer Arts Academy offers kids entering sixth grade through twelfth grade programming in music, theater, dance, and more. Kids choose a mini "major" from those subjects and work with experts in the field to hone their craft.
Picasso Kidz — Greenlawn
Enjoy half-day focused art camps at Picasso Kidz all summer. NYS-certified art teachers teach a differen theme each week, such as optical art and even sculpture and Matisse-inspired art.
Usdan Summer Camp for the Arts —Wheatley Heights
Situated on a 140-acre woodland campus, Usdan is a nationally-recognized camp, providing dozens of programs for thousands of students ages 4-18 each summer. Each camper can choose a "major" and a "minor" from among its various programs, including art, music, dance, chess, theater, writing, and even nature. Choose from two week, four week, or seven week sessions.
Photo provided courtesy Usdan Summer Camp for the Arts.
This article first published in April 2016 but has since been updated.