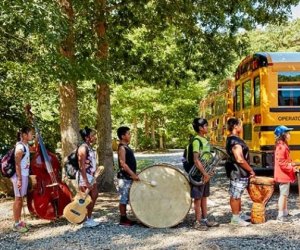 Summer Music Camps for Long Island Kids
If you have a child who loves to sing or play an instrument--or simply wants to spend the summer exploring the wonderful world of music--then one of these camps might be the perfect place for him or her to spend the summer. Beginners and more advanced musicians can expand their talents in a fun and nurturing environment, and some camps even have special performances where campers can show off their new skills. Be sure to contact the camps directly for open house dates and tuition info. And for more camp options, check out our Long Island Summer Camp & Vacation Guide.
Note that summer camp information for the 2020 season is changing daily. Please click the links to the individual camps below to see which ones are offering programs this year.
Bach to Rock – Port Washington
Choose from between Rock Band, Glee Club, Rock City World Tour, Record a Studio Demo, Beat Refinery DJ Camp, or Recording Arts at this cool kids music camp. There's also an array of individual lessons. Kids can learn to write and play music. Expect the camp to place an emphasis on the teamwork, social skills, and building self-esteem.
iSchool — Port Washington
iSchool offers several different musical camp options, from music video to a modern day glee club. Kids practice writing, playing, and more. Camps run between one and two weeks long, and include a concert at the end of camp for family members to enjoy. Camps are geared toward children 7-9 and 10-14.
LIU Performing Arts Academy — Brookville
Whether your child plays in a band, sings in a chorus or is discovering music for the first time, the LIU program challenges its campers in grades 1-10. The Performing Arts Academy performs in the school's state of the art Tilles Center for the Performing Arts. Campers can find themselves playing in a full-sized concert band, singing in choir, becoming a theatrical member of a musical, or soloing in a jazz combo.
Music Academy of Garden City — Garden City
Battle of the Bands Summer Camp is a one week summer day camp open to kids of all abilities, ages 8-17. All enrolled campers are placed into a rock band with students of a similar age and ability, and each band is facilitated by one of the Music Academy's world-class instructors. Each band rehearses daily in preparation for a Friday night concert, where the bands compete to win the title of "Best Band of 2017."
Nassau Boces at Long Island High School for the Performing Arts — Syosset
The monthlong summer arts academy at Nassau Boces offers students a wide variety of experiences to develop their skills with daily classes in a professional theater setting. Students can choose a major (musical theater, music, instrumental, vocal, and more) and work with recognized experts in that field. Group discussion of music history and performance techniques will prepare students for an end-of-session performance and beyond.
The Perlman Music Program Campus — Shelter Island Heights
This intensive seven-week program is designed for exceptionally gifted students of the violin, viola, cello and bass, ages 12 to 18. Located on a waterfront campus on Shelter Island, admissions are based solely on talent, not recommendations or financial means.
Usdan Summer Camp for the Arts — Wheatley Heights
At Usdan, situated on situated on a 140-acre woodland campus, kids can opt to focus on a specific music program as their "major" for the summer or camp session, or to take a more holistic approach and sample the variety of arts classes on tap at this top nonprofit day camp. Music majors include concert band, jazz ensemble, orchestra, chorus, guitar, and piano. Kids are divided into four age groups and can choose from among two week, four week, and seven week sessions.
This article was first published in March 2016 but has since been updated.
Top photo: Kids get ready for Usdan Summer Camp for the Arts. Image courtesy the camp.