Step Back in Time at Shady Glen Diner & Dairy Store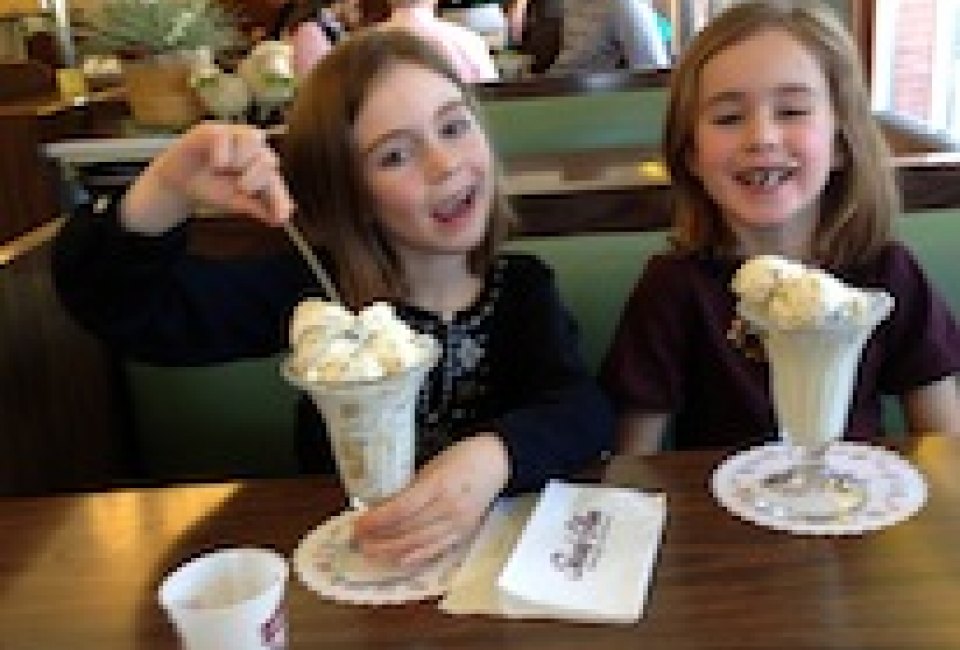 4/9/15
- By
Erin McNamee
When you walk into Shady Glen, you feel as if you have stepped back in time to the 1950s. Waitresses wear old-fashioned green dress uniforms with white aprons, and cooks sport pointy paper hats. Kids can slide into booths or spin on the counter stools arranged around a bustling kitchen and soda fountain. This classic burger joint and ice cream shop has been featured on the Travel Channel for its unique cheeseburgers, although it began as a dairy store and scoops are still its main draw. The grub is not fancy, but it is good solid comfort food served in a fun atmosphere. Top it all off with homemade ice cream and this Hartford area classic is a sweet outing to try with kids!
Shady Glen first opened in Manchester near the Bolton line in 1948; it became so popular that a second location was added across town in 1965, near the East Hartford line. Both locations are conveniently situated near an I-84 exit. While Shady Glen draws visitors intrigued by reports of "winged" cheeseburgers, it has a large, devoted following of locals. Waitstaff here are used to regulars, so they often assume you are already privy to certain things. Before heading there, here are some things you should know:
1. Bring Cash
Credits cards are not accepted at Shady Glen. There is an ATM on the premises of both locations. The day we went, however, the ATM was not working, so it is always better to be prepared with cash on hand.
2. Seat Yourself
There is no hostess, yet there is also no sign telling you to seat yourself or wait to be seated, so this can be a little confusing. I waited uncertainly at the front -- clearly a newbie! -- for a few minutes before flagging down a busy waitress to ask if we could seat ourselves. So now that you know, just go ahead and sit!
3. Be Ready with Your Order
Customers and food move in and out quickly. We arrived at an off time, 3:45 on a Saturday, and there was still a steady stream of people (although plenty of stools were available). You will be given a couple of minutes to think about what you want if you ask but it will be just that: a couple of minutes. This has been our experience on separate visits to each location. Which, with kids, is fine with me. You will not be given crayons or children's paper activity menus here, so who wants a long wait?
4. Read the Wall
On that note, there are no adult paper menus either. Menus for food and ice cream flavors are posted on billboards on the walls, which are not always in a great spot to see from your booth. It's best to peruse them and make decisions before sitting.
5. Flying Cheeseburgers!
Shady Glen is known for its unique cheeseburgers. Four slices of cheese are laid far beyond the edges of the burger as it cooks, so the cheese melts directly onto the surface of the grill to brown. The hamburger itself has soft melted cheese on top, yet is surrounded by the extra cheese that curls up and forms crisp "wings". If that's not enough, you can even order extra fried cheese. Although people travel just to experience these, kids expecting a run of the mill cheeseburger may balk at these alien cheeseburgers. There is, however, plenty of other kids fare: hot dogs, grilled chicken, french fries, onion rings...if it's fried and All-American, it's here.
6. Awesome Ice Cream
Shady Glen's chocolate chip ice cream earned a nod in Food Network Magazine's "50 States, 50 Ice Cream Treats" feature. It is made by pouring liquid chocolate into the ice cream mix at just the right moment so that the chocolate freezes into "chips" of a perfect consistency. It's true: I've never been a fan of most chocolate chip ice cream because I don't like having to chew rock-hard chips but these seem to melt in your mouth along with the ice cream.
7. Locations
The original Shady Glen, on the east side of town, is in a stand-alone building that looks more "diner-esque." The second location is in an unassuming strip mall. I actually drove by it several times before noting the sign because it seemed like a surprising location for a vintage dairy bar. Inside, however, it is virtually identical in style to the original.
It is worth noting that the second location is part of a shopping plaza known as the Manchester Parkade, also home to a budget movie theater called Parkade Cinemas. This cinema shows all of the major movies after they have left the main theaters at a discounted rate. So if you don't mind waiting, you can take the whole family to see movies on the big screen at excellent prices. General admission is $7; kids 11 and under, seniors, and all matinee prices are $5; and kids one and under are free. After the movie, you can pop over to Shady Glen for dinner or ice cream and voila, you have a classic kids outing!
Places featured in this article:
---
Shady Glen - original
---
Shady Glen - Parkade Shopping Center