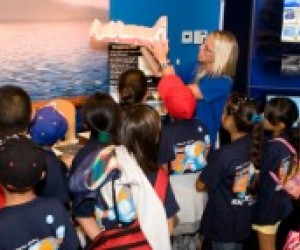 Small and Low-Cost Museums for Kids in Orange County
Orange County has some great and well-known museums for kids, including the Discovery Cube in Santa Ana and the La Habra Children's Museum. But OC also has a number of small and low-cost museums that are also great for kids, and more manageable for parents. Just as we offered 8 Small and Low Cost LA Museums, here are 8 Small and Low Cost Museums in the OC.
Heritage Museum of OC

3101 W Harvard St

Santa Ana 92704

714.540.0404

Museum $5/adults, $4/kids (AAA discount available); grounds access is free during open hours

Open F 1pm–5pm, S 9:30am–1pm, S 1pm–5pm

With 2 homes, a blacksmith shop, and the gardens, there is a lot of OC history to see. This is a popular wedding venue, so check to confirm that what you want to see will be open to the public.
The Irvine Museum
18881 Von Karman Avenue, Ste 100
Irvine 92612
949.476.0294
Admission is free, donations accepted; parking validated
Open T–S 11am–5pm
The Irvine Museum is a small art museum specializing in California art of the Impressionist Period (1890–1930)—if you have a 4th grader, this is a great complement to the California history they are covering in school. With programs geared to OC schools, any local kids may have been here on a field trip. Exhibits change every three to six months; current and upcoming exhibit information is available at the site linked above.
Laguna Art Museum
307 Cliff Dr
Laguna Beach 92651
949.494.8971
Admission: $7/general, $5/students and seniors, under 12 free
Open M-T, W-Sun 11am–5pm; Th 11am–9pm; closed W
Not the smallest of small museums, but this one is a great deal for kids! The Laguna Art Museum offers a free Art Detective Game (scavenger hunt) for all kids under 12, and a free kids' art studio from 2–4 on 3rd Sundays. The Young Artists Society Gallery features works from kids at OC schools and nonprofits. The Laguna Art Museum celebrates California Art, and has several exhibits running at any time.
Los Rios Historic District
Across the train tracks from the Amtrack station
San Juan Capistrano 92675
949.493.8444
Not a museum per se, but rather the oldest neighborhood in California. Wander the streets of this neighborhood, and see the 3 original adobe houses, the jail (be sure to take pictures!), and visit the San Juan Capistrano Historical Society's O'Neill Museum (limited hours). Or, come on a Sundays at 1pm. The Historical Society offers 1.5 hour walking tours ($2/adult, $1/child) or come for a special October Ghost Tour—meet at the railroad platform on Verdugo Street. See all the sights and hear some great stories!
Marconi Automotive Museum 

1302 Industrial Drive

Tustin 92780

714.258.3001

Suggested $5 donation per person; 12 and under free

Open M–F 9am–4:30pm
For the car enthusiast! There are sports cars, race cars, classic cars, motorcycles, and memorabilia—and a collection of rare Ferraris. The Marconi is also a foundation raising funds for underprivileged children in the community. Check the website to confirm hours; this is a popular event venue and often closes early on event days.
Ocean Institute Dana Point
24200 Dana Point Harbor Dr
Dana Point 92629
949.946.2274
Adults $6.50, ages 3–12 $4.50
Open 10–3 most weekends; Pilgrim 11–3:30 most Sundays; behind the scenes tours 3:30 Th and F ($2 each)
Sundays are the best days to visit the Ocean Institute, as that is when the tall ship Pilgrim is open for tours—call ahead to confirm. Pilgrim tours are included in the admission price, and are first come first served. In addition, there are hands-on activities and more. Special events occur on many weekends, each with its own special activities. See the calendar for details.
Ocean Literacy Center/Newport Harbor Nautical Museum
600 E Bay Ave
Newport Beach 92661
949.675.8915
Adults $5, seniors $4, ages 4–12 $3
Open W and Th 12–4, F 12–6, Sat 11–6, Sun 12–5; closed M and T
Located right at the Balboa Fun Zone, this small museum is the perfect place to take a break from the Fun Zone's noise and sugar-fueled fun—and everyone will learn something too! This museum features many ship models, Olympic sailing memorabilia, diving information, and of course a touch tank.

Red Car Museum
Corner of Main and Electric
Seal Beach 90470
562.430.1450
Admission is free, donations welcomed
Open 12pm–3pm on 2nd and 4th Saturdays
Housed in an old Red Car (built in 1925), this small museum showcases the history of the red car lines. Photos and memorabilia are displayed, and the car sits right in the old red car right of way. Great for your little train lover!