Poppins Parents: Joy Olaes Surprenant, Mom on a Mission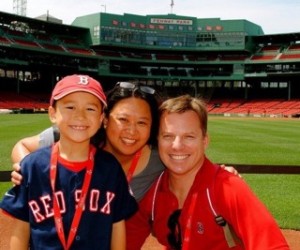 For the March edition of Poppins Parents, our series highlighting local parents who make a difference in the lives of Boston families, we talked to Joy Olaes Suprenant, founder of Catching Joy.
Read on to find out who is her non-profit organization's pint sized co-founder, where she says is one of her favorite places in the whole world (we agree completely!) and how much joy she brings to families throughout the area. Joy also shares tips for getting your family involved in volunteerism and giving.
MP: What is Catching Joy, and what is your mission?
JOS: Catching Joy is a 50c3 non-profit that promotes volunteerism beginning with young children and their families. We organize hands-on community service projects that kids can do to let them feel the joy of giving. For more information, see www.catchingjoy.org.
MP: What inspired you to start Catching Joy?
JOS: I feel fortunate to have grown up in a philanthropic family. My father was a physician and my mother is a nurse. They instilled the value of caring and helping others with us. We even traveled around the world for medical missions. I volunteered with my church, Girl Scouts and a group called Saturday Troopers that performed in nursing homes and other community events.
When I became a wife and mother, I wanted my family including my young son, Maxwell, five years old at the time, to volunteer together. I was not able to find these kinds of opportunities, so I decided to start my own organization. As a former teacher, I love working with children because I know they have so much to give - energy, enthusiasm, creativity, care, and idealism - and all of it could be channeled to help others. I believe that we're helping to raise happier children who grow up to become caring and giving adults. I believe that we help strengthen family ties and form a more joyful community.
MP: Tell us about the events and programs you organize.
JOS: We link up different charities and causes and get kids and their families involved. Catching Joy can be found at schools, bookstores, libraries, various organization meetings, workplace workshops, restaurants, hotel events, festivals and other community gatherings. Kids make lots of cards and art projects to show they care, sing in nursing homes, organize toys/clothing/book/musical instrument drives for people in need, participate in charity walks, runs, and bike rides, host cheering stations, make posters, clean up parks, recycle, help care for animals, run lemonade stands, bake sales, talent shows and other fundraisers. We have fun and unique events like Kids Comedy Night where kids tell jokes, or a Jump for Joy event, a jump-a-thon, two examples of events where we raise awareness and funds for a chosen charity.
MP: What's your advice for parents who want to teach their kids the joy of volunteering and giving?
JOS: Enjoy volunteering together as a family. If children see that volunteering is important to their parents, then they will want to become involved, too. Play on your child's interests and find activities that they would like to do whether it's doing art projects, singing, or participating in more physical activities. Don't be afraid to try new things. Focus less on the sad circumstances and more on how we can make a difference and how happy it makes us feel to help others.
MP: What are the benefits of family volunteering?
JOS: Families that volunteer together have the benefit of enjoying quality time together and making memories together. They develop strong family values such as kindness, empathy, respect, friendliness and tolerance. They feel more connected with each other, their community and the world at large.
MP: How is your son involved in Catching Joy?
JOS: Maxwell is the heart, inspiration, artist, youngest Board Member, and most active participant of Catching Joy. We launched Catching Joy at his fifth birthday party at Fenway Park. In lieu of presents, family and friends supported Catching Joy. Maxwell co-founded Catching Joy and created our slogan, "You got it, give it!" He is participates in 90% of all Catching Joy events, about 5-8 activities per month. He gives his ideas to help create fun and unique Catching Joy events. He helps lead the activities and recruits other kids to join. He makes all the posters. He also helps make the deliveries and write thank you notes.
MP: In 2009, Maxwell was a Sunkist "Take-A-Stand" Award Winner. Tell us about that.
JOS: He won the Sunkist "Take A Stand" contest for his lemonade stand where he raised money for Catching Joy. This year, he received the honor of Community Health Hero by Hannaford Supermarket. In 2012, our family won runner up in Scholastic's Family of the Year Contest for our community service.
MP: What's next for Catching Joy?
JOS: Catching Joy is growing so fast which shows how much it's needed! We have lots of fun and fantastic activities coming up this spring and summer. I'm continuously posting new events on the Catching Joy website/calendar. Next September, Catching Joy will celebrate its 5 Year Anniversary, so we're busy planning for a big event!
MP: What do you do when you aren't running your organization?
JOS: I'm a very happy and busy mom! This means that I'm doing laundry, cleaning my house, grocery shopping, making dinner, helping with homework, driving to different activities, entertaining, and caring and loving my family. For myself, I love to read, write, make music, take walks, see movies and theater shows, and travel.
MP: What is your favorite thing about Boston?
JOS: I'm originally from Cleveland, OH. I came to Boston when I attended Boston College, met my husband who's from Boston, and stayed here ever since. I love Boston's history, culture, academic institutions, theater, and sports. I have become a big Red Sox fan! I love walking around the city, shopping, dining, seeing a show, catching a sports game. One of my favorite places in the whole world is the Boston Public Garden. I had my wedding reception at The Four Seasons Hotel and took my wedding pictures in the Public Garden. One of my favorite activities is riding the Swan Boats.
MP: Which of the 100 Things to Do In Boston With Kids do you most want to do with your son this year?
JOS: I'm looking forward to Opening Day at Fenway Park because Maxwell is singing with the Jimmy Fund chorus for the Red Sox game. Also, my family loves to take the Duck Boat tours; it never gets old.
---