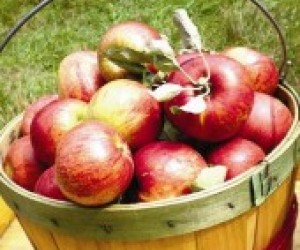 Pick Your Own Apple Orchards This Autumn in Eastern CT
Packing up the kids and heading out to pick apples is a rite of passage, and almost a requirement, for families in New England. Giving kids, both big and little, the experience of seeing where food originates on the farm, is invaluable. Not to mention, the pictures of kiddos in the orchards and among the pumpkins are sure to be popular with the grandparents. Check out some of the best pick your own farms for apples in Eastern Connecticut! And make sure to check out our CT Apple Picking Farm Guide too.
Scott's Farms
One of the largest farms in Eastern, Connecticut, Scotts not only offers picking for apples, but also berries, peaches and pumpkins. Also, grab a tractor ride and see the farm from a different perspective!
436 Boston Post Rd., East Lyme, CT 06333 860-739-5209
Allyn's Red Barn
Ledyard's Allyn Orchards offers pick your own apples, as well as a farm store filled with pies, cider and other treats. Call ahead to confirm hours of operation.
610 Colonel Ledyard Highway, Ledyard, CT 06339 860-464-7245
Horse Listeners Orchard
Head to Horse Listeners in Ashford and pick a HUGE variety of apples, peaches, blueberries, and a large assortment of veggies. There's pony rides for kids every weekend and they're generous with free cider after a long day of picking fruit!
317 Bebbington Road, Ashford, CT 860-429-5336
Silverman's Farm, Easton, CT
Silverman's Farm is one of the larger apple picking outfits in the area. It offers a picnic area, farm stand and gift shop, as well as a petting zoo. Because it offers so much, it can get very busy. So if you're headed to Silverman's, I suggest that you go early, or on a weekday to avoid the biggest crowds. Open 9:30-4:30.
451 Sport Hill Road, Easton, CT, 06612, 203.261.3306
Blue Jay Orchard, Bethel, CT
Blue Jay Orchard has apples ready to pick through mid October. Their hayrides and pumpkin picking are available. Make sure to call for availability.
125 Plumtree Road, Bethel, CT 06801, 203.748.0119
Beardsley's Cider Mill, Shelton, CT
Beardsley's Cider Mill presses and prepares their own cider – which is not to be missed. The cider is worth every penny – as are the donuts! Cash or check only, open weekends only 10-5.
278 Leavenworth Road, Shelton, CT, 06484, 203.926.1098
Holmberg Orchards, Gales Ferry, CT
Holmberg Orchards offers a little of everything. Daily pick you own apples from 10-5, a superb farmer's market with lots of local offerings, and a cool winery, which offers hard cider, among other things. A little further north than I normally venture for apple picking, but well worth the trip.
12 Orchard Lane, Gales Ferry, CT, 06335, 860.464.7305
Bishop's Orchards, Guilford, CT
Call ahead to find out which of the Bishop's Orchards locations are open for picking the day of your outing. Be sure to visit the farm market and winery for tasty baked goods and delicious wines.
135 Boston Post Road, Guilford, CT 06437, 203.453.2338
Originally published 9/26/13.