Party in the Palisades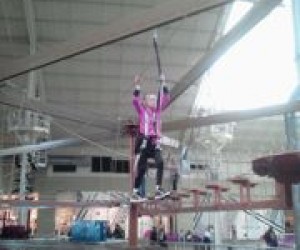 What happens when Spring Break is not so much a spring-y warm break? Indoor family fun! This New Jersey family of four decided to venture right over the border to party in the Palisades. Read on after the jump about how we turned a chilly Spring Break day into an adventure in the Palisades region of New York that included an indoor trampoline romp, a 5 story ropes course, a ferris wheel and a kid-friendly dinner. I would also recommend this day trip for a rainy day!
First stop on our list was Bounce!, an indoor trampoline park. This indoor park has basketball and dodgeball play on trampolines as well as a foam pit to bounce into. Bouncers must be barefoot or wear special non-slip socks. There is a Bounce Jr. sections for children ages 2-6 with smaller trampolines, a modified foam pit, and a bounce house. If you have more than one child in different age brackets, it helps to have two adults, one to stay with one child in the Bounce Jr, area and one to stay with the older child. Bounce! offers plenty of spaces for parents to chill out or work on their free WiFi. You can check online for hours and reserve a time. Make sure to fill out the waiver before you arrive. I would recommend going on an "off" time. We went during Spring Break and it was very crowded. This meant our older child had to cycle on and off the trampolines every 5 minutes. If you go on a day with less traffic, you will have more time on the trampolines. Overall it was tons of fun and my kids were starving! Next stop, Palisades Center, only a 5 minute drive from Bounce!
Palisades Center - West Nyack, NY
Ferrris Wheel/Carousel $2 per rider
I have not been to Palisades Center since 1997 when I was shopping for a prom dress. Having children, I have a much bigger appreciation for this mall. It is huge and offers giant indoor spaces to hang out and run around. It also has a two-story carousel and ferris wheel, which may not seem too exciting, but my two little girls acted like it was Disney World. It is $2 per rider for both of the rides. Palisades Center also has a Lego store and a Disney Store (Princess Alert: this particular Disney store has a princess castle and a theater room with coloring table) which are great places to pass time. They also have a new Lucky Strike bowling alley and a Dave and Buster's, where I was forced eat my dinner (heck, it is Spring Break after all!). Luckily we visited on a Wednesday, when all games and rides at Dave and Buster's are half price, which made dinner a tiny bit less painful. However, the BEST part of the mall was Palisades Climb, read on below for more information.
Palisades Climb - West Nyack, NY
$16.99/person
Palisades Climb is located in Palisades Center and is actually 75 different rope obstacles throughout 5 levels of the mall. You are strapped into a harness and linked into their course. There is pretty much no way you can fall and you can stay as long as you want. My 8 year old stayed on the course for 2 hours and we had to coax her off with the promise of ice cream. You can actually leave your child there while you shop or get a coffee, choosing a level of the mall to sit on and watch. Children must be 4 years of age and at least 42 inches with an adult or 48 inches to participate alone. The maximum weight is 300 pounds. Closed shoes are required and pockets must be empty. We would definitely repeat the entire day just to go on the ropes course!