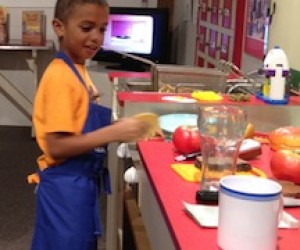 Parties for Boston Kids Who Love to Cook
Got a budding chef in the house who loves to help with the cooking? Can't get your kid out of the kitchen? Then a cooking party might just be the perfect way to celebrate your child's birthday!
We've found 4 culinary adventure parties for kids in and around Boston. Whether you're looking for a chef who will come to you or you'd rather go someplace where everything you need is already there, we've got the 411. Read on for all the details. (Warning: Reading this post may make you hungry, or possibly even cause you to drool.)
---
Chef and Instructor Holly Ann Pierce will come to your house and teach the kids to make just about anything their little hearts desire. With younger children, usually a mom or dad gets involved in choosing the menu, but most parties involve cupcake decorating. Holly is happy to accommodate food restrictions and allergies – need gluten-free? Done. Vegan? She can do that, too. Holly works to make all her parties/classes hands-on, fun, informative and entertaining for the kids. Parents can hang out and chat in another room while the kids do all the cooking, then enjoy the kids' creations when the food is ready. (What a nice switch!)
What's included: Travel to the host's home, all of the necessary ingredients, instruction, and clean up.
Location: Your home
Cost: $65/hr (2 hour minimum) plus $35 shopping/travel fee, additional $50 fee for ages 5-7 (for an Assistant)
Ages: 5-7 (max 6 kids), 8-10 (max 8 kids), 11-13 (max 10 kids) and 14+ max 12 kids
Contact: holly@sweetthingfood.com or 617-981-2612
---
Chef Sabine, who has a degree in education and a passion for healthy cooking, will come to your house or party venue and prepare a meal with the young chefs-in-training. Choose from the culinary themes of Pizza Villa, Chinese Takeout, Taste of Italy, Mexican, or work with Chef Sabine to create your own theme.
What's included: 2 hours cooking time with Chef Sabine and groceries for one of the culinary themes, party invitations, copy of the recipes for each child, a homemade wooden spatula, prep before party, clean up after the party, and travel within a 20 mile radius in Metrowest Boston.
Location: Your house or party venue
Cost: Pricing starts at $250.00 up to 8 children, $20 for each additional child
Contact: 774-292-6766 or sabine@sabinescuisine.net
---
At Create A Cook, they make things easy for the parents. You choose a theme - Asian, Mexican, Pizza, Pasta, Hawaiian Luau, Brunch, or Bake & Decorate – invite your guests, and then just show up! Parties are two hours, everything is included, and they will even supply party favor bags (for an extra $5 apiece).
What's included: Choice of one meal theme and all ingredients, staff to instruct and assist, individual birthday cupcake decorating, paper goods and utensils, beverages, set up and clean up, and a Create a Cook apron for each guest
Location: 53 Winchester St, Newton Highlands, MA 02461 (just off Rte. 9)
Times: Saturdays 10:30 am - 12:30 pm, 11 am - 1 pm, 2:30 pm - 4:30 pm or 3 pm - 5 pm; Sundays 10:30 am -12:30 pm or 11 am - 1 pm (No Sunday parties from June 19 - Sept 2)
Cost: $350 minimum for up to 10 kids, $25 for each additional child up to 12 children (including the birthday child)
Ages: 4 and up. Four-year-olds (whether the birthday child or guest) must be accompanied by an adult (the adult figures into the headcount). Maximum of 6 adults and 6 children. Children ages 5 and up can work unaccompanied by an adult. Minimum of 10 kids, for a total maximum of 12 people in the kitchens for these parties.
Contact: 617-795-2223 or web form
---
Well, they had me at "chocolate", but if you need more convincing, check this out: The party-goers get to make chocolates to take home. While they're at the party, they dip delights like graham crackers, strawberries and marshmallows in the chocolate fountain. Pizza and drinks are included, as is a tour. Fum! (That's my new hybrid word for fun and yum.)
What's included: A tour of the chocolate-making facility, making & decorating a chocolate mold, dipping goodies into the chocolate fountain, pizza, and drinks
Location: 60 Worcester Road, Framingham, MA 01702
Cost: $25 per child (birthday child is free), plus a 10% gratuity
Ages: 6 and up. There is an 8 person minimum and a 20 person maximum for kids' parties
Contact: chocolatetherapy2011@gmail.com or 508-875-1571
---